MLB.com Columnist
Paul Hagen
After 100 days, Manfred is just getting started
The first 100 days in office are considered a useful yardstick for presidents. It's not a bad way to look at the start of a Commissioner, either, as Rob Manfred reached that milestone Monday after succeeding Bud Selig on Jan. 25.
"He has done a very good job," Royals owner David Glass said. "It is very hard to follow your mentor. Bud was his mentor for 20 years, but he is well-organized and thoughtful and he makes every decision with the best interests of baseball in mind."
While the new Commissioner has in many ways followed the approach of his predecessor, which led baseball to unprecedented revenue and popularity, Manfred has also put his own stamp on the office in at least four important ways.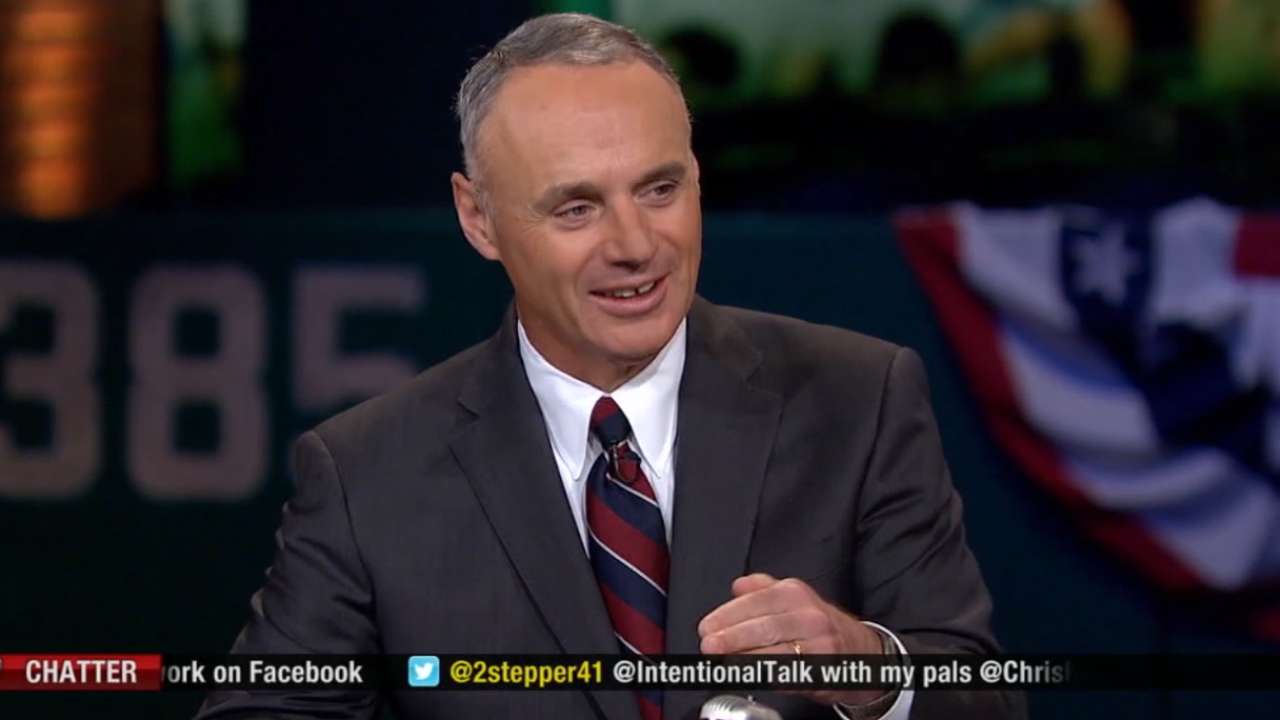 • Pace of play. Begun under Selig, Manfred has thrown his full weight behind this initiative that tightens between-innings breaks and discourages batters from stepping out of the box between each pitch. Early indications have been promising with the average time of game down nearly 10 minutes. "To this point, we are very encouraged by the pace of play," Manfred said recently. "I believe that the typical game generally feels tighter and crisper. In response to the wishes of our fans, we collectively set out to quicken sensibly and unobtrusively the pace of play by getting out of breaks on time and having batters keep a foot in the box. The cooperation of the players with these efforts, along with our umpires and the clubs, has been a key to the positive results thus far."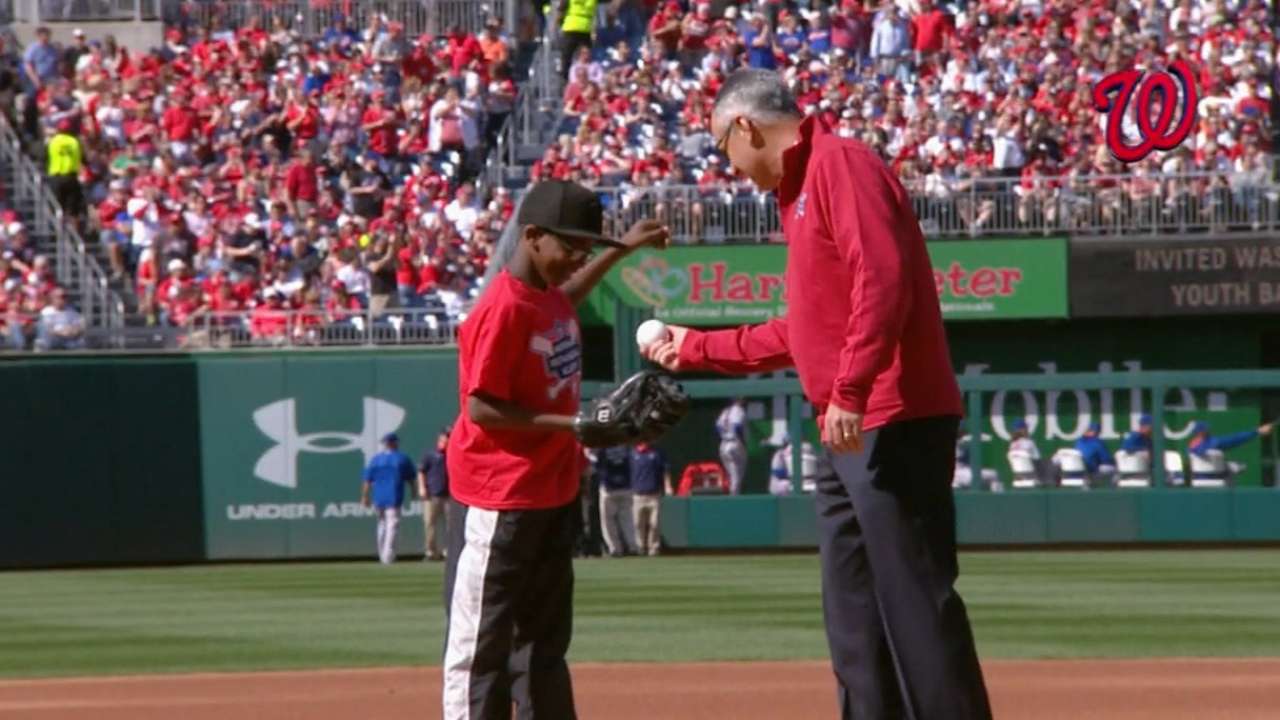 • Youth initiatives. Just days after taking office, Manfred visited the Nationals' Urban Youth Academy in Washington, underscoring his commitment to help keep baseball appealing to the next generation of fans.
"The visit here is really important to me," Manfred said at the time. "I hope to increase, during my time as Commissioner, the number of kids who play the game and are interested in our game. ... The goals of participation and diversity are so important to our game."
• Technology. Major League Baseball recently introduced Statcast™, a cutting-edge technology that will allow fans to not only see the game differently, but enjoy it at a different level by keeping tabs of a variety of new statistics such as defenders' reaction time, the route efficiency of outfielders getting to fly balls, the speed of the ball off the bat and many, many more.
• Outreach. Manfred was in Baltimore last week to address the Orioles and visiting White Sox. During a media availability, he was asked if it was the first time he'd been in town since being elected Commissioner last August. Manfred had to think a moment before realizing that he had been to Oriole Park at Camden Yards for the playoffs in October.
But that illustrates just how active Manfred has been. Since taking over, he's met with about two-thirds of the teams in baseball, with a commitment to get to the remaining clubs in the upcoming weeks.
Manfred also spent a day at ESPN headquarters in Bristol, Conn., and appeared on NBC's "Meet the Press" with Chuck Todd.
"The travel, once I have seen everybody, will be a bit more issue-driven," Manfred told Sports Business Journal. "But the visibility and contact is very important, and I intend that to be a hallmark of our activities here."
That's not all, of course. For example, Manfred has reorganized the league office and owners committees, and he awarded All-Star Games to San Diego in 2016, Miami in '17 and Washington in '18. Those site selections, which will result in four straight Midsummer Classics in National League cities, were based on a bidding process rather than simply alternating leagues.
There's still plenty to be done, including resolving ballpark issues in Oakland and St. Petersburg, resolving the Nationals-Orioles dispute over the Mid-Atlantic Sports Network, Pete Rose's petition to end his lifetime ban and the upcoming negotiation over a new Collective Bargaining Agreement.
But, hey, it's only been 100 days. And Manfred is clearly just getting started.
Paul Hagen is a reporter for MLB.com. This story was not subject to the approval of Major League Baseball or its clubs.