Arcia's trip to DL opens up spot for Rosario
Flexor strain in right hip sidelines outfielder; prospect called up for first time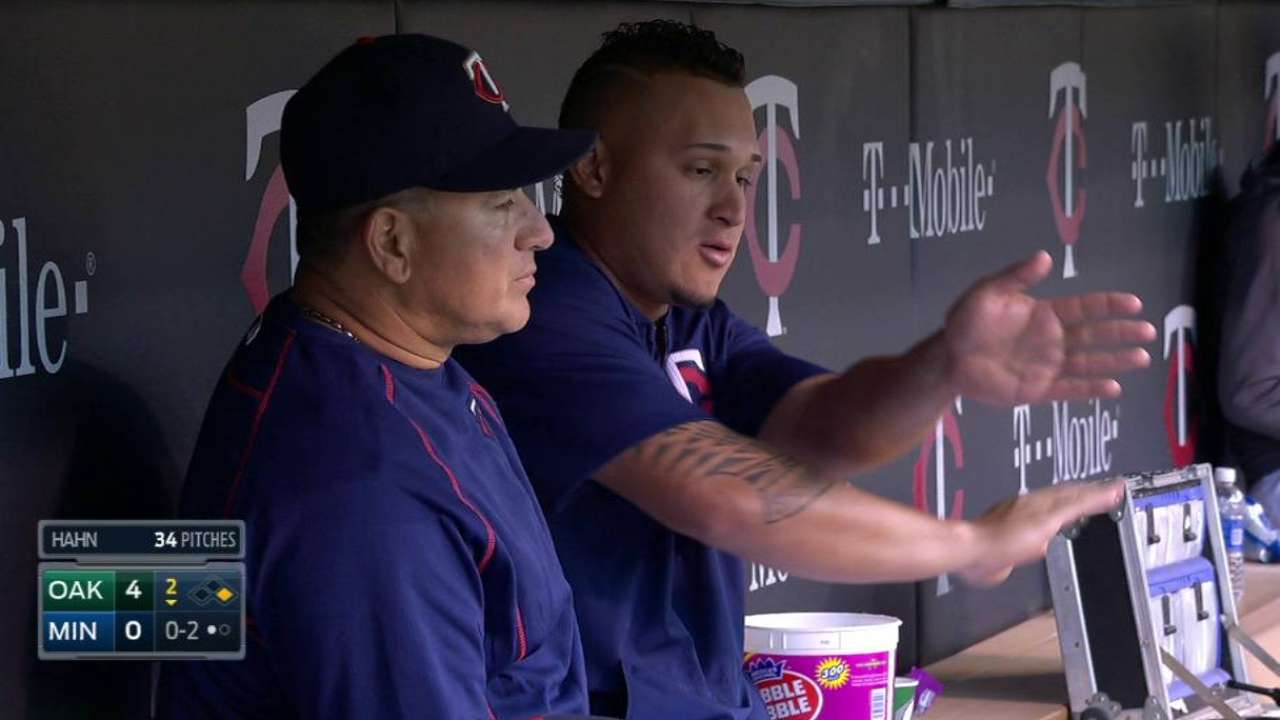 MINNEAPOLIS -- The Twins placed outfielder Oswaldo Arcia on the 15-day disabled list with a right hip flexor strain on Monday, and they recalled fellow outfielder Eddie Rosario from Triple-A Rochester.
Arcia left Sunday's game in the fourth inning with what was described as irritation in his right hip, and the Twins were hopeful Arcia would just be day to day. But Arcia was placed on the DL, giving Rosario his first callup to the Majors. Arcia underwent an MRI exam on his hip on Monday morning, which revealed the strain, and said he's hopeful he'll be able to return once he's eligible to come off the DL.
"I don't need two weeks, maybe a week or a week and a half," Arcia said. "If I keep working hard, I can play."
Rosario, ranked as Minnesota's No. 9 prospect by MLB.com, was hitting .242/.280/.379 with three homers, a stolen base and 12 RBIs in 23 games at Triple-A. The former top prospect was suspended 50 games for a drug of abuse last season, and once he returned, he hit .237/.277/.396 in 79 games at Double-A. But Rosario fared much better in the Arizona Fall League, batting .330/.345/.410 in 24 games. He also hit .233 with two homers and seven RBIs in 17 games in Spring Training.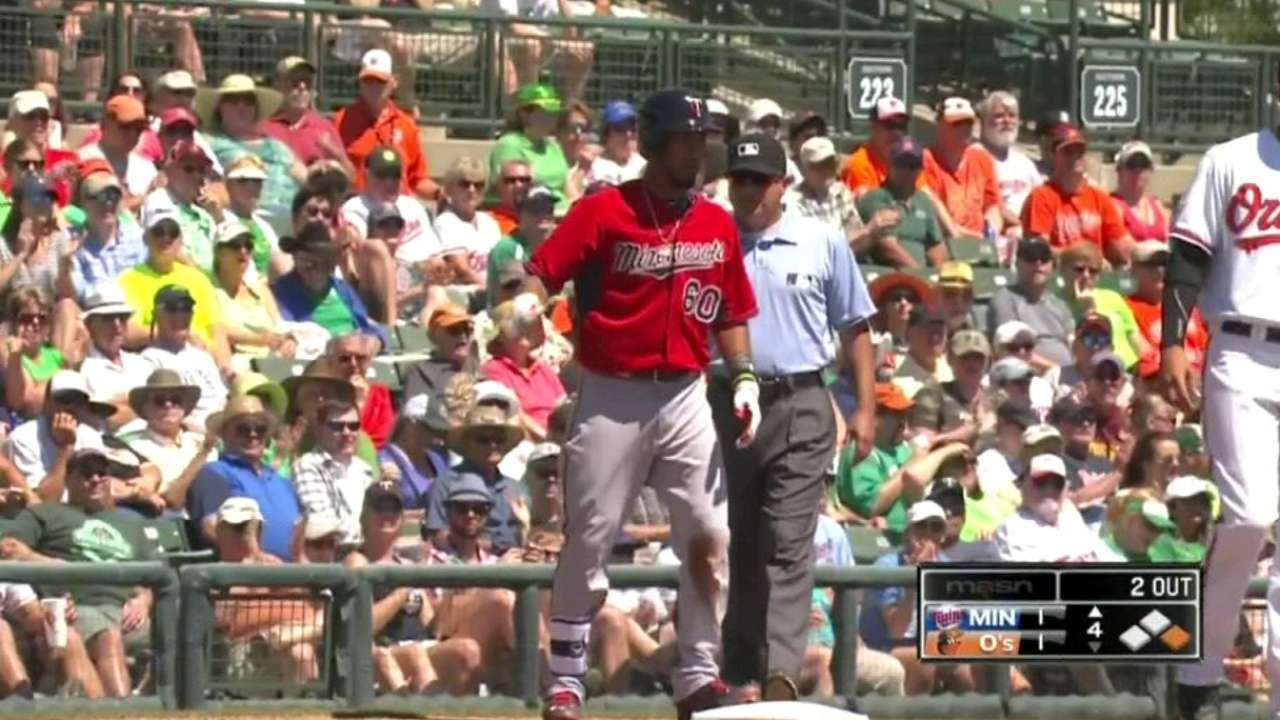 "It's obviously an exciting day for a young man to come up and get his first taste of the Major Leagues," Twins manager Paul Molitor said. "Eddie has been around here for a long time. He's had some big-stage experience like the World Baseball Classic [for Puerto Rico in 2011]. He impressed us a lot in Spring Training."
Rosario, 23, was picked over fellow outfielder Aaron Hicks, who was outperforming him at Triple-A Rochester. Hicks, 25, is batting .289/.375/.494 with two homers, five doubles and three triples in 21 games. The Twins also considered catcher Josmil Pinto, hitting .299/.382/.403 in 18 games at Rochester, but ultimately wanted to see what they had in Rosario in the short-term.
"For me, I wanted Eddie to get the opportunity to come up here and this most likely isn't a long-term situation," Molitor said. "Obviously, that can change. But I thought between him getting an opportunity and what I saw in Spring Training. And Aaron is doing fine. I'm hearing some really good things for him. It's important for him to know to keep doing that for just a little bit longer period of time. His day could come soon as well."
Rosario wasn't in the starting lineup on Monday, as he arrived after the game started. But Molitor said he plans to play Rosario plenty, and that most of his action will come in left field.
"He's going to get a chance to play here in the short-term," Molitor said. "He's versatile. He's competent in all three positions. I would imagine long-term, he's more of a corner guy. I see him more in that role."
Rhett Bollinger is a reporter for MLB.com. Read his blog, Bollinger Beat, and follow him on Twitter @RhettBollinger. This story was not subject to the approval of Major League Baseball or its clubs.