Hamilton works on timing in extended spring
Slugger went 0-for-4 in first action since being reacquired by Rangers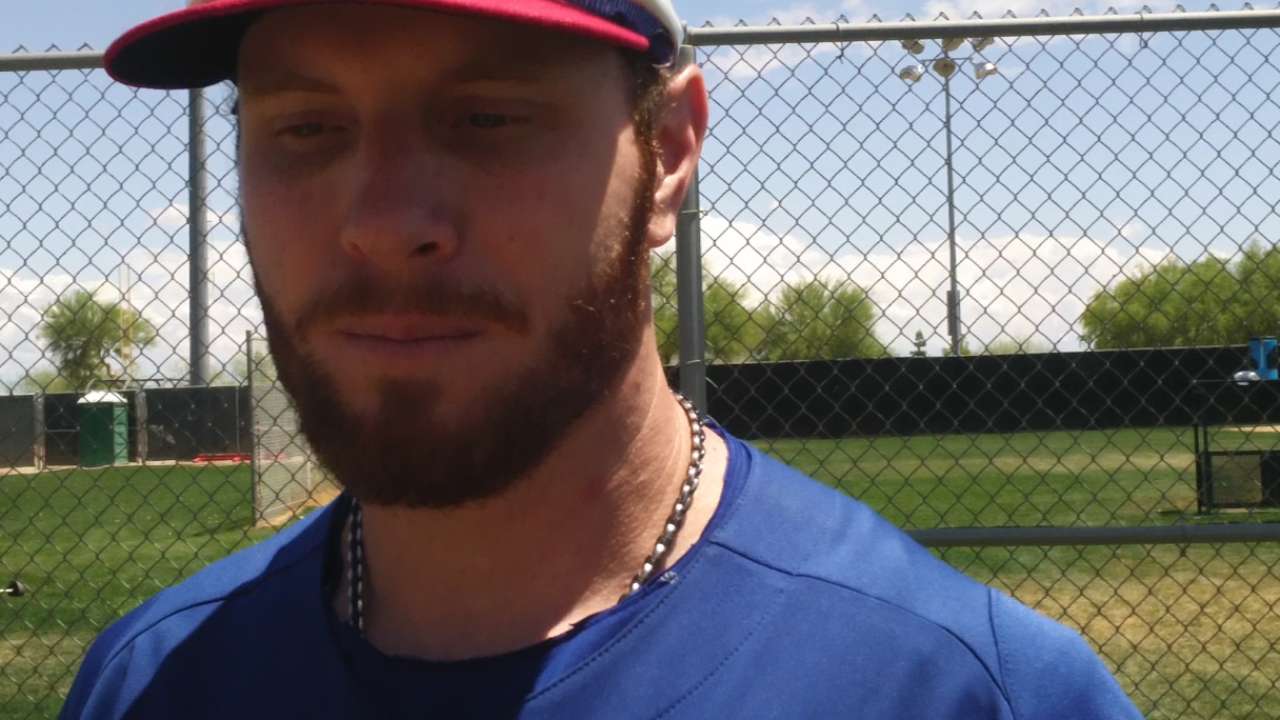 SURPRISE, Ariz. -- It's become a question of timing for Rangers outfielder Josh Hamilton. How long will it take for him to be ready to join the big league club, and when is it going to happen?
On Monday, Hamilton went 0-for-4 with three hard ground balls to first base and a strikeout in his first extended spring game action since joining the Rangers. The veteran is on the 15-day disabled list as he recovers from right shoulder surgery on Feb. 4.
Hamilton said he simply needs to work on his timing at the plate.
"It's been seven months since I've had some game action, but I felt good, and the body felt good," Hamilton said. "The legs feel good, and for the most part, I swung at strikes. I think I only swung at one pitch out of the zone today. Other than that, I was amped up, and that comes with getting at-bats and getting in game situations."
Hamilton did reach base twice -- once on a fielder's choice and another time on an error -- and he ran the bases without issue and slid. He played three innings in left field.
"You can't try to force it, you know," Hamilton said. "You just have to go and try to see pitches, and not swing at the first pitch every time. Go up there and see as many pitches as you can and put a good swing on it. It comes back quicker and quicker if you can do that."
Hamilton could suit up for Triple-A Round Rock on a rehab assignment as early as next week. There are reports he will join the big league club sometime after the middle of the month.
"It's good to see him go out there in games, and the most important thing is that there is progress and he's in a great spot health-wise," senior vice president of player development Mike Daly said. "It's just day-by-day, making sure that he's progressing and staying healthy. It's more of a long-range goal for Josh."
Hamilton is scheduled to face live pitching Tuesday, followed by another extended spring game Wednesday. He took live batting practice for the first time on Saturday.
"Like I said, it's just about getting at-bats, because I didn't get Spring Training," Hamilton said. "So this is going to be my Spring Training, and then go on to Triple-A or wherever and play in some games."
During his five years with the team, Hamilton was instrumental in helping the Rangers go to consecutive World Series in 2010-11. He signed a five-year, $125 million contract with the Angels in '12, but injuries, a drop in his offensive production and a recent setback with personal issues marred his two years in Anaheim. The deal with Texas was finalized last Monday, and Hamilton reported to the club's Spring Training facility the next day.
"With the success he has had at the Major League level and being a veteran, each guy knows their bodies and what they need to be prepared and ready to go at the highest level," Daly said. "We are working with Josh on that, and we'll put a schedule together based on how he's feeling and where he's at."
Jesse Sanchez is a national reporter for MLB.com. Follow him on Twitter @JesseSanchezMLB. This story was not subject to the approval of Major League Baseball or its clubs.