Nothing more for Hedges to prove in Minors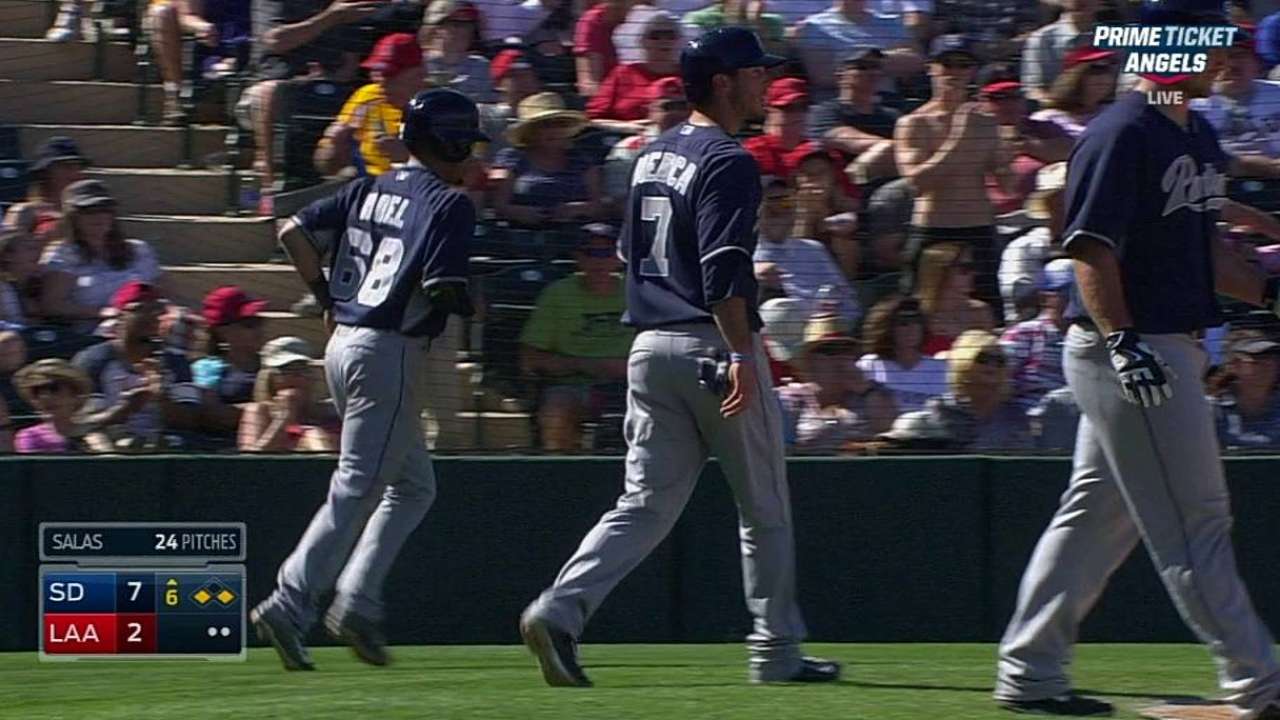 Bill Center, longtime sportswriter for U-T San Diego, is an employee of the Padres.
The Padres' decision to promote catcher Austin Hedges to the Major Leagues is an interesting one. Clearly, they believe the 22-year-old Hedges, ranked as San Diego's No. 2 prospect and No. 50 overall, had nothing more to gain in the Minor Leagues.
Hedges' defensive skills and ability to handle pitchers were already considered to be Major League ready before the start of this spring. The question facing him was if he could hit Major League pitching.
Hedges hit only .225 in a full season at Double-A San Antonio, and he faded offensively in the second half. But this season, after working with Padres hitting coaches Mark Kotsay and Alonzo Powell during Spring Training, he was hitting .324 with two homers at Triple-A El Paso. Hedges had a .392 on-base percentage and a .521 slugging percentage.
But improved hitting wasn't the only improvement that San Diego saw in Hedges.
"He's not the same player he was a year ago maturity-wise," Padres manager Bud Black said Sunday morning. "His self confidence has grown, where he is in the game."
Black had been discussing Hedges with Triple-A manager Pat Murphy, and he liked what he heard.
"His swinging the bat, catching, receiving, blocking, maturity level has really come forward," Black said.
Not that San Diego needed a starting catcher. Derek Norris is hitting .337, with 11 doubles, two home runs, 16 RBIs and 16 runs scored while appearing in 25 of the season's first 26 games.
But no catcher can continue that pace through a long hot summer. Catching is the most active position on the field. Even Hall of Fame catchers need to take a break. And the safety net behind Norris was weak.
Tim Federowicz was the apparent No. 2 going into Spring Training, but he needed surgery to repair a damaged knee and won't be available until the All-Star break, at the very earliest. And although veteran Wil Nieves, 37, hit a decisive grand slam in his first start, he is 1-for-13 and has struggled behind the plate.
The Padres "are in it to win it." You don't want to get beaten because of your backup catcher. So San Diego put out the call to Hedges.
FROM THE SCOREBOOK
• As a team, the Padres top the charts in several offensive categories. San Diego is hitting .332 (72-for-217) with runners in scoring position, the highest RISP batting average in the Major Leagues. The team has scored 131 runs, the highest total in the National League. And the Padres scored two runs in the first inning Sunday, giving them 26 first-inning runs in 26 games, also the highest total in the Major Leagues. They are hitting .345 (39-for-113) in the first inning. Last season, San Diego scored only 62 first-inning runs in 162 games, the lowest total in the Major Leagues.
• There is an interesting rematch tonight in San Francisco between Padres hitters and Giants left-handed pitcher Madison Bumgarner. The Major League's best offense against left-handed pitching faces one of the Major League's top left-handed pitchers in the World Series Most Valuable Player.
On the season, the Padres are hitting an even .300 (60-for-200) against left-handed pitchers, with a .358 on-base percentage and a .429 slugging percentage. They have 17 doubles, a triple and two home runs. On April 11 at Petco Park, San Diego scored five runs on 10 hits in just three innings against Bumgarner. The team went 10-for-18 against the ace that night.
Norris leads all Major Leaguers with a .619 batting average (13-for-21) against left-handed pitchers, with six doubles and four RBIs. First baseman Yonder Alonso (.438) and right fielder Matt Kemp (.435) also rank in the top 10 of NL hitters against left-handed pitchers.
• The sweep of the Rockies was the Padres' first of the season and salvaged a 4-5 homestand that opened with they losing two straight series -- after they had won or tied 12 straight series at Petco Park (11-0-1) dating back to last July. San Diego is 9-7 at home.
• Left fielder Justin Upton was 3-for-4 with his seventh homer and two doubles for three RBIs and two runs scored on Sunday. He was 7-for-12, with seven RBIs, in the three-game series against the Rockies. Upton is hitting .356 at Petco Park with a .400 on-base percentage and a .729 slugging percentage (21-for-59 with six home runs, 17 RBIs and 16 runs scored in 15 games).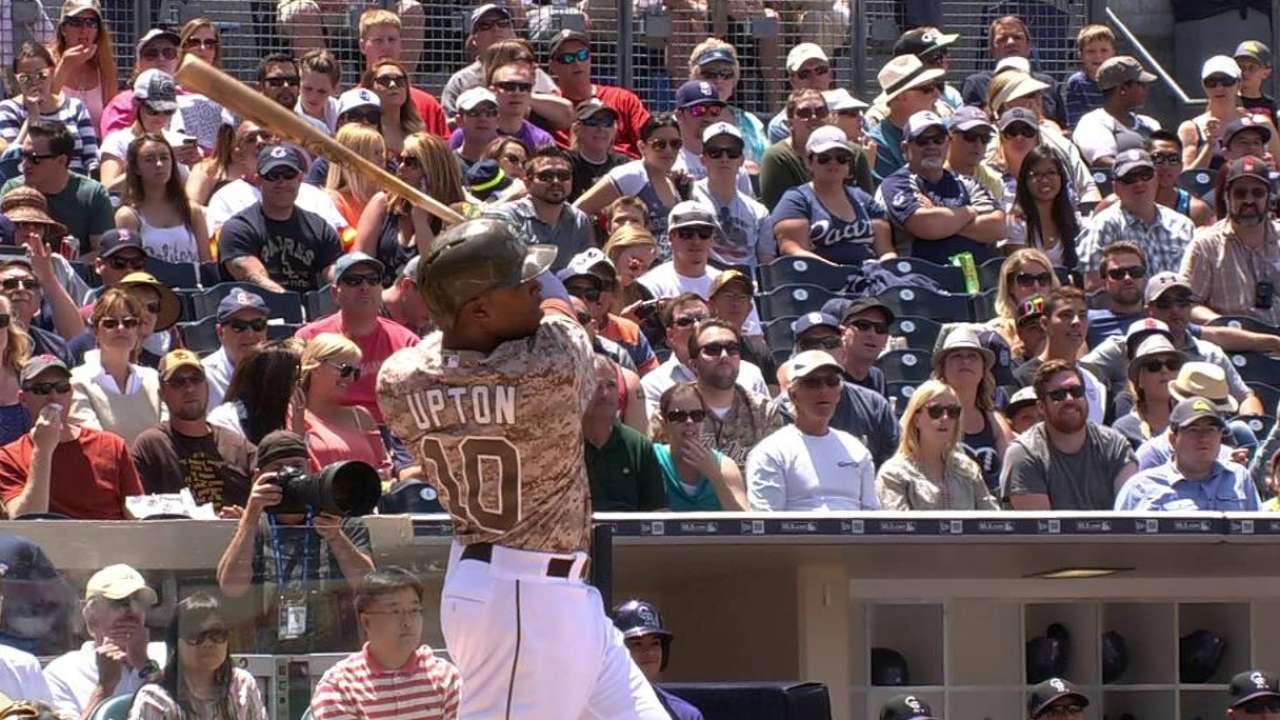 • Kemp was hit twice by pitches thrown by Rockies right-hander Kyle Kendrick on Sunday. It was the first time in Kemp's 1,142-game career that he was hit twice in the same game. He also scored after each time he was hit.
Bill Center is a contributor to MLB.com. This story was not subject to the approval of Major League Baseball or its clubs.