Segura expected back in the lineup Tuesday
Shortstop was hit in head by 95-mph fastball in Sunday's win over Cubs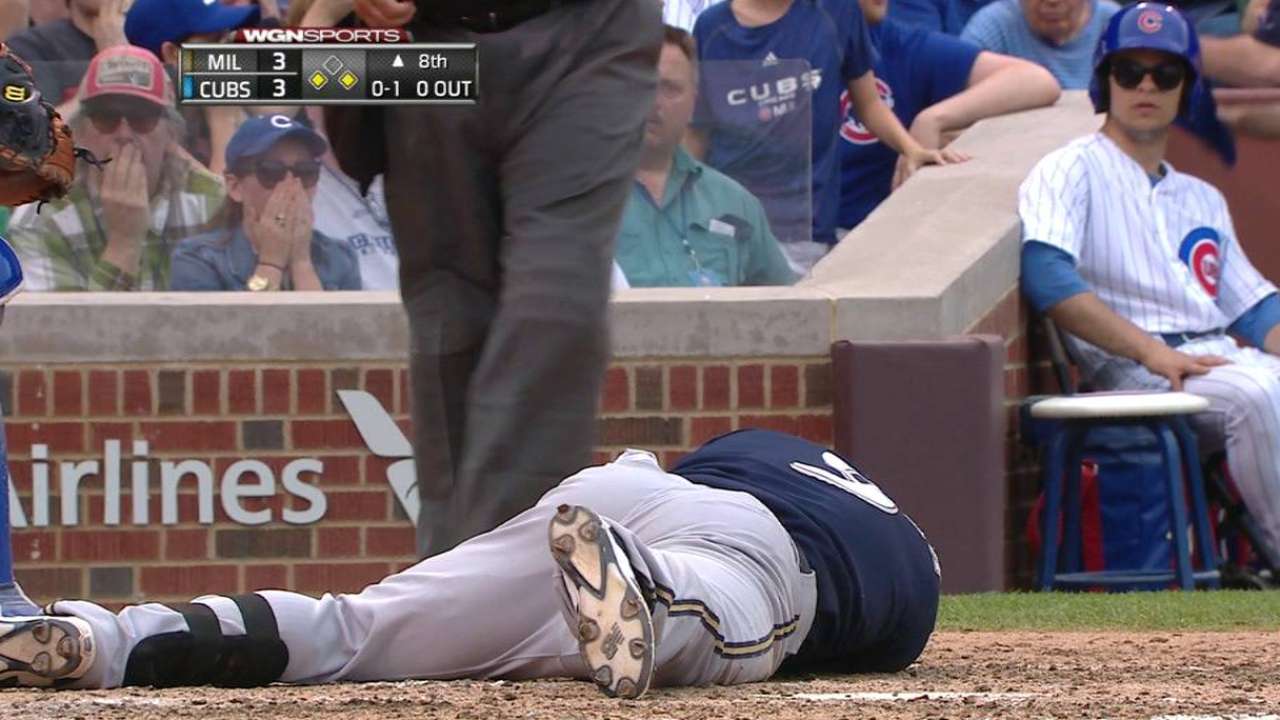 MILWAUKEE -- Brewers manager Craig Counsell said he expects shortstop Jean Segura back in the lineup on Tuesday, two days after being struck in the head by a 95-mph fastball in a 5-3 win at Wrigley Field.
Segura went through a battery of tests in the 24 hours after he was struck on the helmet by a Pedro Strop pitch, and was cleared by Brewers medical staffers on Monday evening before a 4-3 win over the Dodgers at Miller Park.
"We'll check him out today and see how he feels and make a game-time decision," assistant general manager Gord Ash said Monday morning. "He had signs of [a concussion], but was feeling better. He had a CT scan, which was negative and is usually the gold standard for testing."
Segura was squared to bunt when he was hit on the helmet by Strop's pitch. After lying in the dirt near home plate for two minutes, Segura walked to first base and appeared intent on remaining in the game, but he complained of nausea and was removed. He remained in Chicago after the game for further tests.
Later that night, he spoke to Strop. The two have been teammates in the Dominican Winter League.
"I called him when he was just getting out of the hospital with a negative scan," Strop said Monday. "I said, 'My bad,' and he said, 'It's OK, everyone knows it's not on purpose. The good part is I'm OK.'"
The Brewers also could have second baseman Scooter Gennett back in action Tuesday. Gennett has been on the disabled list since he cut the top of his left hand during a postgame shower in Pittsburgh on April 19. He's eligible to come off the DL Tuesday.
Adam McCalvy is a reporter for MLB.com. Follow him on Twitter at @AdamMcCalvy. This story was not subject to the approval of Major League Baseball or its clubs.