Roenicke has only one regret after losing job
Former Brewers manager only wishes team had won more recently
MILWAUKEE -- Brewers manager Ron Roenicke expressed only one regret late Sunday after being dismissed from his job 25 games into his fifth season: That the Brewers did not win more games of late.
Asked whether he would do anything different if he could go back to the middle of last season and do things over, Roenicke said, "I don't think so. I've talked to Doug [Melvin, Milwaukee's general manager], I've talked to the coaches, I've talked to Mark [Attanasio, the team's owner] about it and asked them what I could do different.
"I really try to do things the right way. If somebody wants something different from me, then you need to ask me about it or suggest it or suggest why you would do things different. But I didn't have things said to me that way."
Roenicke took responsibility for the Brewers' bottom line, including losses in 40 of their last 56 games dating to last August, saying, "I feel as bad as anybody … that I couldn't get the guys going."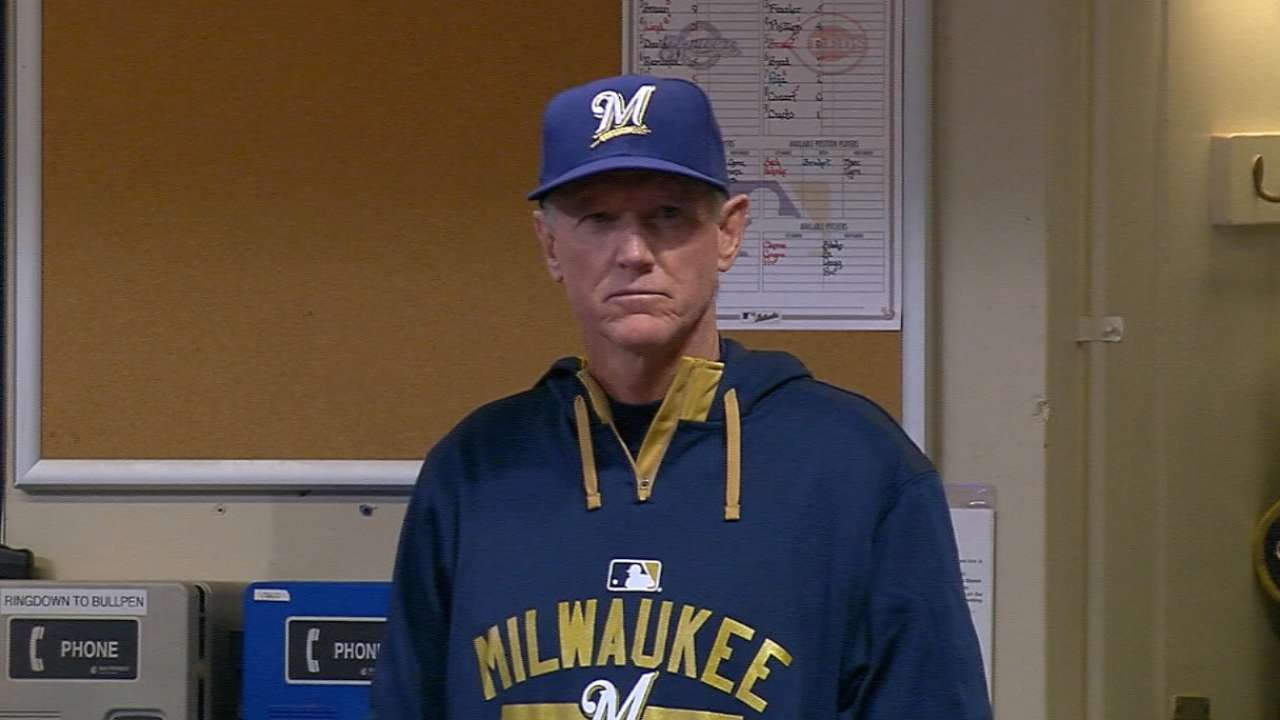 It was an offensive collapse that cost the team a chance to play in the 2014 postseason after leading its division for 150 days, but the trouble spread to the pitching staff and the defense in 2015 before things began to improve during a just-completed trip to Cincinnati and Chicago. Even after winning three of the final four games of Roenicke's tenure, including a first series victory over the weekend at Wrigley Field, the Brewers are worst in the Majors at 7-18.
"I'd like to say two or three wins [recently] make you feel better, but over the course of that, it doesn't feel good," Melvin said. "I feel bad for Ron because he sometimes wondered himself what we could do."
Roenicke will remain in Milwaukee for several days to tend to personal and business matters before mulling his next step. He said he wants to remain in baseball and would like to manage again. He's also open to returning to the coaching ranks.
He is well aware of the adage that managers are hired to be fired.
"When I wanted to be challenged a little bit more than coaching and I got this opportunity, I knew that as soon as things didn't go well you'd get fired," Roenicke said. "When you go to manage, you know that's a real good possibility. It's going to happen, it's just a matter of when. You know you have a couple of years, three years, to prove that you can do the job, and if you don't and the team's not winning, you're going to be fired."
Adam McCalvy is a reporter for MLB.com. Follow him on Twitter at @AdamMcCalvy. This story was not subject to the approval of Major League Baseball or its clubs.