MLB.com Columnist
Phil Rogers
Brewers' next skipper must have eye on future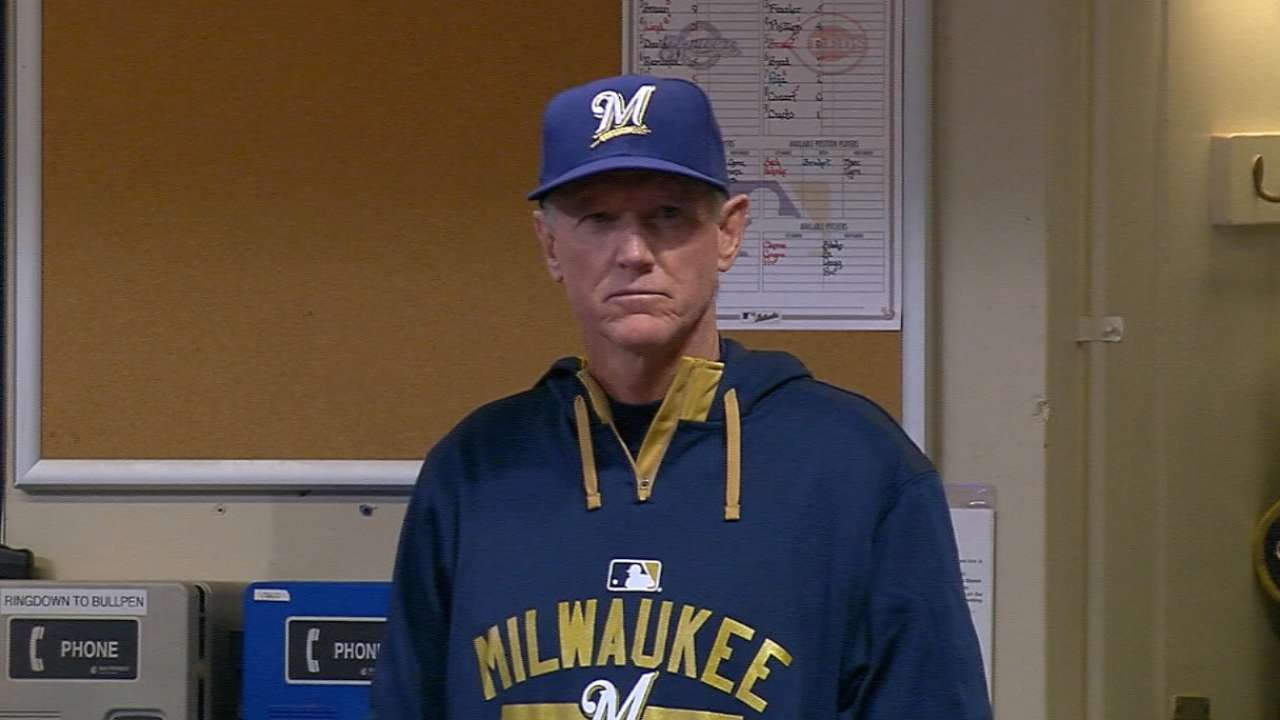 Nobody ever likes to surrender, especially not when we're only four weeks into the 26-week marathon. So Brewers owner Mark Attanasio and general manager Doug Melvin are changing managers in the hope that they can catch lightning in a bottle, like the Marlins did in 2003.
Ron Roenicke was fired on Sunday night -- oddly, after he had just ended a streak of 11 consecutive losing series by taking two of three at Wrigley Field -- but even if they could channel the ghost of Billy Martin, the Brewers must know that salvaging the 2015 season is all but impossible.
Here's hoping that Roenicke's replacement -- likely in-house favorite Craig Counsell -- will be the right guy to lead a rebuilding project, not just someone intent on getting the most out of the current roster.
Yes, this is a core group that led the National League Central for most of last season, as hard as that is to believe. But the 16-40 record since Aug. 25 feels very much like the closing of this organization's window to win.
With Ryan Braun starting to hit like he did earlier in his career, maybe Milwaukee can make a run toward .500. But where does that get you, really? This roster was constructed to reward one of baseball's most rabid fan bases with a team worthy of the postseason, and it takes an awful lot of imagination to see that happening after the 4-17 start that created a double-digit deficit for the Crew before April was over.
By changing managers now, the Brewers have some time to see if the new hire can work magic. But with the deck stacked so high against him, the more likely point to the last five months of the season is to start laying the groundwork to contend in a few seasons, with lots of new faces surrounding Braun and, probably, catcher Jonathan Lucroy.
Because Melvin had picked up Roenicke's 2016 option about six weeks ago, the early hook seems a little surprising, but managers know that only their contracts are guaranteed, not their job security. Melvin's own situation is interesting, as he's signed only through the end of this season.
While Melvin has said that his own situation is not an issue demanding attention, that may not be right. Attanasio has to decide if he is comfortable with Melvin and his longtime assistant Gord Ash making decisions that will impact the franchise's future or if he wants to hire a young management gun to help set the organization's direction.
Milwaukee's fans are smart. They've seen the Brewers' fade since going to the NL Championsip Series in 2011, and they would understand if Attanasio waved a white flag and ordered his front office to explore trades for veteran players, even if it insures that the team stays in the bottom of the Central.
Teams would line up to bid on center fielder Carlos Gomez, who at 29 is still a speed-power player. He's signed through 2016, which would add to his value, and the Brewers' chances of extending him beyond that are remote. Third baseman Aramis Ramirez, who has announced he's going to retire after the season, could also have a lot of value.
Ditto Opening Day starter Kyle Lohse, who will be a free agent after the season, and possibly also Matt Garza, although he has been so inconsistent that his long-term contract (through 2017 with an option for '18) could work against a trade.
Other potentially moveable parts including outfielder Gerardo Parra, first baseman Adam Lind and relievers Francisco Rodriguez and Jonathan Broxton.
Lucroy, currently sidelined with a broken toe, is a tough call. He's one of the best catchers in baseball and has an incredibly team-friendly contract that runs through 2017. Lucroy would bring a huge price in a trade, but he is invaluable as a leader and handler of pitchers.
The Lucroy decision can be put off until the offseason but Milwaukee's front office is going to have to make a lot of decisions between now and the July 31 deadline.
Melvin said that Roenicke was fired because the Brewers hadn't performed to their potential over the last 100 games and that there was no improvement seen in the first month of the season. It was the hope of that improvement, seemingly, that led to the decision to exercise his 2016 option on March 19.
Injuries played a role in the bad start, with Gomez, Lucroy and second baseman Scooter Gennett all going on the disabled list in April. Gomez came back on Saturday and the Crew beat the Cubs two games in a row, raising its record to 4-6 when he plays.
But Roenicke (342-331 in four-plus years in Milwaukee) knew he had to get the Brewers out of the gate well, injuries or not, and that didn't happen. The decision to fire him was apparently made after losing two of three in Cincinnati at the start of last week, with Melvin turning his attention to a succession plan.
With the right hire, this move could be seen as a turning point for the franchise.
That happened in Kansas City in 2010. The Royals were off to a 12-23 start under Trey Hillman when Dayton Moore swallowed hard, fired him and hired Ned Yost.
Yost proved to be the right man to work with a young team, and four years later, Kansas City was in the World Series. The Royals made a slow, steady climb upward over a long time, fueled in part by a series of smart trades, and look at them now.
With the Cardinals and Pirates at the top of the NL Central and the Cubs coming, that's the path the Brewers seem forced to take. It won't be easy, but the time has come to start over. It's as clear as the 16-40 record since last August.
Phil Rogers is a columnist for MLB.com. This story was not subject to the approval of Major League Baseball or its clubs.