Padres promote No. 2 prospect Hedges
Catcher joins club prior to series vs. Giants, will serve as backup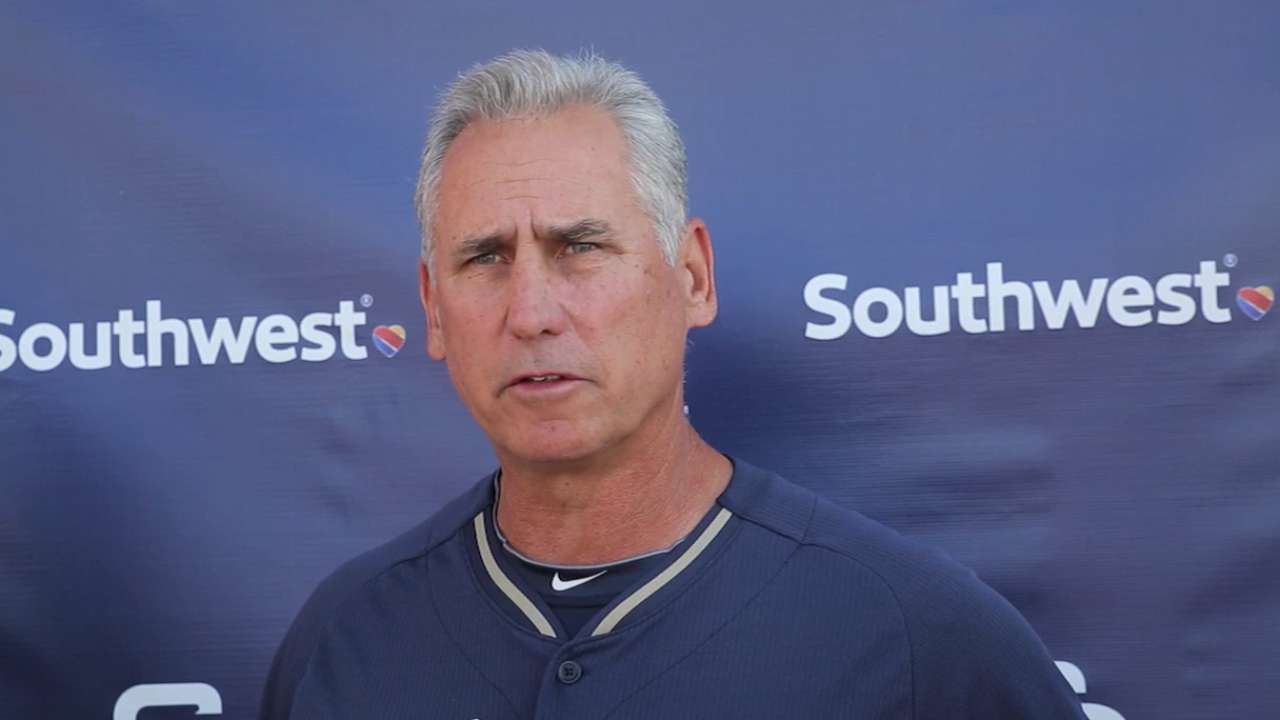 SAN FRANCISCO -- No sooner had Austin Hedges settled into his seat on the El Paso team bus Sunday afternoon, with a three-hour ride to Fresno awaiting him and his teammates, when he was approached by athletic trainer Nate Stewart.
"He came up and asked if I got into trouble last night," said Hedges, who was preparing for a round of trivia hosted by teammate Cody Decker when Stewart approached him. "I told him I was asleep. Then I saw [manager Pat Murphy] outside talking to some guys I'd never seen.
"They ended up coming on the bus, saying we heard some people saying things, 'Did you get in trouble.' I was looking for my roommate [James Needy] to vouch for me. Then they said, 'We're going to need you to get off the bus.' But before we got off, they said, 'We're just kidding.'"
What wasn't a joke was the news Murphy shared with the 22-year-old catcher: He was headed to the big leagues.
"It was a whirlwind of emotions," said Hedges, ranked as the Padres' No. 2 prospect by MLB.com. "I was rattled from that, then the news [of promotion], it took me awhile. That's something, obviously, I'll never forget."
On Monday, Hedges, the most highly anticipated homegrown player to reach the big leagues since Chase Headley in June 2007, put on No. 18 at AT&T Park. He made his Major League debut in the eighth inning of a 2-0 Padres loss, striking out as a pinch-hitter vs. Madison Bumgarner.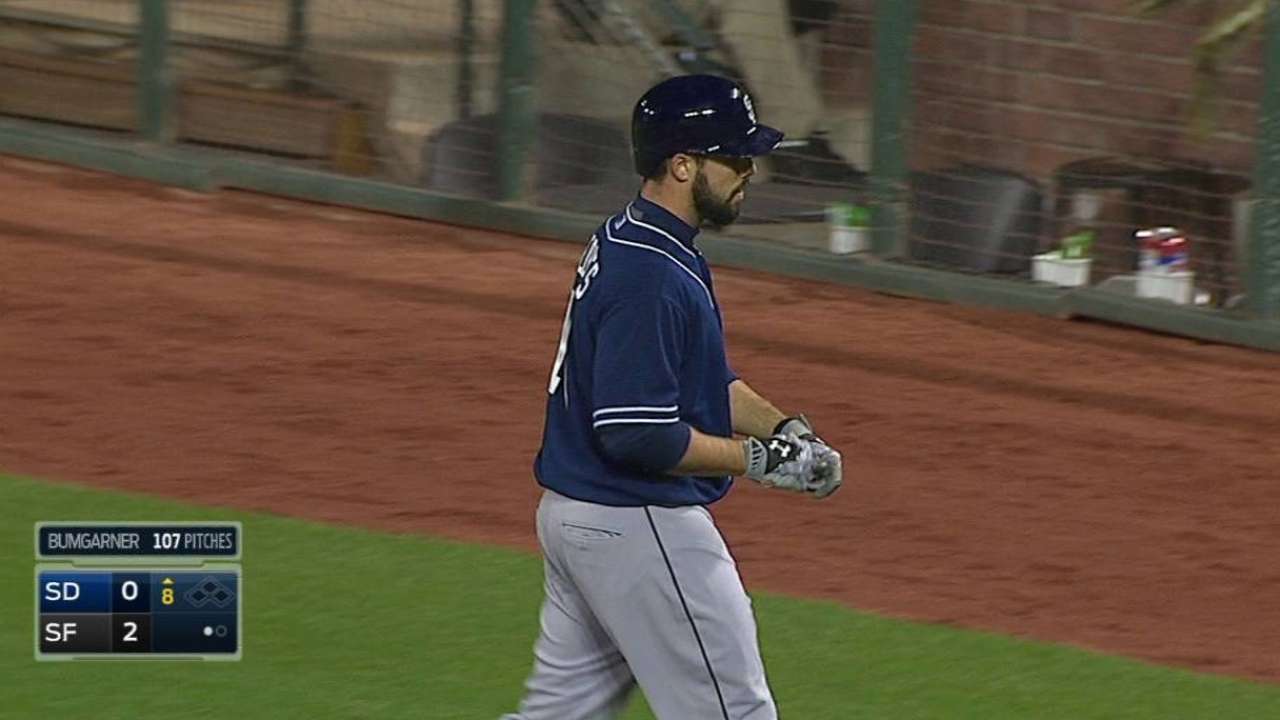 San Diego manager Bud Black was asked why the team would promote Hedges now.
"When we went through this decision, we felt the way Austin was playing in Triple-A, and what we saw this year in Spring Training, his presence on this team gives us what we feel is the best 25-man roster," Black said.
"Everyone who has seen him play this season is really excited about how he's playing, how he's swinging the bat, how he's catching and handling the pitching staff."
Mayo: What to expect from Hedges
Hedges, long regarded as a top defensive catcher, was hitting .324/.392/.521 in 79 plate appearances this season with the team's Triple-A affiliate in El Paso. He also had two home runs and 15 RBIs.
Hedges, rated as the No. 50 prospect in baseball by MLB.com, will serve as the backup to Derek Norris.
The team designated catcher Wil Nieves for assignment to make room for Hedges. Nieves hit .077 in 13 at-bats with his lone hit being a grand slam. He had three passed balls and was 0-for-5 in catcher caught stealing.
Hedges was a second-round pick in 2011 out of Junipero Serra High in San Juan Capistrano.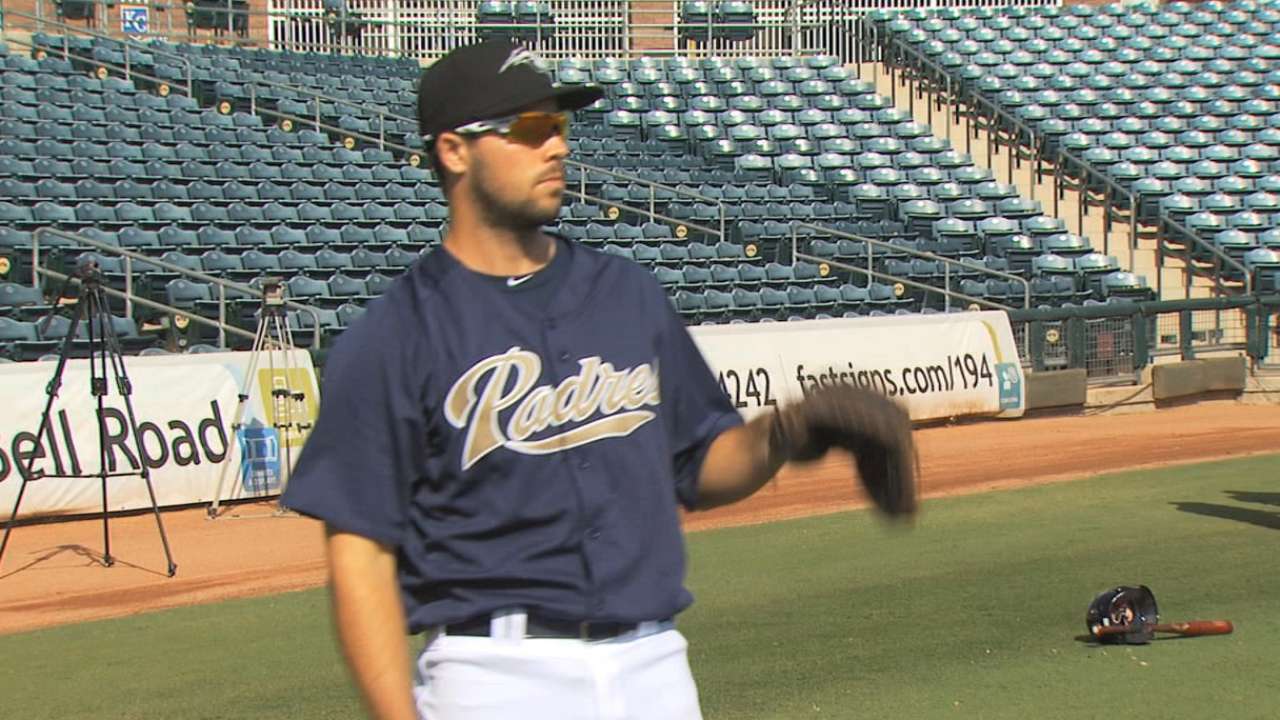 Hedges was regarded as a strong defensive catcher when the team selected him and has since improved those skills under several in the organization, like Brad Ausmus and A.J. Hinch, who have both moved on to become managers of the Tigers and Astros, respectively.
"They are two big reasons why I am where I am today," Hedges said.
This season, his hitting has improved after two rough seasons in the Texas League, where he hit .224 in 2013 and .225 a year ago.
"I think his temperament to hit is good and has been good," Murphy said. "He hasn't tried to think along like a catcher and think through an at-bat. He was just 'tracked it and whacked it' ... not overanalyzing it."
This new offensive mindset, born in offseason workouts at Petco Park with hitting coach Mark Kotsay, continued into Spring Training and then to El Paso.
"We worked on a lot of mechanical things in the offseason and spring that we've been able to translate into games and it allows me to just hit instead of analyzing. Whatever my approach is, I stick with it. It makes it a lot easier," Hedges said.
"I think all my life I've tried to create some hard contact with my body; there was a lot of tension in there. For me, the less tension, the more I use my hands and the more whip I have in my bat."
But it's his defense that sets Hedges apart.
"It's his receiving ability and how he can not only make strikes strikes but also make some balls strikes. That's a big key, making sure every pitch a pitcher throws is a strike. His throwing is very good and he had some pop-times [throws to second] that were off the chart," Murphy said.
Corey Brock is a reporter for MLB.com. Keep track of @FollowThePadres on Twitter. This story was not subject to the approval of Major League Baseball or its clubs.