D-backs' bats trying not to press
Hale to hold hitters' meeting before Rockies series begins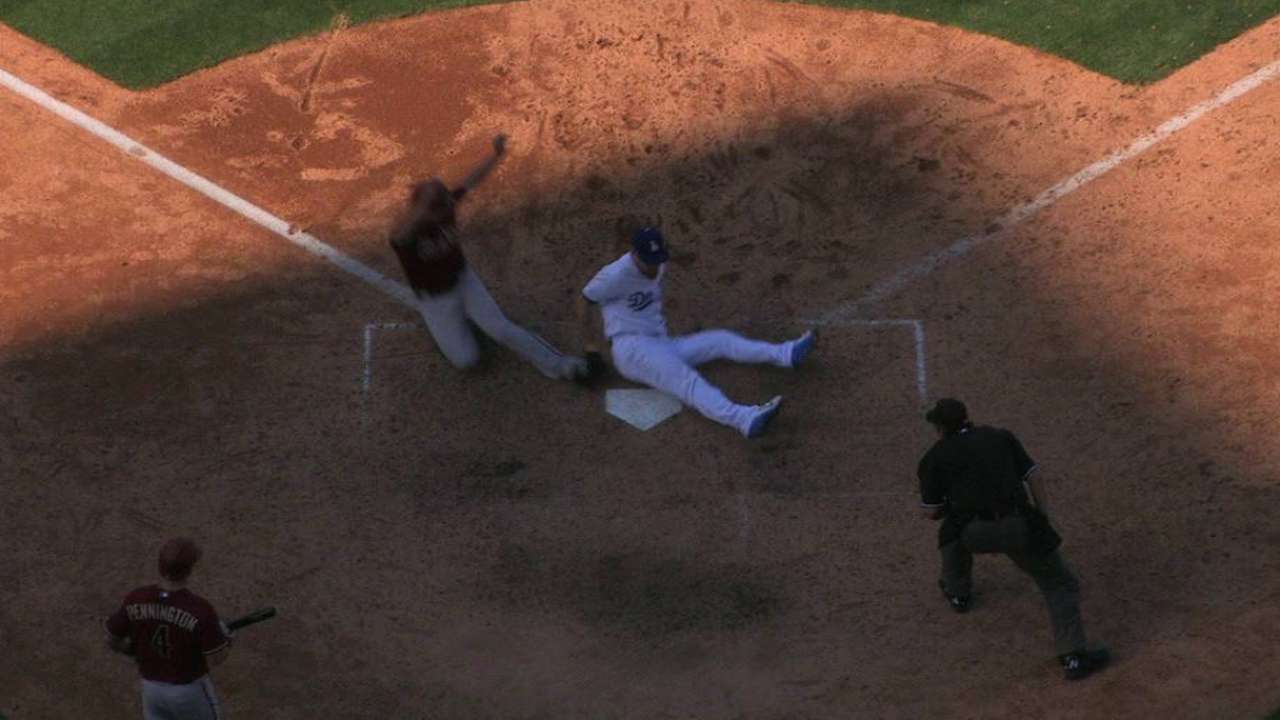 LOS ANGELES -- When the D-backs have their daily hitters' meeting Monday afternoon at Coors Field, their manager will have a little something to say to them.
It won't be a fire-and-brimstone speech and it won't be a verbal chastising. Instead, after a heartbreaking 1-0 loss in 13 innings to the Dodgers on Sunday, Chip Hale would like his hitters to relax a bit.
The on-and-off again Arizona offense was off during the three-game sweep at the hands of the Dodgers. The D-backs scored just five runs in the three games.
"Baseball is tough," Hale said. "And offensively, when you're not swinging the bat as a group, it kind of starts to pile up against you. I think guys try to do too much. We're going to have a talk [Monday] as a group of hitters just to kind of dial it down and let things kind of come to them a little bit."
The D-backs scored two runs in a home series with the Pirates before piling on 25 runs in the next series against the Rockies.
Then came struggles against the Dodgers, who did not start their top two pitchers -- Clayton Kershaw and Zack Greinke -- in the series.
"I think when you're not putting runs up you've got guys that want to get it done now," outfielder A.J. Pollock said. "Probably a little over-swinging and getting outside the zone. I know I've done that. It's tough, because you want to pick up the pitchers because they're throwing well, and it just wasn't happening and you start to press.
"Every team is going to go through that at some point. It's tough when you're in it to figure out exactly how to stop it. Obviously you want to care, I mean everyone cares. It's kind of trying to back off because you can care too much sometimes and that causes pressing. It's a tough one to get out of it."
And to be fair, the Dodgers weren't exactly hitting the cover off the ball Sunday, either.
The game was scoreless through 12 innings and neither team was able to get a runner to third until the 13th when D-backs catcher Jordan Pacheco reached there on an Aaron Hill base hit.
Pacheco would try to score when a pitch by J.P. Howell squirted away from catcher Yasmani Grandal, but Grandal quickly recovered and tossed the ball to Howell covering the plate.
Howell, slipped, but was able to reach behind his back as he fell and tag out Pacheco.
"I had a good jump," Pacheco said. "I saw it bounce away and you've got to take chances in a game like that. He did a great job covering the plate."
Steve Gilbert is a reporter for MLB.com. Read his blog, Inside the D-backs, and follow him on Twitter @SteveGilbertMLB. This story was not subject to the approval of Major League Baseball or its clubs.