Kang notches first big league homer vs. Cards
Manager Hurdle encouraged by infielder's progress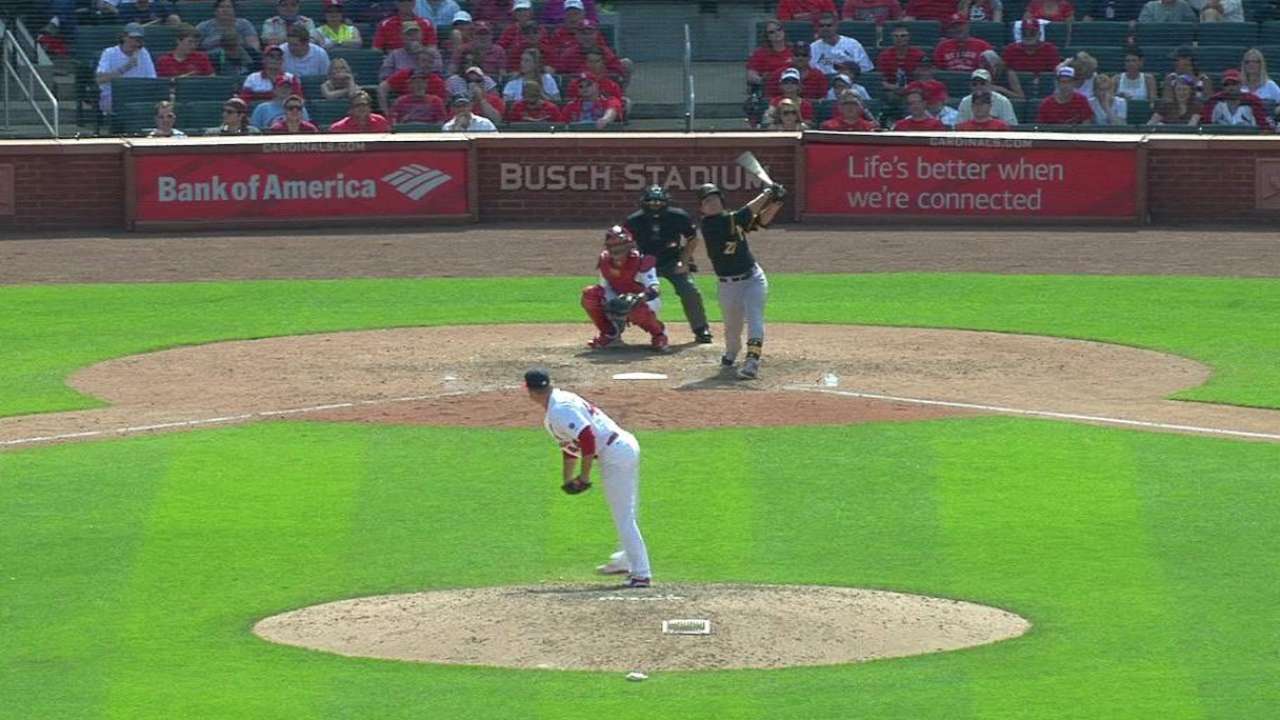 ST. LOUIS -- The most striking thing about Jung Ho Kang's first Major League home run wasn't how hard and far he hit it -- and it was darn impressive on both counts -- but how relatively slow Trevor Rosenthal had thrown the pitch he hit.
Rosenthal, the Cardinals' closer, is a fireman both in job description and stuff. The scouting reports on Rosenthal, the only thing Kang had seen before stepping into the batter's box to face him in the ninth inning Sunday, doubtlessly boldfaced his near-100-mph fastball.
So Rosenthal tried to throw off Kang by throwing an 87-mph curve as his first pitch of the inning, and Kang sent it 418 feet into the left-center bleachers.
Talk about making a Major League adjustment.
"I was ready," Kang said through interpreter H.K. Kim. "My timing on it was perfect, and I put a good swing on it."
With apologies to Bobby Thomson, this truly was a Shot Heard 'Round The World.
The 14-inning, 3-2 loss to St. Louis ended in the middle of Monday night in South Korea. Kang expected his phone to start blowing up in a few hours.
It was also a shot that brought the Bucs -- certainly their bench -- to life.
Sean Rodriguez responded to a question about Kang getting the proverbial "silent treatment" upon his return to the dugout with a smile and head-shake.
"Oh, no. That was too big, at that moment," Rodriguez said. "We were all over him, celebrating with him."
It was big, because in a flash the Pirates found themselves in a 1-1 tie after having been blanked for 17 consecutive innings by St. Louis pitching.
"I had a good feeling going around the bases," Kang said. "It was my first home run, so the other players celebrated with me. But it's sad that it couldn't help us win."
"Wasn't that exciting?" manager Clint Hurdle said, his face brightening. "It was fun to watch, fun to see his smile coming [into the dugout]. He's finding his way."
The home run was only the latest and most conspicuous evidence of Kang's growing comfort -- and production -- as a big leaguer. Sunday's 2-for-5 left him 8-for-19 in his past seven games, and with a solid .281 average.
"I keep saying, he's going to get more experience," Hurdle said.
Touching all the bases
• First: Pedro Alvarez arrived in St. Louis with four walks for the season -- and left town with 11, after drawing a career-high four on Sunday.
• Second: Since the start of the 2014 season, the Pirates are 2-11 in Busch Stadium, despite being outscored merely 41-33.
• Gregory Polanco, even after going 2-for-7 Sunday, has a daytime average of .455 (15-for-33) for the season.
• Home: That's where the Pirates will be next weekend against the Cardinals; their record against them in the past 18 games at PNC Park (13-5) is virtually a reverse of that in Busch Stadium (3-15).
Tom Singer is a reporter for MLB.com and writes an MLBlog Change for a Nickel. Follow him on Twitter @Tom_Singer. This story was not subject to the approval of Major League Baseball or its clubs.