Cards' pitching impressive in series vs. Bucs
Despite 'pen's scoreless streak ending, it only allows two runs; starters combine for 0.92 ERA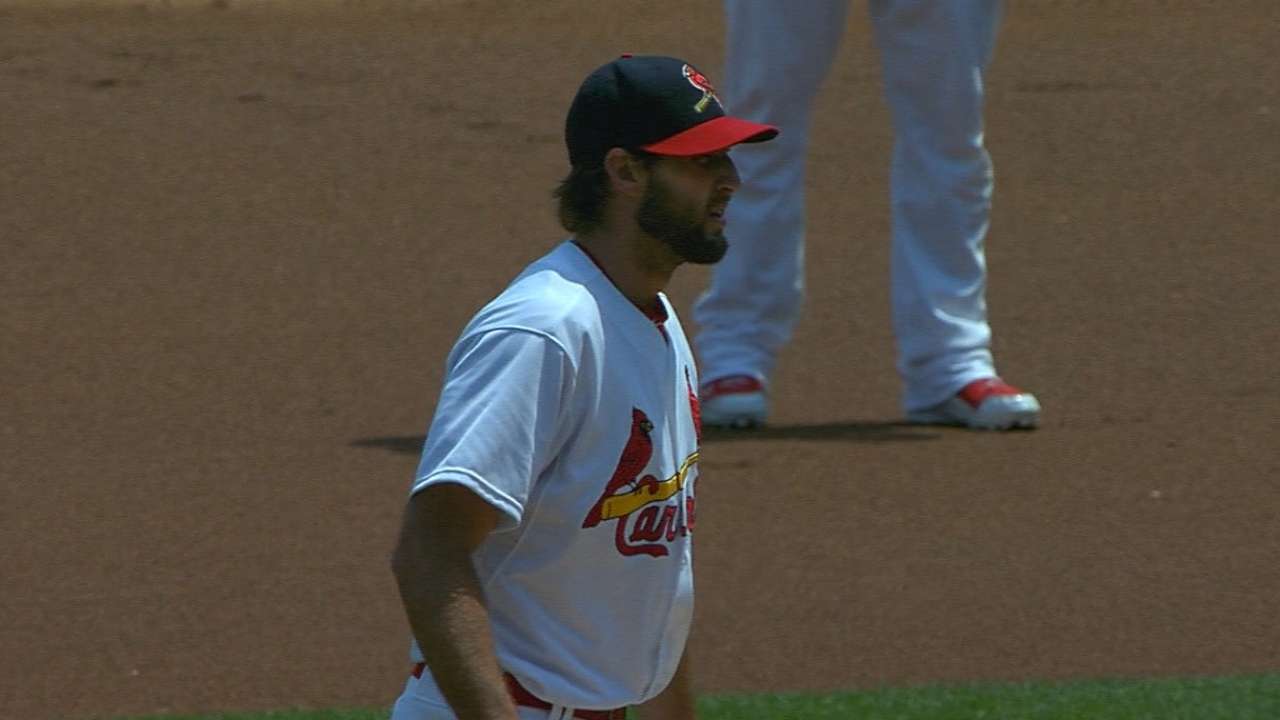 ST. LOUIS -- The scoreless streak put together by the Cardinals' bullpen may have been snapped at 21 1/3 innings, but nobody in the home clubhouse was complaining after Sunday's game against the Pirates.
In fact, a suddenly taxed Cardinals bullpen gave up a pair of runs in the series finale against the Bucs, but it wasn't enough for Pittsburgh as the Cardinals prevailed, 3-2, in 14 innings for their third consecutive walk-off win to sweep the series.
"You stay out there long enough, you're going to give something up," Cardinals manager Mike Matheny said.
Jung Ho Kang's first career homer off of Trevor Rosenthal to lead off the ninth officially ended the streak. The blast tied the game at 1-1.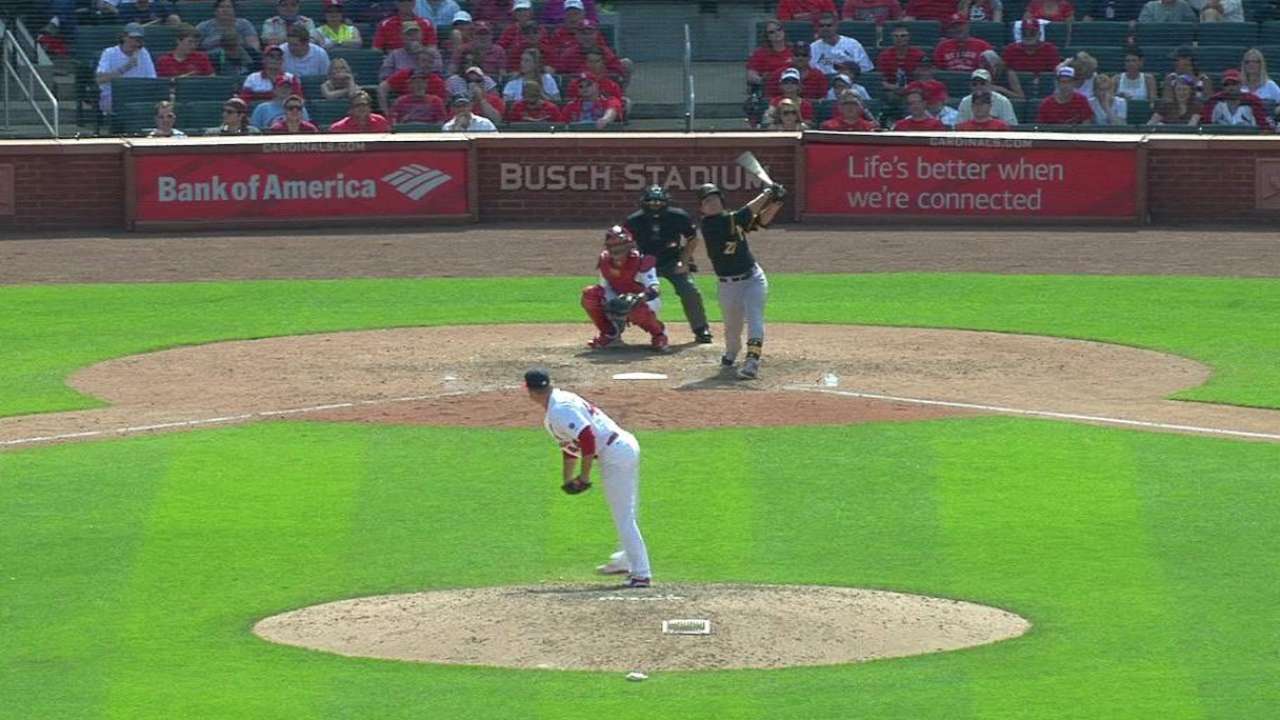 "You've got a first-pitch breaking ball to a guy who's never really seen him before, you just tip your hat and keep on pitching, because that's just not going to happen very much," Matheny said.
Pedro Alvarez also homered off of righty Sam Tuivailala -- who was called up Saturday night from Triple-A Memphis -- in the 12th to give the Pirates a brief 2-1 lead. The Cardinals tied it in the bottom of the inning, and Kolten Wong won the game with his second homer of the season in the 14th.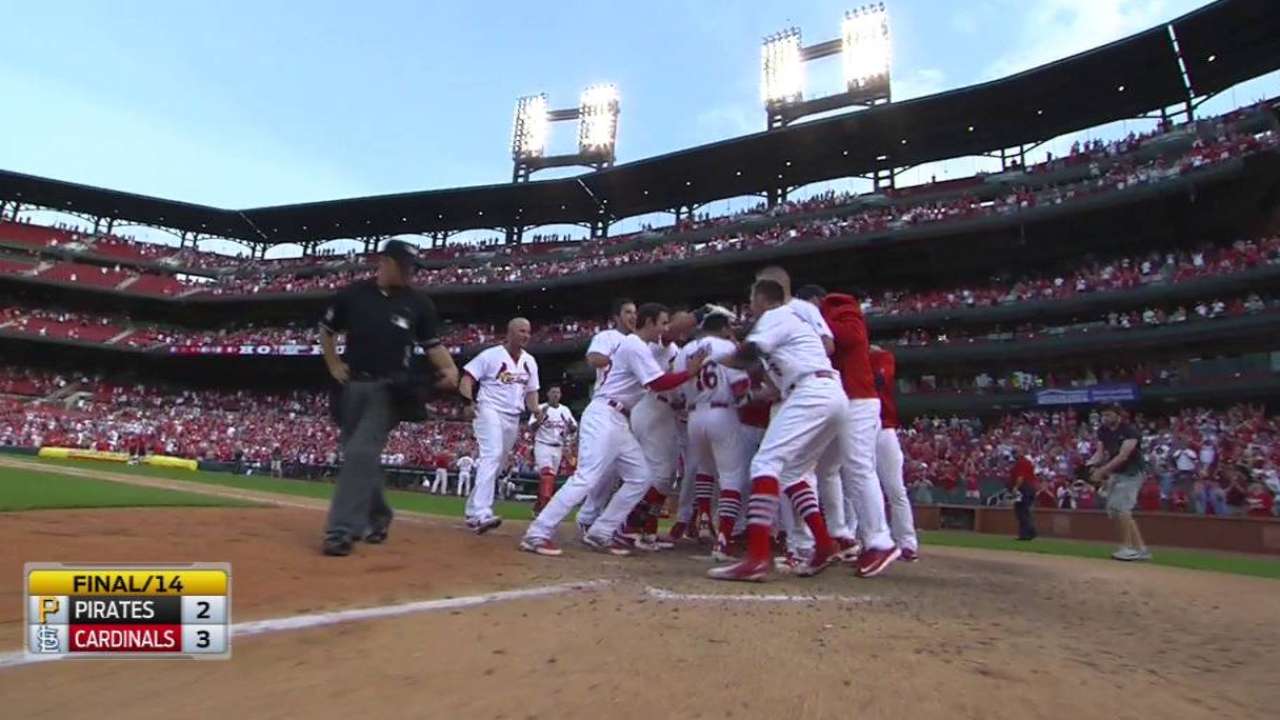 Wong's blast put the cap on an impressive weekend of work by the entire Cardinals pitching staff.
The starters -- Lance Lynn, John Lackey and Michael Wacha -- had a 0.92 ERA in 19 2/3 innings against the Pirates. The bullpen allowed just the two runs in 15 1/3 innings.
"Once you see these guys go out in front of you and have a good outing, you want to match those guys," Wacha said. "Just a friendly competition. The whole staff's been throwing the ball really well. Just continue showing up every day ready to play."
Matheny likes what he's seeing.
"Just keep going and believe what you're seeing, that's what I tell them," Matheny said. "They're all doing the little things they need to to get better."
Joe Harris is a contributor to MLB.com. This story was not subject to the approval of Major League Baseball or its clubs.