MLB.com Columnist
Lyle Spencer
Weaver has no answers for slump
Teammates, opponents all believe Angels right-hander will snap out of it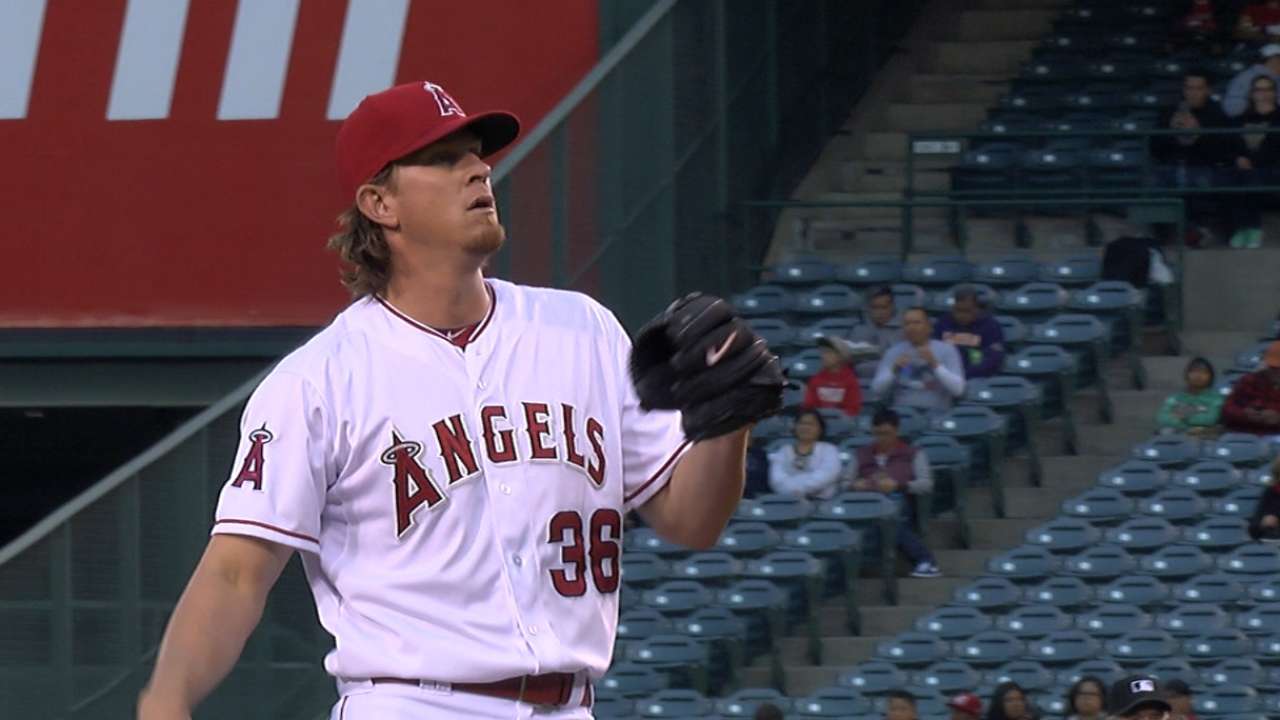 SAN FRANCISCO -- This is all new to Jered Weaver. He's had rough starts and bad patches, but never like this. When you've been so successful for so long -- nine years -- you can't help but entertain doubts when everything seems to be collapsing at your feet.
"I don't know," the Angels right-hander said, a distant look in his eyes following Sunday's five innings of searching for the right stuff in a 5-0 loss to Tim Lincecum that wrapped up a weekend sweep by the Giants. "I've never pitched like this before. I'm not really doing a good job of helping my team win now. It's tough.
"I've got to figure out a way to drag myself out of this and move on. Nothing hurts [physically]. It feels like it's coming out weird, man. I've got no answers."
By "coming out" he meant the baseball, from a right hand that has served him so well all these years. Weaver has been a 20-game winner, won 18 twice. He's been top five in the American League Cy Young Award balloting three years running (2010-12). He's thrown a no-hitter, started an All-Star Game, excelled in postseason play.
Weaver is 32, not 38. But he's not the pitcher at the moment he always has been, and at 0-4 through six starts with a 6.29 ERA, it is eating him up.
"I'm pretty much serving batting practice up there," Weaver said.
Weaver's fastball topped out at 86 mph Sunday and hovered in the 83-85 range. His first pitch, to leadoff man Nori Aoki, sailed over the wall for Aoki's first homer of the season.
"It definitely wasn't the way I wanted to start," Weaver said. "I told Chris [Iannetta, his catcher] he was going to swing at the first pitch. I was trying to catch him off-guard. It was up and middle in. What are you going to do? I've got to work with what I've got."
Joe Panik stepped in and went deep over the same wall, his first homer of 2015. Four pitches and Weaver was two runs down. He rebounded after Angel Pagan's triple, keeping him at third by retiring Buster Posey, Brandon Belt and Brandon Crawford.
Crawford's two-out, two-run double in the fifth ended any chance of a respectable outcome for Weaver.
"Weave was a pitch or two from maybe getting through six innings with three runs," Angels manager Mike Scioscia said. "I know he's frustrated, disappointed with the results. Jered's such a competitor, that's what you'd expect. But I don't feel he's that far off."
Panik and Pagan shared Scioscia's belief that Weaver is bound to snap out of it.
"It was the first time I've seen him," Panik said. "I was watching video and talking to guys. They said he's trying to be more of a pitcher now, mixing his stuff up. I fouled a fastball to the pull side and told myself to stay back, and I caught a curveball a little out front.
"He's a competitor. He's had a lot of success and I feel like he's going to come out of it. It's like with Timmy. Once you get a few good starts, you get the confidence back. Timmy doesn't have 97 [mph] in the tank anymore, but he's able to mix any one of his pitches in any count. He was impressive today."
The Angels collected three singles and a walk in eight innings against Lincecum, who shaved his ERA to 2.40 and is 2-2 in five starts.
Pagan hadn't faced Weaver since they were in the Minor Leagues, a decade ago.
"He used to throw harder," Pagan said, "but he's more experienced now. He knows how to get you off-balance. He'll throw a fastball, then a changeup to get you to roll over. You have to be ready for everything. He's good; we just put some good at-bats up against him today."
Angels shortstop Erick Aybar, who singled and walked against Lincecum, came up through the Halos' farm system with Weaver, whose first six Major League starts in 2006 were among the best in history. He was 6-0 with a 1.12 ERA.
"First time," Aybar said in Spanish, asked if he's seen him struggle like this. "Everybody knows how Weaver is. When he's on the mound, he wants to compete and help the team. Everyone knows he's a good pitcher. He just needs to keep his head up. What happened, happened. Keep moving forward. There's still a lot of baseball left."
Iannetta doesn't see much difference in Weaver's stuff from last season when he was 18-9 with a 3.59 ERA in 34 starts.
"He's throwing not much different than last year," Iannetta said. "His stuff is good. He's making a few mistakes over the middle of the plate. This little funk he's in, whatever it is, I'm sure it'll pass."
A humbling game, baseball. Even the best can lose their swagger and be dropped to their knees.
Lyle Spencer is a national reporter and columnist for MLB.com. Follow him on Twitter @LyleMSpencer. This story was not subject to the approval of Major League Baseball or its clubs.