Angels have 'bad weekend' in San Francisco
Offense bats .168 as Halos get swept; Weaver struggles in series finale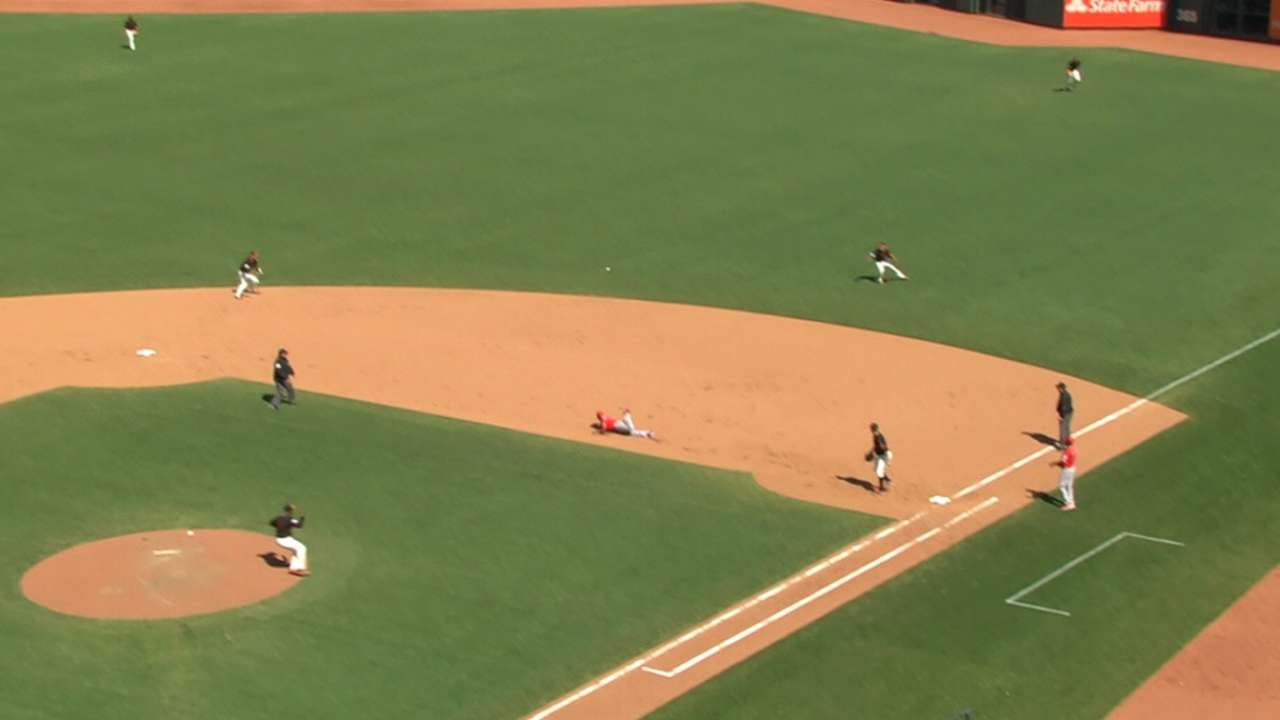 SAN FRANCISCO -- A walk-off hit, a line drive that hit their own runner and a shutout. That, in a nutshell, was the Angels' weekend in San Francisco, which ended with a three-game sweep and left them seven games back of the streaking Astros in the American League West.
The city where Tony Bennett left his heart is the city the Angels left with heartache.
"Bad," Angels shortstop Erick Aybar said after Sunday's 5-0 loss. "Nothing went our way."
Coming off winning two of three in Oakland, which allowed them to survive April with a .500 record, the Angels did little right against the Giants at AT&T Park. On Friday, they couldn't overcome a seventh-inning call that wasn't overturned. On Saturday, they had the tying run 90 feet away before Matt Joyce's two-out liner in the ninth hit Taylor Featherston in the leg. On Sunday, Jered Weaver's struggles continued and the Angels hardly had a chance against Tim Lincecum.
Through it all, their offense batted .168 and went 4-for-16 with runners in scoring position.
"We had a bad weekend," Angels manager Mike Scioscia said, his team suffering its first road Interleague series sweep since May 2006, in Los Angeles. "We didn't do a lot of the things we need to do at the plate and on the field, and some things got away from us on the mound."
The Angels are three games below .500, but that puts them only one game behind last year's pace through 25 games -- a year that ended with a Major League-leading 98 wins.
"Because it's so early, it seems like we're far off," Angels catcher Chris Iannetta said. "We're really not. It's a pitch here and there, a hit here and there, and we're right back in it."
But the first four weeks have nonetheless set off some alarming signs.
The first is Weaver, who's throwing his fastball 84 mph -- nearly three full ticks below his average velocity the last two years -- and has a 6.29 ERA through his first 34 1/3 innings, a stretch that has seen him give up 45 hits and eight homers.
"I have never started a season like this before," Weaver said. "It's frustrating. I'm not doing a very good job of helping the team win right now."
The lineup isn't helping much, either.
Last year, an Angels offense that led the Majors in runs was able to make up for a lot of deficiencies. So far this year, that same offense -- minus two notable exceptions in Josh Hamilton and Howie Kendrick -- seems a Mike Trout injury away from sheer ineptitude.
The Angels rank 20th in the Majors in runs and 29th in OPS. Take out Trout, and they're batting a collective .213.
"Of course we're surprised," Aybar said. "Our offense is good. It's been almost a month, and we still haven't done much. But there's still a lot of baseball left. We have to do the little things to win games."
Alden Gonzalez is a reporter for MLB.com. Read his blog, Gonzo and "The Show", and follow him on Twitter @Alden_Gonzalez. This story was not subject to the approval of Major League Baseball or its clubs.