MLB.com Columnist
Richard Justice
Astros starting to believe they're for real
Red-hot AL West leaders have components in place to contend for long haul
HOUSTON -- At the moment, there's some magic around these Astros. Isn't that the bottom line? They might see it differently. To them, a little 10-game winning streak is the byproduct of blue-collar stuff.
"Everybody's playing their heart out," first baseman Chris Carter said.
Carter was standing in a quiet home clubhouse after a 7-6 victory over the Mariners on Sunday afternoon at Minute Maid Park. This was the kind of sloppy game the Astros lost by the boatload in recent seasons. But there was no wild celebration, nothing out of the ordinary.
Day by day, they're starting to believe.
"No question," manager A.J. Hinch said. "The confidence is growing."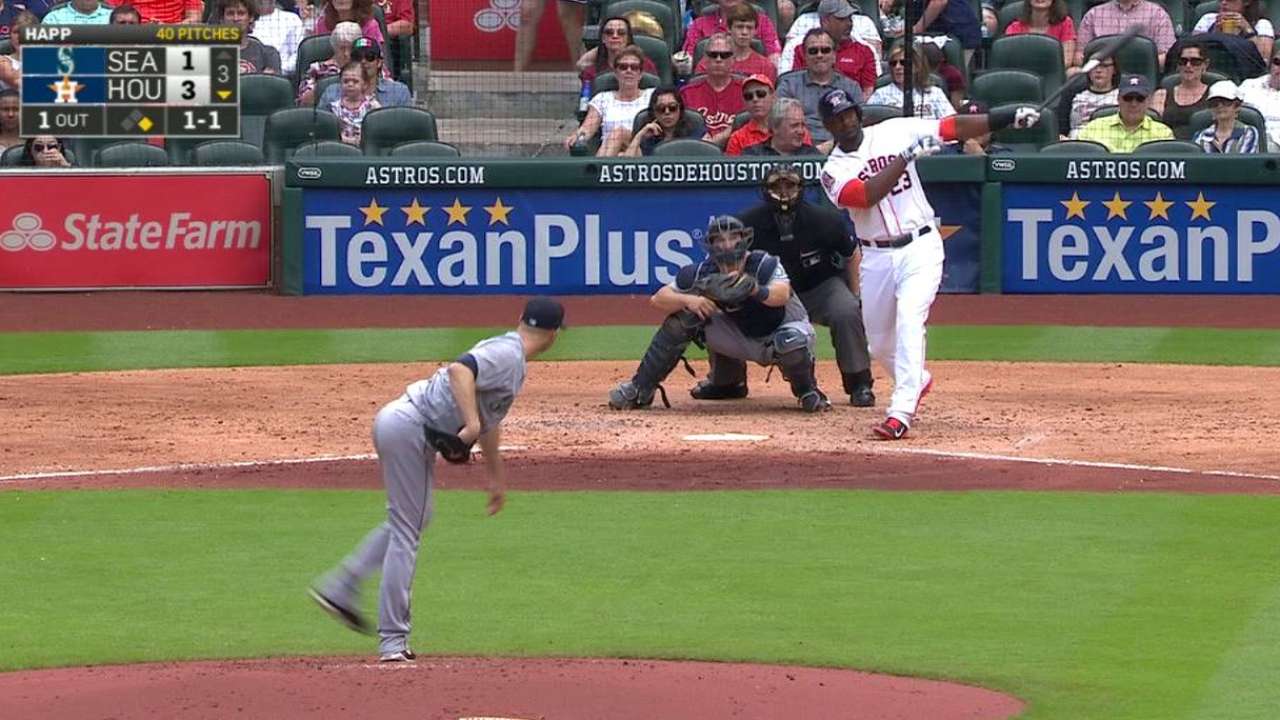 The Astros have won 14 of 15 to open up a seven-game lead in the American League West. They're 14-5 inside the division.
This is extraordinary only because it's coming from a team that hasn't been to the postseason in 10 years and averaged 104 losses the past four seasons.
From that standpoint, these early victories probably are more important than they'd be for teams that have been in contention. While it's one thing to believe you're better, it's something else to go out and see proof of it. That is, to win a game Sunday in which Houston made two careless errors, allowed a five-run lead to slip away and get an important Seattle run taken off the board with a replay challenge in the third inning.
Then with the game on the line, Evan Gattis led off the bottom of the eighth with his second home run of the day to break a 6-6 tie.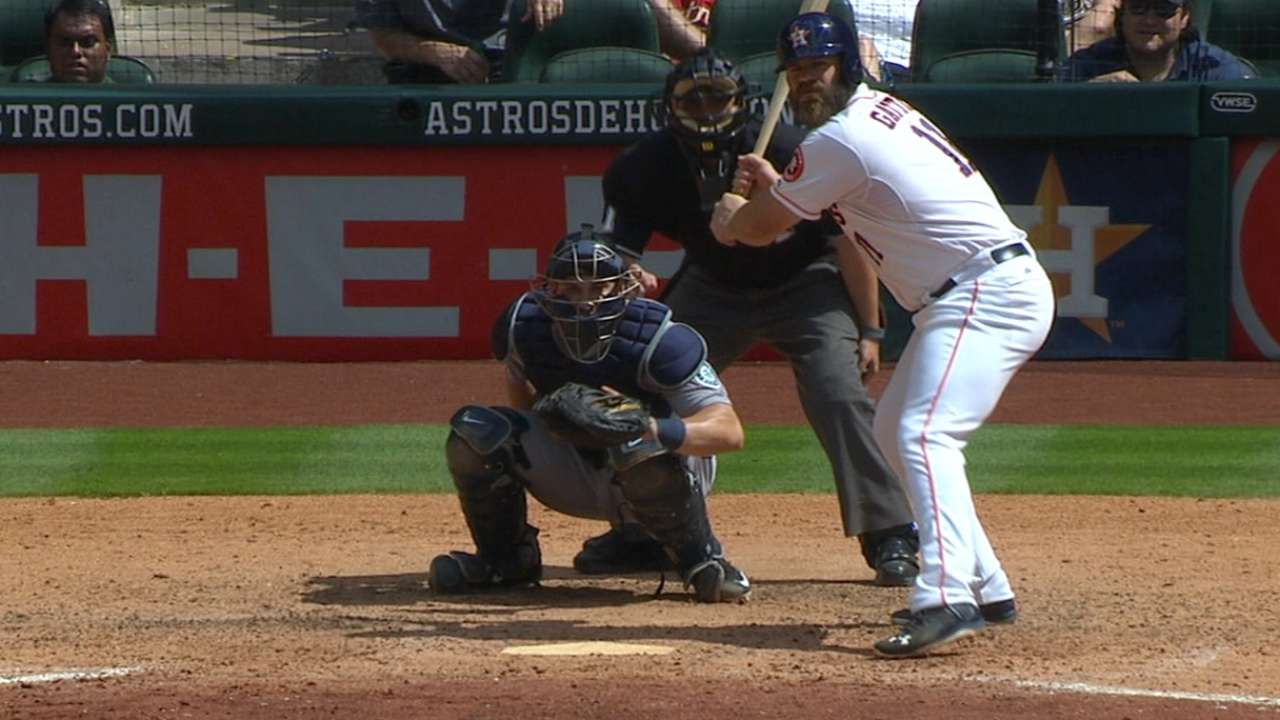 "I think we might have something special," Gattis said. "It's been the most fun personally I've had on a team."
That's the vibe for a club doing everything well. It's fourth in the Majors in runs thanks to an offense that's first in home runs, stolen bases and strikeouts, and it ranks second in walks. The Astros are fifth in ERA and No. 1 in MLB.com's defensive efficiency rating.
They have one of baseball's dominant starting pitchers in Dallas Keuchel (3-0, 0.73 ERA) and another, Collin McHugh (4-0, 3.41), who has been very solid.
Bullpen? Houston hasn't lost a game in which it led at any point, and that's a far cry from the group that tied for the Major League lead in blown saves a season ago.
Are the Astros real? That's a question they'll answer themselves over the coming months. But they do not resemble those other clubs.
General manager Jeff Luhnow used those seasons to establish a foundation, and that's what what second baseman Jose Altuve, catcher Jason Castro, outfielders George Springer and Jake Marisnick and others represent.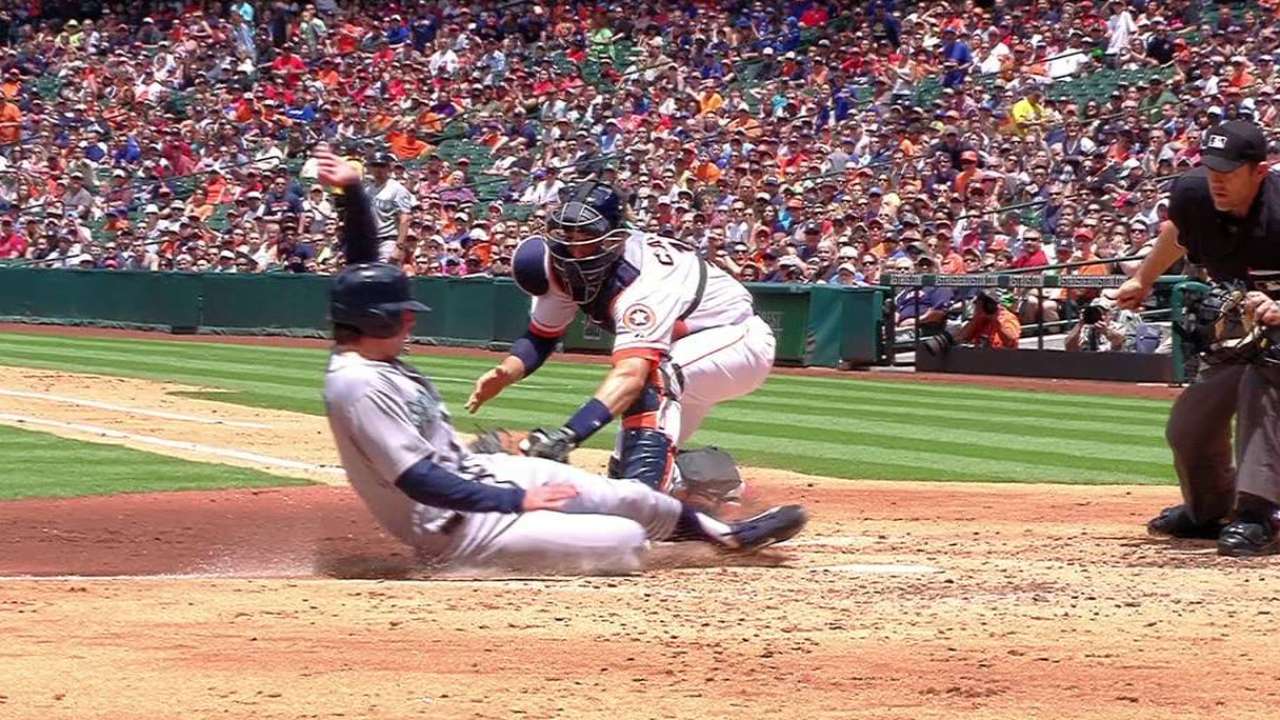 Luhnow also replenished the farm system, and when last season ended, Luhnow believed the time had come to contend. He furiously upgraded his roster, adding Gattis, outfielder Cory Rasmus, shortstop Jed Lowrie and relievers Pat Neshek and Luke Gregerson.
Just as important, Luhnow hired someone to make it all work. Hinch has won his players over with his consistency and communication, and especially with his handling of the lineup and bullpen.
Those years of losses were part of a larger blueprint. As painful as they were, owner Jim Crane believed the time had come for a complete franchise reconstruction. His hope was that once Houston was competitive again, the team would be positioned to contend for years to come.
And they just might be. While 25 games is just a start, it's a really good one. Along with that 18-7 record, the Astros have a deep farm system, one that might allow Luhnow to fill needs.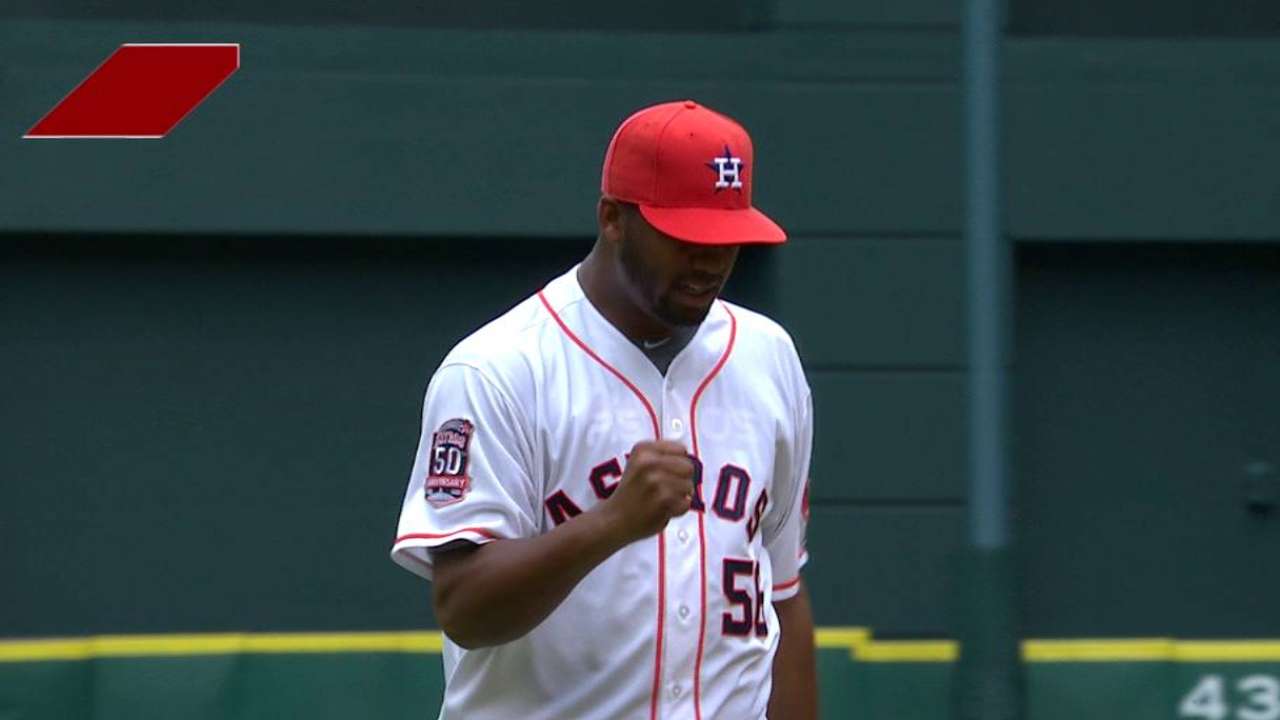 "What's impressive to me is how many different players have stepped up and contributed," Luhnow said. "If that continues, I'm not going to say we're going to stay at this pace all summer, but we certainly can be a winning team."
While going 70-92 last season, Houston saw enough from Kuechel, McHugh, Springer and Altuve to think they were closer than lots of people realized. In Springer and Altuve, the Astros have two of the most dynamic and entertaining players in the game.
And Marisnick has joined that group. At 24, he has had a huge impact, not just in hitting .382 and stealing nine bases, but in playing the best defensive center field in the game, according to an assortment of analytics.
On the nights Hinch uses Marisnick, Springer and Rasmus in his outfield, he has a defensive trio that might just rank up there with the Royals in terms of saving runs.
The Astros are encouraged that they were winning before their middle-of-the-order guys -- Gattis, Springer and Carter -- got hot.
"We've got a lot of guys contributing," Hinch said. "We're sort of going in waves on guys who are hot. That's a good sign that it's not relying on one particular player or one particular pitcher."
When Lowrie went on the disabled list with torn thumb ligaments, every regular position player was in his 20s.
Luhnow said he's thrilled for guys like Castro and Altuve, who fought through the tough times with professionalism and determination. They kept fighting hoping against hope that there was a better day coming.
"It's awesome," Springer said. "This is how you play."
Richard Justice is a columnist for MLB.com. Read his blog, Justice4U. This story was not subject to the approval of Major League Baseball or its clubs.