Subpar week capped by rough performance
Abbreviated start, poor defense lead to rout as losing streak hits five
MINNEAPOLIS -- With one sentence following the White Sox 13-3 loss to the Twins on Sunday afternoon at Target Field, John Danks just might have provided his team's mantra for the remaining 140 games this season.
"It all falls on us in here," Danks said. "I keep saying it, but it's true. We've got to be better."
Better in every facet of the game, based on this 0-5 road trip concluding with one of their worst performances in recent memory. Danks lasted only 2 1/3 innings, the White Sox committed four errors and their offense is hitting .222 with no home runs and 20 runs scored in their past eight games.
Look at Sunday's third and fourth innings as a perfect microcosm of this disappointing 8-14 start. The Twins scored seven runs in the bottom of the third, with only three of them earned, but the White Sox came back and loaded the bases in the top of the fourth before Mike Pelfrey hit Geovany Soto and Micah Johnson to force home two runs.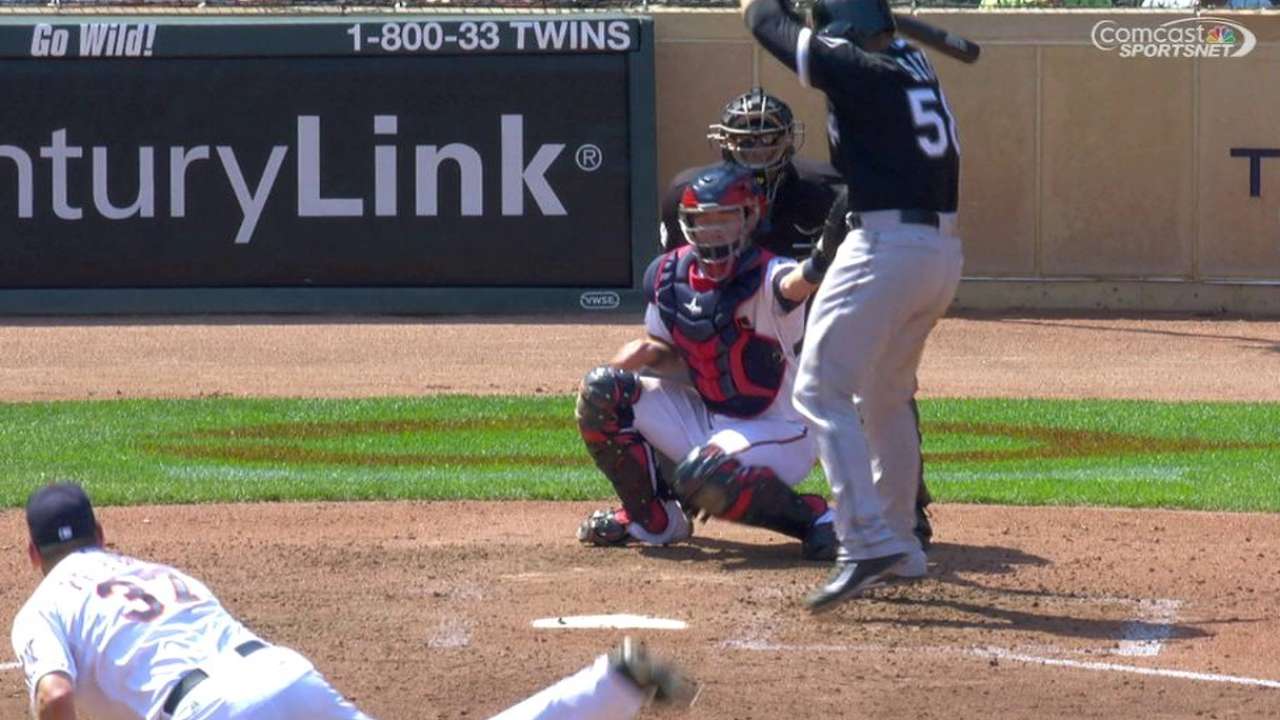 Twins manager Paul Molitor brought in Ryan Pressly, even with a five-run lead, and he retired J.B. Shuck and Melky Cabrera to end the rally. The White Sox never got any closer.
"I don't think there was anything we were really good at," Chicago manager Robin Ventura said of his team, which dropped to 2-11 on the road. "We have just to check ourselves and get back after it."
"We didn't see this coming," Danks said. "We knew we had to play good baseball. We said it all spring. We had the guys here to do it. We just had to go out and do it. To this point, we haven't."
Blame for the White Sox shortcomings naturally falls upon Ventura. Jose Abreu said before the game that the players should be held responsible for the struggles, a point which Danks seconded after Chicago's fifth straight loss.
As Danks said, Ventura didn't cause him to miss a flip from Adam LaRoche or make a bad throw to second in the third inning.
"Robin is doing everything he can. I feel bad for him," Danks said. "He's working just as hard as the rest of us. He's not throwing the ball or swinging it or trying to catch it."
This week was a tough one for the White Sox, with two games lost due to the civil unrest in Baltimore, a third played before no fans and then a flu bug running through the clubhouse over the past four or five days. But Chicago isn't looking for excuses.
The players need to be better, and they believe they will be. The trick for this last place team in the American League Central is to engineer a turnaround before the season gets too far gone.
"Absolutely, 100 percent," said Soto, when asked about being confident in this group being able to bounce back. "We just have to play how we know how to play, get something going, and it's going to be contagious. Everybody's going to get in on it."
"A lot of these guys, I know they're battling through stuff," Ventura said. "But you have to be better. You can't go out there and lay an egg like that."
Scott Merkin is a reporter for MLB.com. Read his blog, Merk's Works, and follow him on Twitter @scottmerkin. This story was not subject to the approval of Major League Baseball or its clubs.