Smith allows run after long scoreless stretch
Mariners rookie hadn't been scored upon in 19 1/3 innings, gives up decisive HR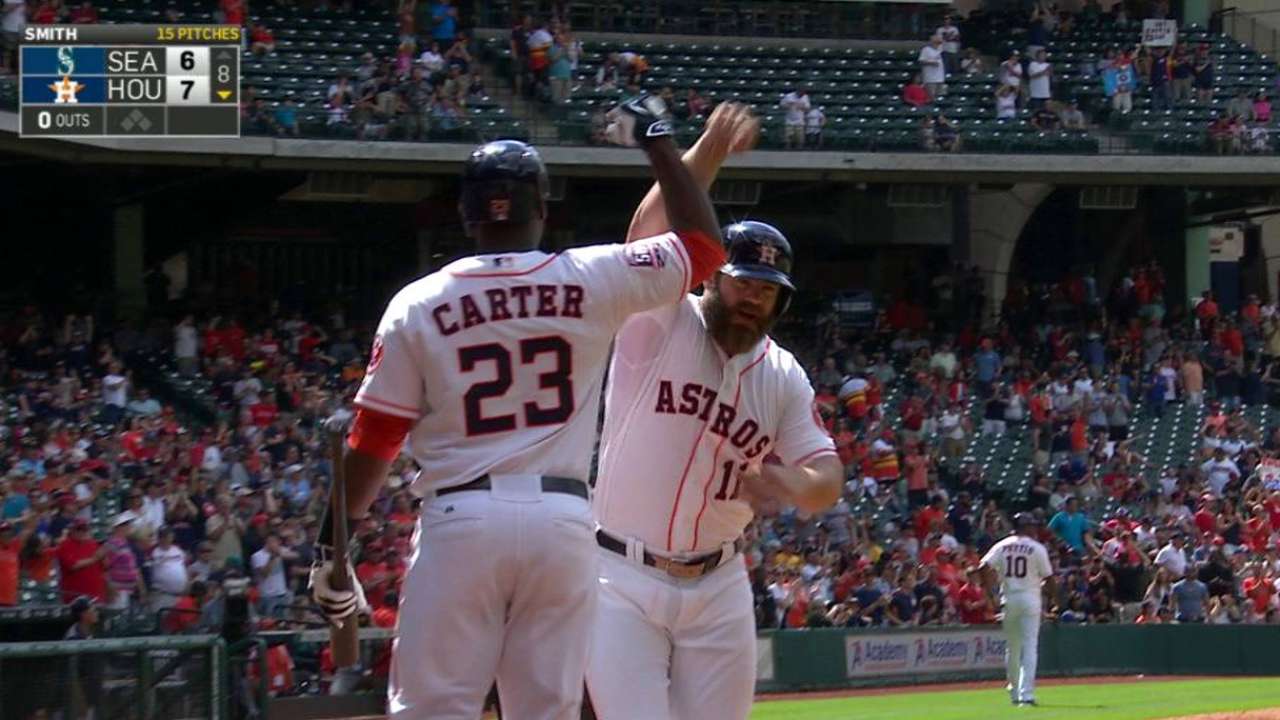 HOUSTON -- It had to happen sometime to Carson Smith, but he would have preferred not to have the first run allowed in his career be a game-winning home run by Astros designated hitter Evan Gattis in the eighth inning of a battle the Mariners were desperately trying to win Sunday.
The 25-year-old right-hander had an amazing first two months of his Major League career, throwing 19 1/3 scoreless innings before Gattis spoiled that perfection with a line-drive homer leading off the eighth that lifted the high-flying Astros to a 7-6 victory, their 10th straight.
"I had my fingers crossed," Smith said after seeing Gattis drive a slider he left up in the zone. "I didn't know if it had the height or not. But it cleared by a few feet, so tough break."
After Seattle rallied from a 6-1 deficit to tie the game in the top of the seventh, Smith came on and zipped through the top of Houston's order in the bottom of the seventh. Looking to avoid a series sweep and fall to 10-15, manager Lloyd McClendon brought him back out for the eighth.
McClendon's thought was to let Smith face the right-handed-hitting Gattis and Chris Carter before turning things over to lefty Charlie Furbush, but Gattis greeted him with his second home run of the game.
The home run was the Astros' third of the game -- the first two coming off starter J.A. Happ -- as they increased their American League long-ball lead to 40. Eleven of those came in the past three games against the Mariners as balls were flying out of Minute Maid Park with the roof open on sunny days.
"I think we figured out this week that it's a short porch out there in left field," Smith said.
Catcher Mike Zunino said Smith just made one mistake at the wrong time to the wrong hitter. After a slow start, Gattis has cranked five homers in the past six games. The former Braves catcher homered four times in the past three days.
"He just left a breaking ball up in the zone," Zunino said. "Gattis always jumps on mistakes. He's a good hitter. He just left it up a hair and he hit a line drive. It's a homer here, maybe a double or homer other places, but he put a good swing on a bad pitch."
Smith's streak thus ended after a club-record 19 1/3 innings and 20 straight scoreless appearances to start his career, which tied for the third-longest stretch in MLB history. Brad Ziegler opened his A's career in 2008 with 29 scoreless appearances and Matt Smith went 22 games with the Yankees and Phillies in 2006 before allowing a run.
"It's baseball," said Smith. "You give up hard-hit balls and get outs and you can give up soft-hit balls and get hits. That's the way it works. Today it didn't work out in my favor. I'll learn from it and move forward."
Greg Johns is a reporter for MLB.com. Follow him on Twitter @GregJohnsMLB as well as his Mariners Musings blog. This story was not subject to the approval of Major League Baseball or its clubs.