Pitching, timely hits key for salvaging series
Anibal's stellar start pivotal in finale between division rivals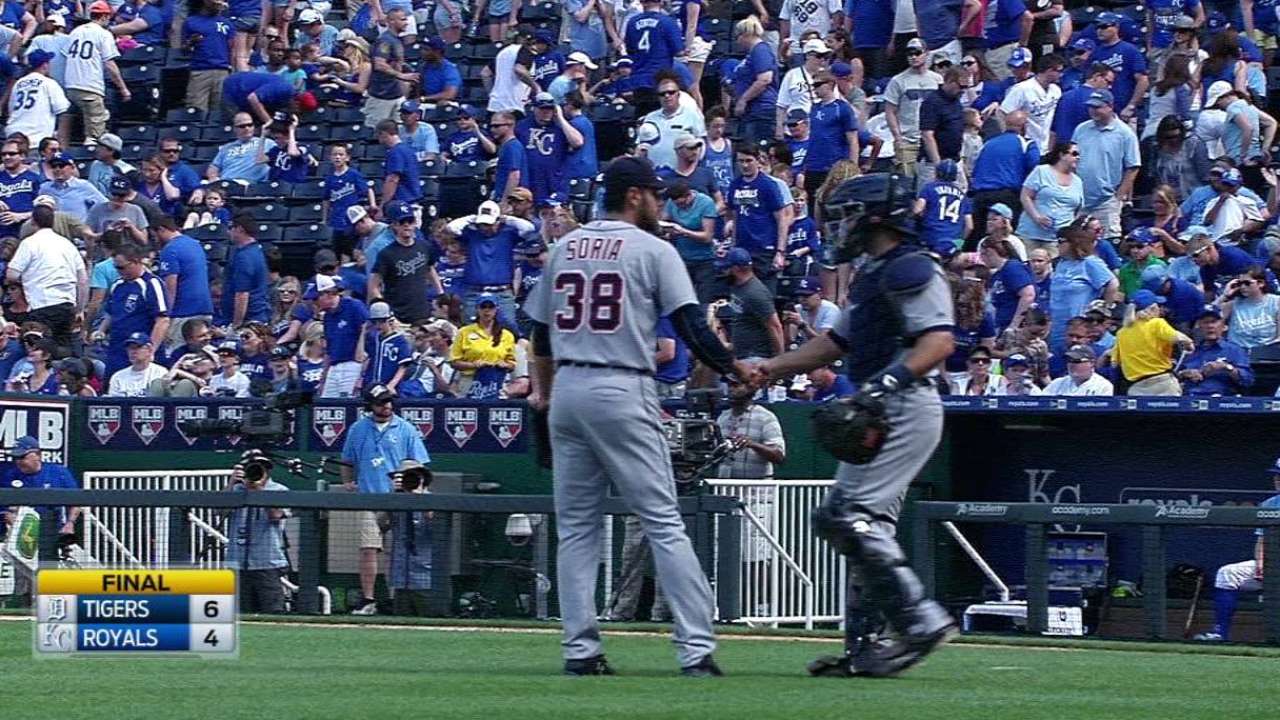 KANSAS CITY -- The quiet tranquility of the Tigers' Sunday morning clubhouse was briefly interrupted by the arrival of Miguel Cabrera in his getaway-day gear, including a fuchsia suit that caused a stir.
It was a different suit than Cabrera wore on his way into this city four days earlier. In the American League Central standings, however, the Tigers left town looking pretty much the same as they came in, a half-game up on the Royals after Sunday's 6-4 win.
Considering where they stood two games into their four-game series, it was a good look.
Even for a Tigers team that knows better than to make too much of an early series, it was noticed. It wasn't something they welcomed, but it was a nice test for a team that won its first six in a row and had generally won over the rest of the division in April.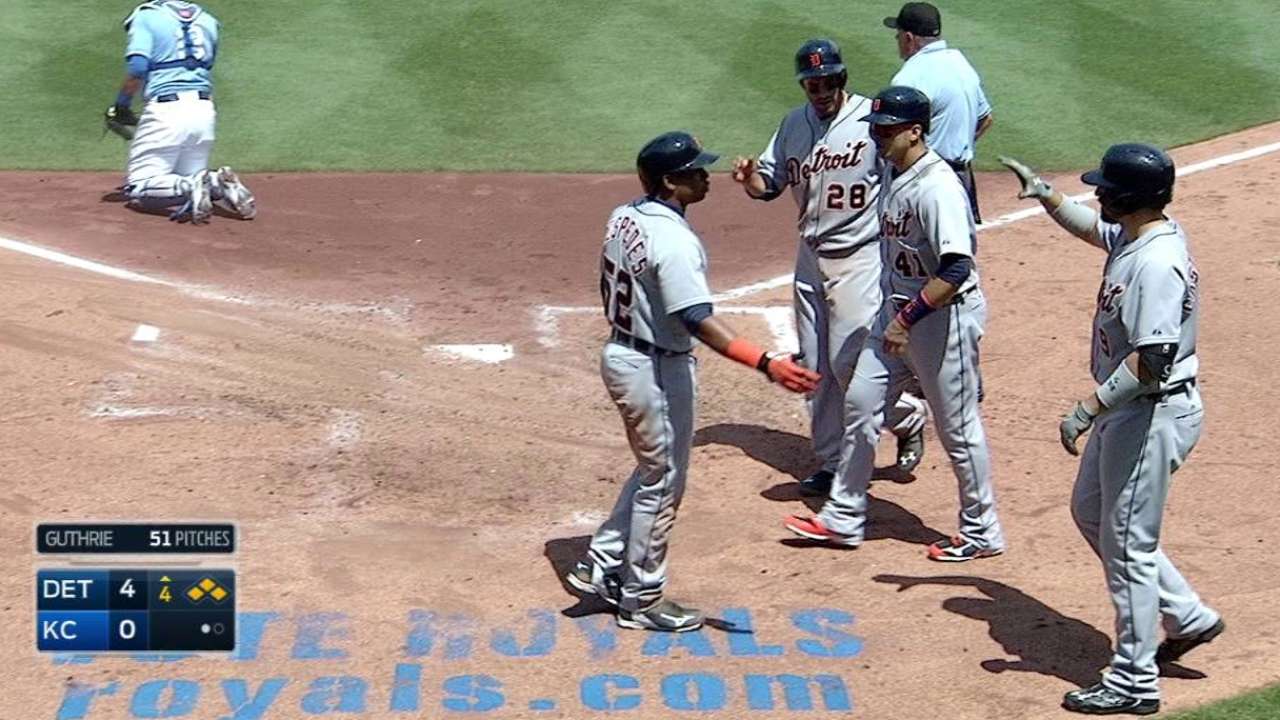 "To lose the first two here against a team that's very hot [and split], I think, could certainly show some resilience on their part," manager Brad Ausmus said.
The Tigers recovered with the same formula that has worked for them for the past four years, leveraging solid starting pitching into games that can be won by key hits. Detroit was outscored in the series, 17-10, and didn't top the two-run mark until Sunday's series finale, but it allowed just two runs over a 22-inning stretch from the second inning on Friday night through the sixth inning on Sunday. Most of those innings came from starters Kyle Lobstein, David Price and Anibal Sanchez.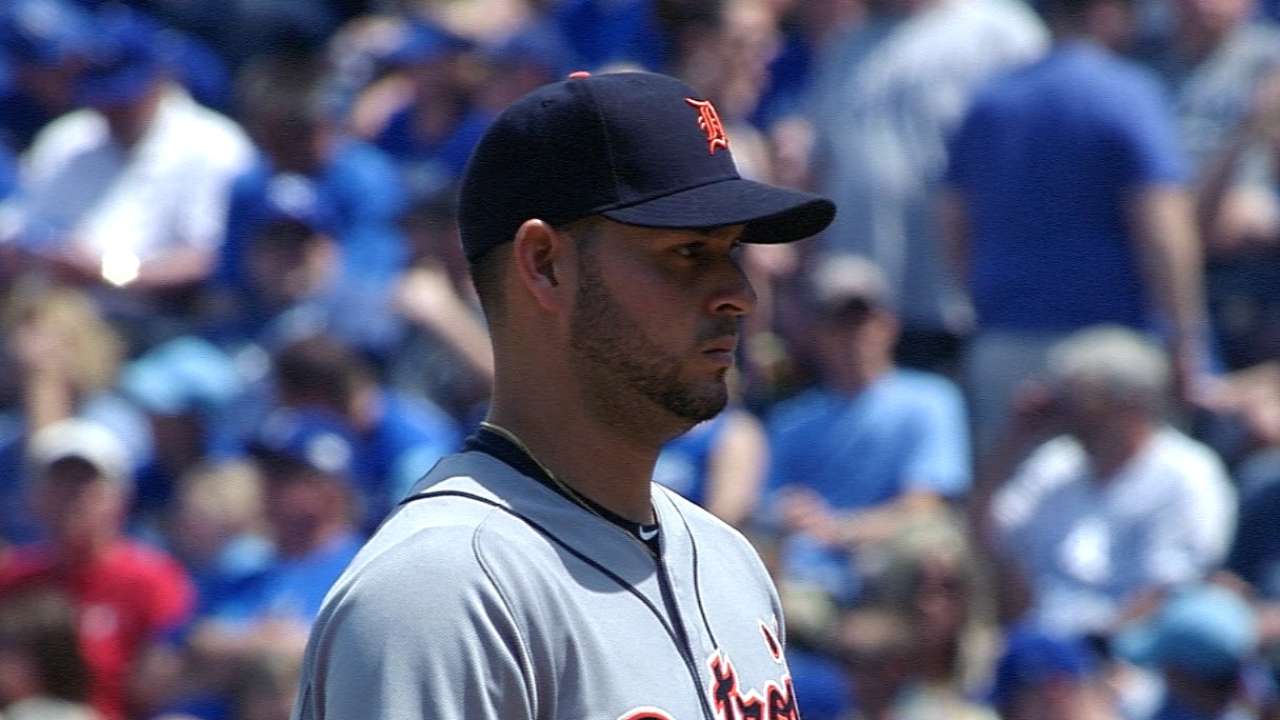 By the time the Royals' offense reignited against a tiring Sanchez and the setup relief, the series split was relatively secure.
"We had three really good pitching performances in a row from Lobstein, DP and Anibal," catcher Alex Avila said. "Those are the types of things we've come to expect from our staff, though. It was just a matter of getting some timely hits the last few days. They're not an easy team to beat, and it was nice to get some wins. …
"When you get pitching performances like that, you have momentum. That's why they say it's as good as your next pitcher, because when you're able to get guys going out there throwing strikes and innings are moving along, guys are pitching well, that adds to the momentum."
That momentum will likely be long forgotten when the teams meet again on Friday to start a three-game series at Comerica Park, culminating in a Sunday night showcase on national television. Price and Sanchez will pitch in that series, too, but at the start rather than the end.
Even as Sanchez was enjoying Sunday's win, his sixth against Kansas City since 2012, he had one eye ahead to the rematch.
"Let's see what happens," Sanchez said. "My next outing is against them. "Let's see what's going to happen in back-to-back games and just get another good outing."
Jason Beck is a reporter for MLB.com. Read Beck's Blog and follow him on Twitter @beckjason. This story was not subject to the approval of Major League Baseball or its clubs.