Mets' offense stuck in neutral against Nats
Club goes 4-for-23 with runners in scoring position in four-game series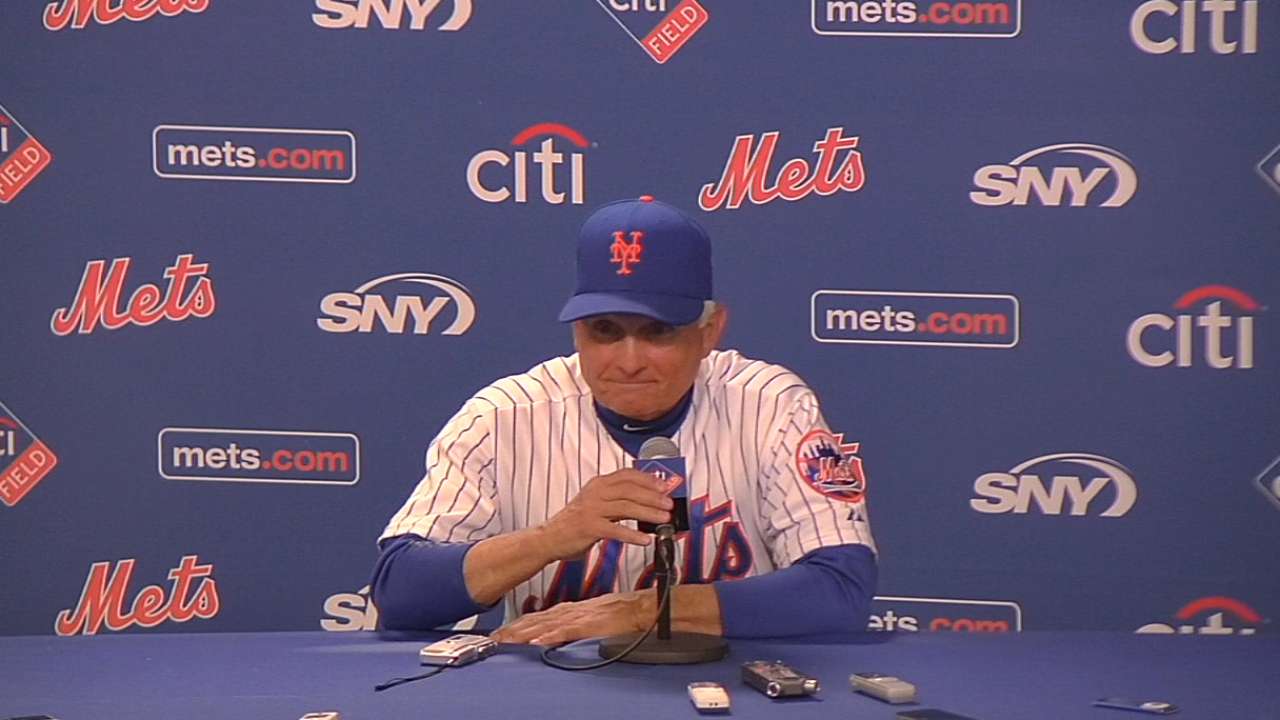 NEW YORK -- Terry Collins did say more games like this were on the way. The man must be psychic.
To be fair, Collins didn't predict a second consecutive 1-0 Mets loss to the Nationals. That would have required predicting an event that hadn't happened since 1973, the last time the Mets lost two straight 1-0 games to the same team. But he did warn the pitching would be tough and the offense tough to come by.
Against Washington's staff, that first part is assumed. The second is turning into an alarming trend.
"When they got Max Scherzer, people were wrapping up the World Series trophy and sending it to Washington," said Collins. "That kind of tells you about the type of pitching staff they have. But on the same token, we haven't hit the ball over the last 10 games like we can or like we should."
The Mets have averaged 2.9 runs per game over that span, which has translated into a 3-7 record and three consecutive series losses. The only Nationals starter they beat over this weekend's four-game set was Scherzer, who was outdueled by Matt Harvey on Friday. Even in that game, the Mets cradled a 1-0 lead until the eighth inning, only adding on when Jayson Werth badly misplayed Daniel Murphy's bases-clearing double to left.
A day before, Stephen Strasburg and three relievers held the Mets to two runs. On Saturday, it was Gio Gonzalez who twirled seven shutout innings. On Sunday afternoon, the Mets began by notching consecutive singles off Doug Fister in the first inning. They went 3-for-22 against Fister from there on.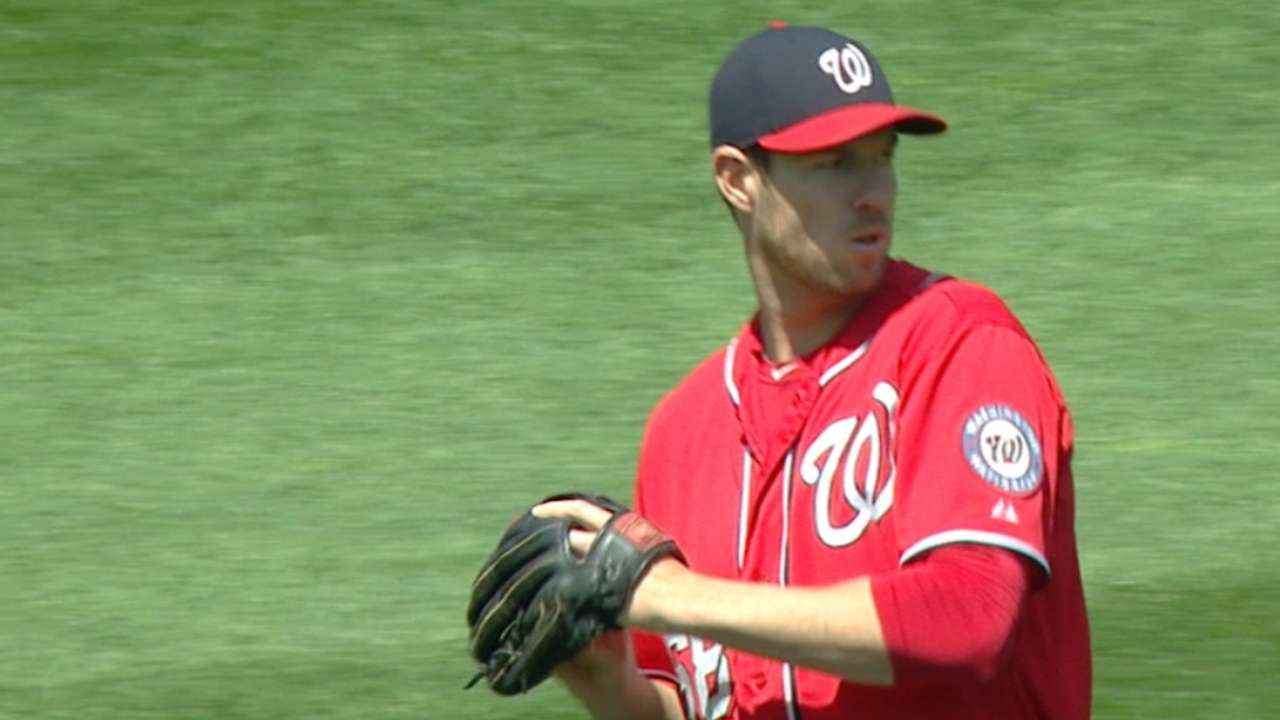 "We're searching for anything right now," Murphy said.
New York went 4-for-23 with runners in scoring position and left 25 runners on base in the four-game series.
"We haven't been able to get the big hit," said Michael Cuddyer. "When we were winning games last week, we were getting the big hit."
Cuddyer was referring to the Mets' 11-game April win streak, which feels like a distant memory as New York treads water waiting for key players to return. At one point during the streak, the Mets rattled off five consecutive comeback wins. For the second straight game Sunday, early mistakes buried rallies that never came.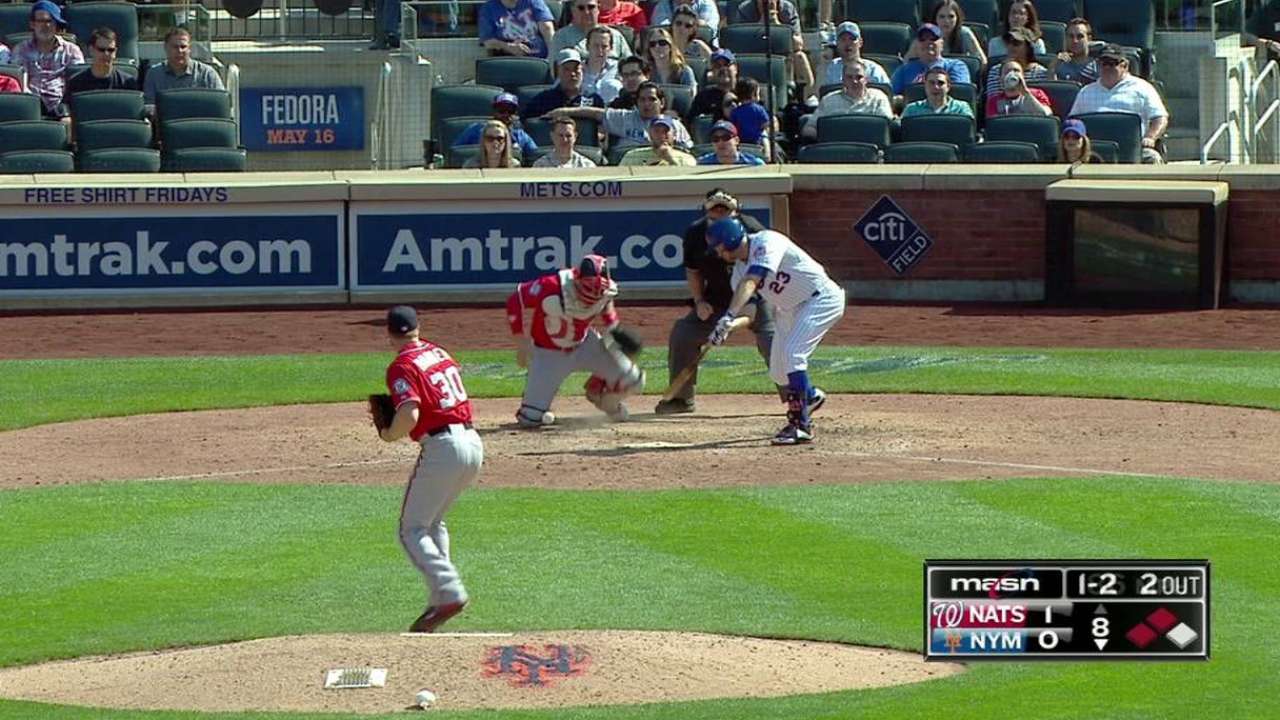 On Saturday, the mistakes came on the bases. On Sunday, they came in the infield, as the Mets were unable to turn two double plays in the first inning before Washington scored its only run.
Collins saw this downswing coming. Like the streak, players know it can't continue forever.
"We're still what, [six] games over, still top of the division right now?" Cuddyer said. "There's no reason to press."
Joe Trezza is an associate reporter for MLB.com. This story was not subject to the approval of Major League Baseball or its clubs.