Miller prevails in showdown with Ortiz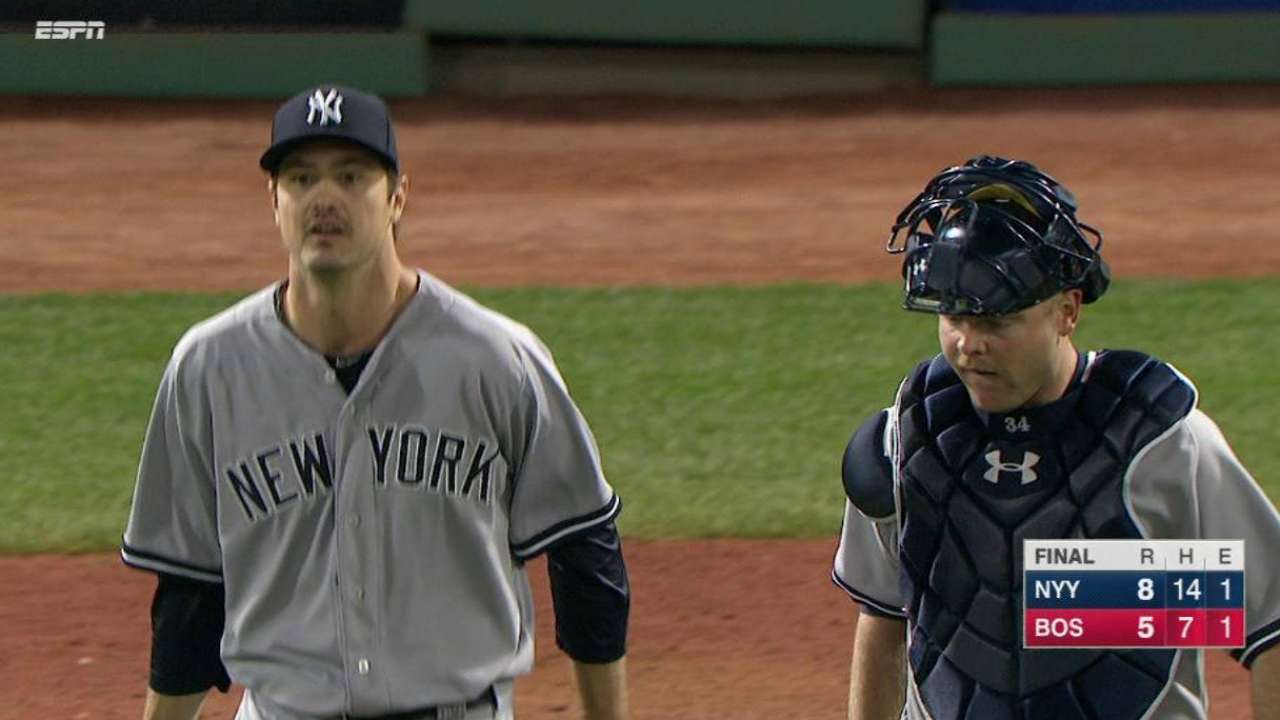 BOSTON -- Andrew Miller has enjoyed a fairly smooth transition into the Yankees' closer role thus far, but he and the Yankees were forced to sweat out a showdown with David Ortiz to finish off a three-game sweep of the Red Sox on Sunday evening.
Protecting a three-run lead in the ninth, Miller issued two walks and watched third baseman Chase Headley commit an error on a ground ball to send up Big Papi, who lined out to center fielder Jacoby Ellsbury for the final out of New York's 8-5 victory at Fenway Park.
"I don't have any choices at that point. I have to go after him," Miller said. "We still have a three-run lead, but you've still got to get him out. It doesn't get any easier, they've got [Hanley Ramirez] on deck. I've got to find a way at that point, it's snowballed enough that I have to go get him. Fortunately I found a way."
"I thought it was going to be a line drive, just like anyone else," Ortiz said. "I guess I hit it to the wrong guy."
Having won that tense battle on a slider to Ortiz, Miller improved to a perfect 10-for-10 in save opportunities this season, spanning 13 1/3 scoreless innings. He joined Tippy Martinez as the only pitchers in franchise history to convert their first 10 save chances.
"The hitter he had to get out of it against, so many times he's beaten the Yankees and had big hits for [the Red Sox]," Yankees manager Joe Girardi said. "I think it says [Miller] has the stomach for it and he can do what he's been doing for us. I didn't really have any doubt, but this was a little bit tougher tonight. He did a great job."
Miller said the biggest problem was the leadoff five-pitch walk that he issued to pinch-hitter Allen Craig. Two strikeouts followed, but Mookie Betts battled Miller in a nine-pitch at-bat and laid off a slider for ball four before Pedroia hit his grounder to Headley, who bobbled the ball and then pulled Mark Teixeira off first base with a wild throw.
"I'd like to go 1-2-3 every time and win every game by 10 runs. It's not reality," Miller said. "I think we all have to find a way, to put all 25 guys through tough situations. We survived today, and it's not how I drew it up; it's not what I wanted to do."
Bryan Hoch is a reporter for MLB.com. Follow him on Twitter @bryanhoch and read his MLBlog, Bombers Beat. This story was not subject to the approval of Major League Baseball or its clubs.