Gonzalez rebounds to garner first win
Rookie starter displays poise, command vs. Marlins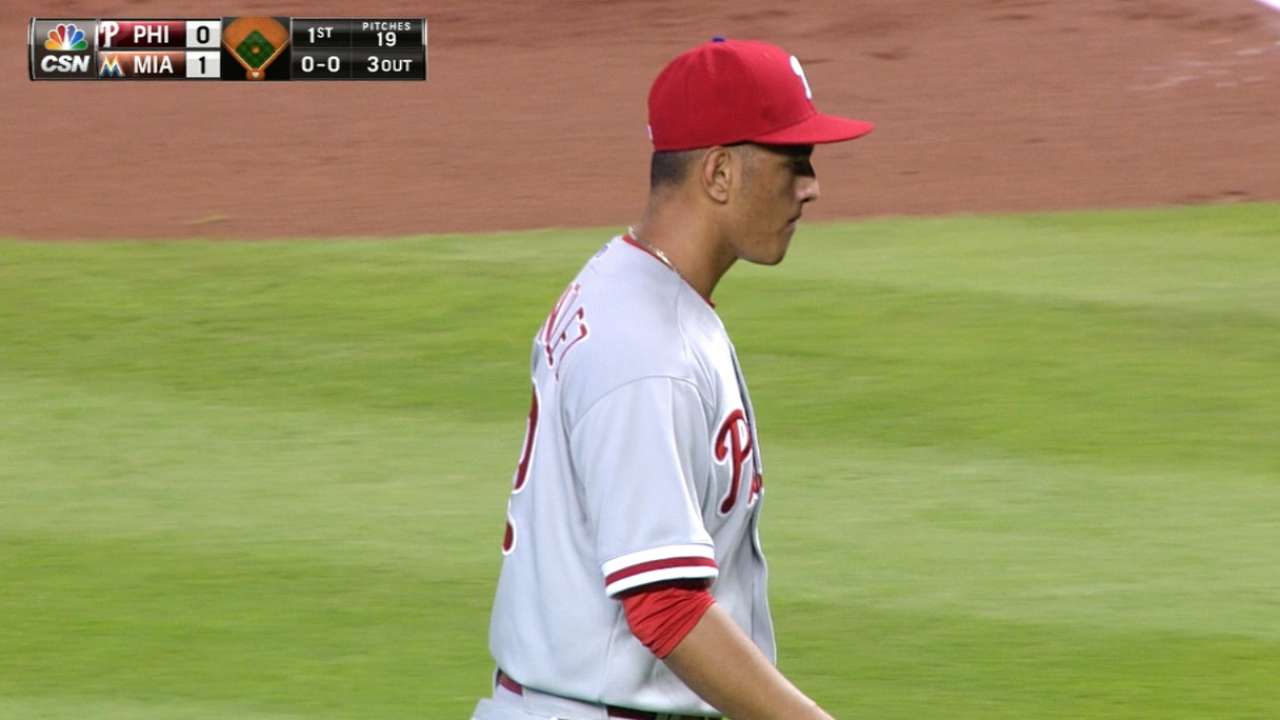 MIAMI -- Severino Gonzalez finally got to showcase his ability to locate and execute secondary pitches, five days after a disastrous Major League debut in St. Louis.
Gonzalez, who was the youngest Phillies pitcher to start a big league game in a decade, picked up his first victory in Philadelphia's 6-2 win over the Marlins on Sunday afternoon.
The 22-year-old righty went five innings, allowing two runs on five hits with five strikeouts and one walk. Of his 78 pitches, 53 went for strikes. He helped snap the Phillies' five-game skid.
On Tuesday in St. Louis, Gonzalez earned the dubious distinction of becoming the first Phillies starter since 1996 to last fewer than three innings in his debut when he surrendered seven runs on 10 hits in just 2 2/3 innings. The Phillies dropped the game 11-5 to the Cardinals.
"I wanted to attack the strike zone and be aggressive, and my fastball worked this time," Gonzalez said through a translator. "I also wanted to help the club win. My mind was really set on attacking the strike zone."
Miami scored a run off him in the first without the benefit of a hit. Gonzalez walked Ichiro Suzuki, the leadoff batter, who then stole back-to-back bases and scored on Giancarlo Stanton's one-out sacrifice fly to right.
Gonzalez proceeded to retire the next six batters before Ichiro got the Marlins' first hit with two outs in the third. He worked around a pair of one-out singles in the fourth by striking out Michael Morse and inducing a lineout to third by Reid Brignac.
"I came back with a very good changeup," Gonzalez said. "It was a pitch that worked for me today, and I kind of got him off balance a little bit on that [Brignac] liner to third base."
Though he gave up another run in the fifth on Jhonatan Solano's RBI double, Gonzalez limited the damage by stranding him at second. Jarred Cosart struck out on a bunt attempt, Ichiro grounded out and Adeiny Hechavarria lined out to right. When the Phillies took the lead on Ryan Howard's RBI triple in the sixth, it put Gonzalez in line for the win.
Manager Ryne Sandberg thought Gonzalez's ability to mix his changeup and curveball helped his fastball, something the rookie worked on in a bullpen session following his debut. While the Cardinals jumped on him early in the count, the Marlins took a more conservative approach. Sandberg also saw fewer nerves.
"He has a good mound presence about him and a look of confidence," Sandberg said. "He doesn't get flustered too much out there. He was able to make adjustments. He's young. There's still things to be worked on. We had to talk to him between innings about the baserunners and getting him on board with holding baserunners. Some grooming there, but the attitude and the conviction and all that and the look about him is very good."
As for whether Gonzalez would make another start, Sandberg said the organization would weigh its options. Later Sunday, the Phillies optioned Gonzalez to Triple-A Lehigh Valley, which helps create room for the return of several starters from injuries.
Chad Billingsley will make his Phillies debut on Tuesday in his return to a big league mound for the first time since 2013 after a pair of elbow surgeries. Sean O'Sullivan (left knee tendinitis), the fifth starter in the rotation to open the season, will start a rehab game on Thursday in Lakewood.
"I was very positive after what happened last time, concentrating, and it paid off for me," said Gonzalez, whose ERA lowered from 23.63 to 10.57. "I'm very proud of my start today."
Christina De Nicola is a contributor to MLB.com. This story was not subject to the approval of Major League Baseball or its clubs.