Anibal displays front-line stuff in key series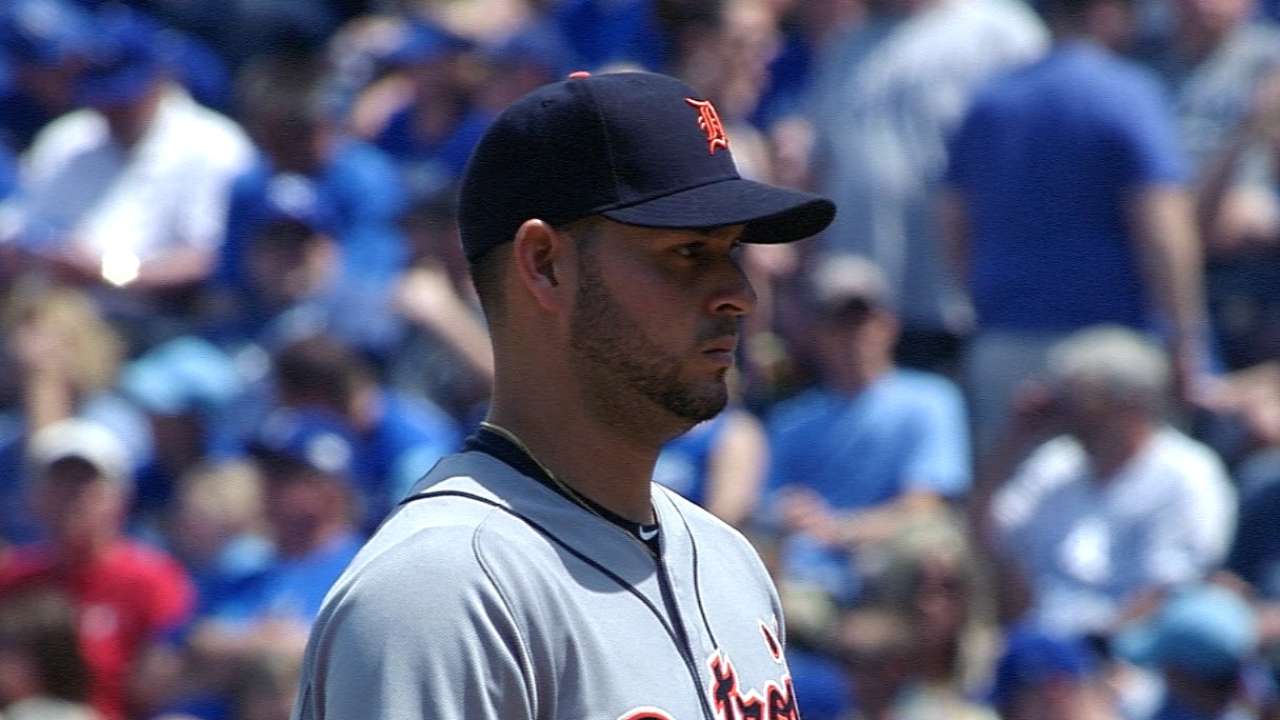 KANSAS CITY -- Anibal Sanchez said he wasn't thinking about a perfect game through his first five innings. Alex Avila said he doesn't think about a perfect game normally until the seventh or eighth inning.
But as the zeros piled up and the Tigers' lead grew, Sanchez had the perfect ending in the works to this series with the Royals.
"I know it's really important, especially because we split the series," Sanchez said after Sunday's 6-4 win. "It's good for us."
After two games in which the Royals hammered home the point that they're no longer the pushovers for anybody, let alone the Tigers, Sunday showed that at least Sanchez's success against them continues.
"He had all his pitches working," manager Brad Ausmus said. "When his stuff is on, it's electric."
Sanchez improved to 6-2 vs. Kansas City since joining Detroit in 2012. His ERA against the Royals rose to 1.40 after giving up multiple runs against them for the first time in eight career meetings. Considering where he stood three starts ago, having allowed five home runs in a two-start stretch against the Pirates and White Sox, it was as much of a statement for Sanchez.
Sanchez gave up 14 runs on 17 hits over 9 2/3 innings in those two debacles. With 7 1/3 quality innings on Sunday, he has given up seven runs on 14 hits in 20 2/3 innings since. Just two of those hits have gone for extra bases, both doubles, including Eric Hosmer's liner to right that set up Kansas City's first run in the seventh.
Sanchez has returned to the front-line form the Tigers need out of him to contend. He has done it, his catcher Avila said, with precision.
"That's always the difference," Avila said, "When he can command his fastball and he can command his offspeed pitches. For the first six innings, he was right on target and then struggled a bit in the seventh and eighth. Definitely that is a big key for him. When he commands his fastball, everything else plays off of that really well."
Like David Price on Saturday night, Sanchez worked ahead and stayed there. He threw first-pitch strikes to his first eight batters and 15 of 18 over his first six innings. He had just two three-ball counts in that span, and both came after 0-2 counts.
"I think that's the key, no matter who you're facing, no matter what situation you're in," Sanchez said. "When you throw your first pitch for a strike, it helps you to continue to make your pitch. Today I threw my first pitch for strikes, get ahead all the time and just put the ball in the right spot in any kind of situation."
Sanchez didn't parlay that into many strikeouts, but he rarely gave up solid contact out of it either. When he got ahead, he could work his movement and let an aggressive Royals lineup see itself out.
"I know they're really aggressive, and they're hot right now," Sanchez said. "That's why I need to keep my ball down, mix my pitches well, execute every pitch. Today I worked hitter by hitter, pitch by pitch, because I know how good they are and how good they're playing right now."
Jason Beck is a reporter for MLB.com. Read Beck's Blog and follow him on Twitter @beckjason. This story was not subject to the approval of Major League Baseball or its clubs.