Indians hope big inning serves as turning point
Team rallies from 6-1 deficit on strength of six-run fifth inning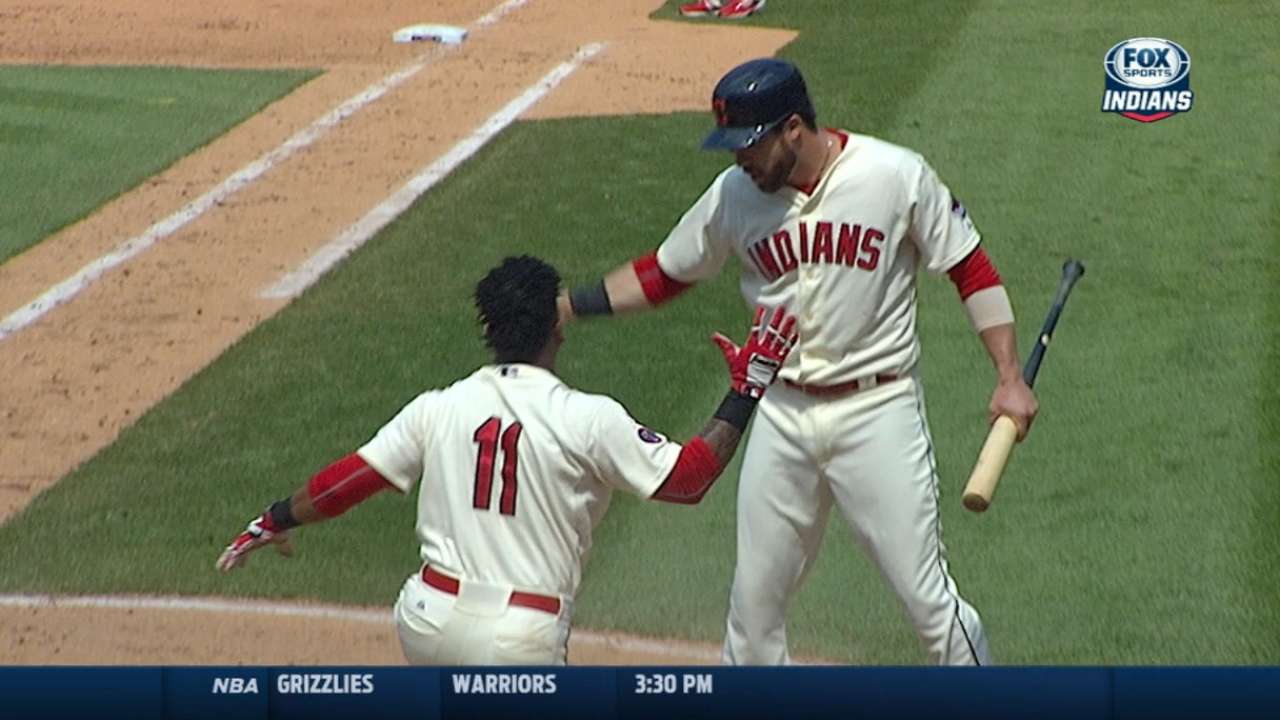 CLEVELAND -- It appeared as though the same issues that have ailed the Indians all season would trip them up once again on Sunday afternoon. Poor decisions on defense led to a six-run outburst by the Blue Jays in the fourth inning, creating the kind of hole that has been difficult for Cleveland's offense to overcome.
Instead, the Indians treated this game like a wake-up call.
"This was one of the first times this year we had guys step up and lead," Indians starter Trevor Bauer said. "That's a big thing for a team."
The Indians answered Toronto's six-run outpouring with a six-run showing of their own in the fifth inning, helping the Tribe pick up a 10-7 comeback victory. It only counts as one win on the schedule, but this was the type of game, and the kind of moment, that Cleveland has been looking for throughout the first five weeks of the season.
After finding themselves facing a 6-1 deficit after four innings, Cleveland's lineup went 10-for-20 at the plate with seven walks, five extra-base hits and nine runs scored. Second baseman Jason Kipnis finished 4-for-5 with a home run and three RBIs, left fielder Michael Brantley reached base four times and had two RBIs, first baseman Carlos Santana reached base five times and Ryan Raburn came through with a pinch-hit, two-run double.
What can't be found within the box score is what Bauer mentioned: the emergence of leadership both on the field and inside the dugout.
Kipnis agreed that the comeback provided the platform for that promising development.
"Some of the older guys were very forward and being vocal," Kipnis said, "and saying what needed to be said, and said we needed to clean up some stuff. And we did the rest of the game."
The source of the Tribe's frustration stemmed from an ugly fourth inning in the field.
Bauer had already allowed one run to score when he found himself in a jam with runners on the corners and one out. The starter then induced a chopper to Santana, who saw that Toronto's Kevin Pillar had strayed too far off third base. Santana sprinted across the diamond -- including going up and over the mound -- and had Pillar caught in no-man's land.
That was until Santana neglected to relay the ball to third baseman Lonnie Chisenhall, and came up empty on a diving tag attempt as Pillar slid back into the base.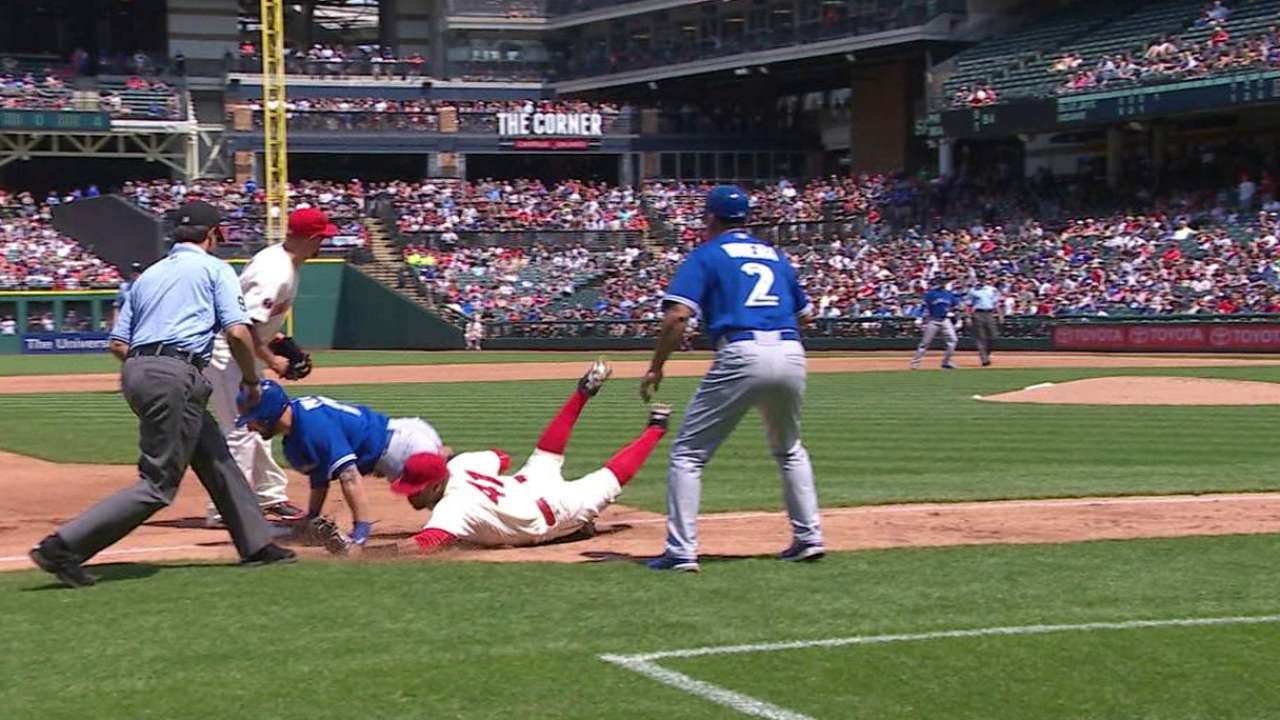 "Up until he didn't give the ball up, he did it absolutely textbook," Indians manager Terry Francona said of Santana's decision-making. "He got the ball at first, he thought about going to second and he realized the runner at third was wandering off and he couldn't turn two, so he ran it back and he stayed on the home-plate side. He did it textbook. He just didn't give it up, so then the textbook went away."
On the next play, Bauer gloved a grounder from Ezequiel Carrera and looked to home to see if he had a play on Pillar. When the pitcher realized Pillar was going to score easily, it was too late to get Carrera at first base. Both runners were safe and Toronto took a 2-1 lead.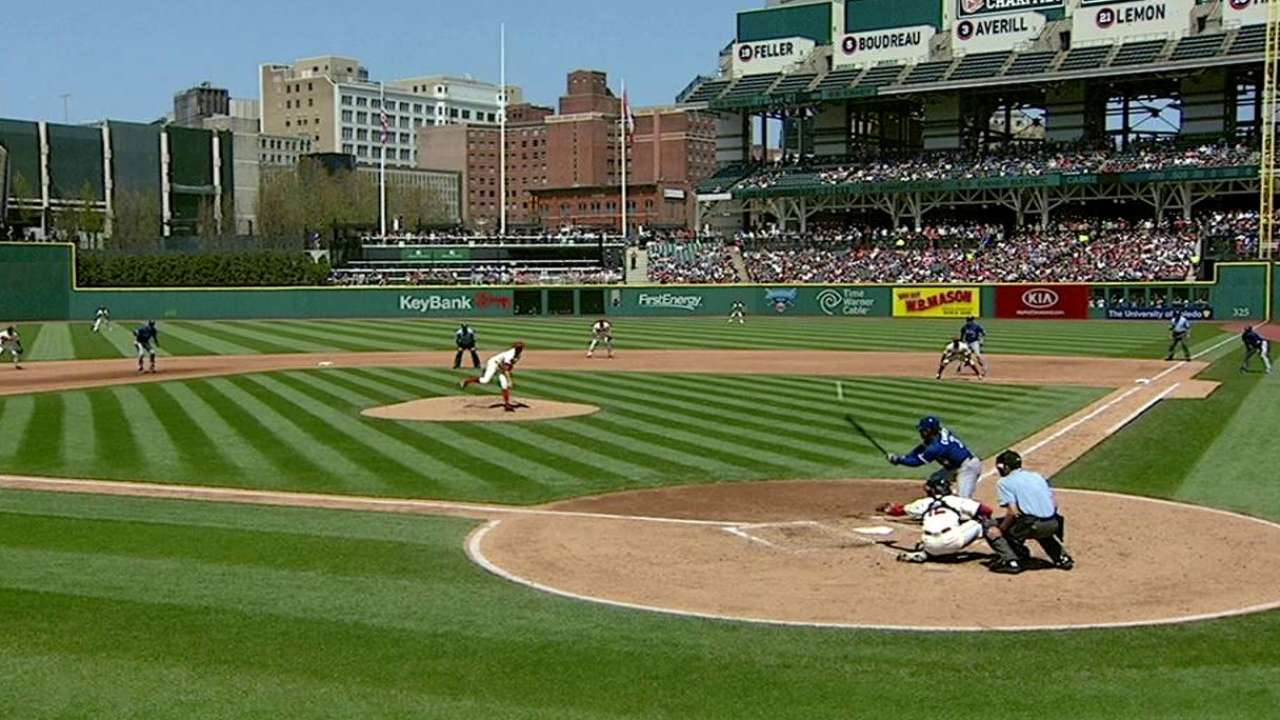 "He looked home and then it was too late," Francona said, "and that was kind of just compounding what was kind of going on."
The next batter, Blue Jays rookie Devon Travis, drilled a grand slam off Bauer, who lasted just 4 1/3 innings in a no-decision.
What followed from there was one of the most gratifying wins of the season for the Tribe.
"I just hope we learn from it, because that six-run inning can't happen," Brantley said. "This is Major League Baseball. We can't give runs away. We have to play clean defense, and smart. We've got to be knowing where the ball needs to go before it gets hit. The basics. This is the big leagues.
"It's not always going to happen like that, but it was a great team win all the way around."
Francona was proud of how his team responded.
"I thought we were kind of at a crossroads," Francona said, "where we could kind of feel sorry for ourselves or kick it into gear and, 'Let's go,' and they did a really good job. That's the way we need to play. It doesn't mean we're always going to hit like that, but we need to play like that, with that intensity and that desire to find a way to win."
Jordan Bastian is a reporter for MLB.com. Read his blog, Major League Bastian, and follow him on Twitter @MLBastian. This story was not subject to the approval of Major League Baseball or its clubs.