Aggressive approach suits sharp Teheran
Braves' ace goes after Reds hitters with fastball, ends three-start winless streak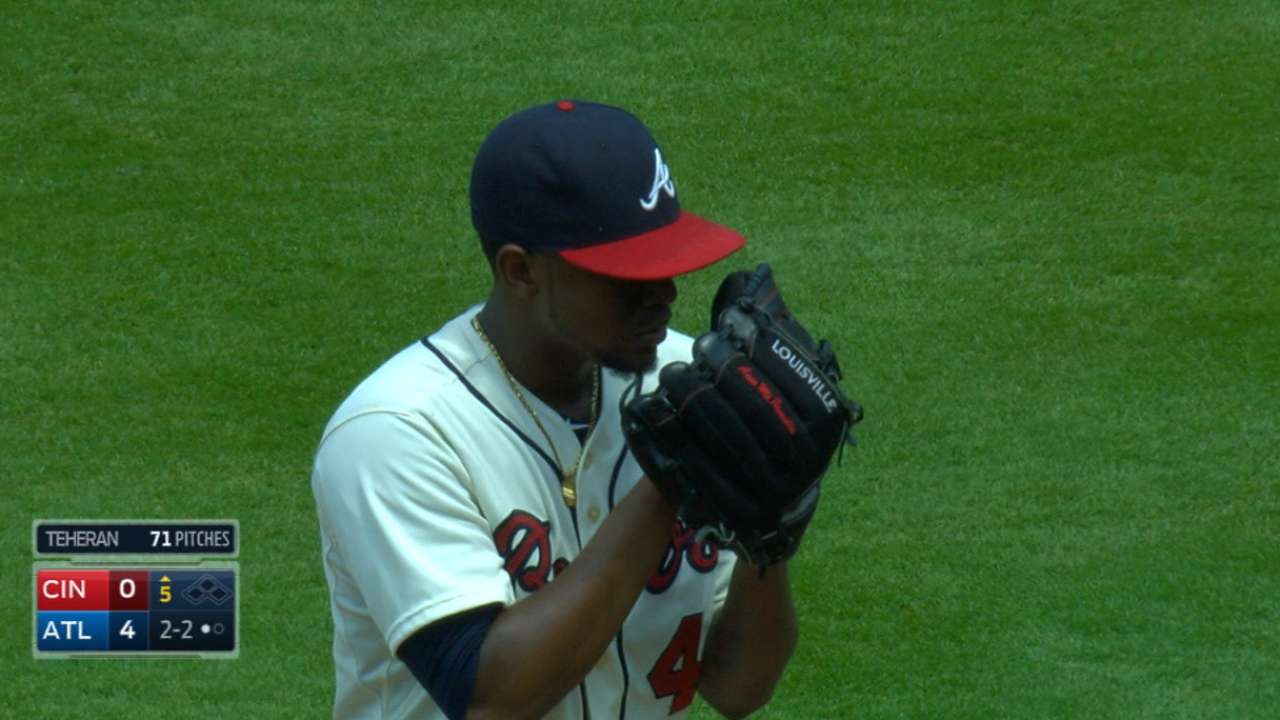 ATLANTA -- Having already gained a sense of how Julio Teheran had handled past adversity, the Braves were not surprised to see the talented young hurler display his fighting spirit while completing six scoreless innings during Sunday afternoon's 5-0 win over the Reds.
"This was more of the Julio Teheran that we've seen in the past," Braves manager Fredi Gonzalez said after watching Teheran scatter three hits and notch six strikeouts.
After Teheran surrendered seven runs (three earned) against the Nationals on Tuesday, Gonzalez admitted that he was somewhat concerned about the 23-year-old right-hander, who had allowed a career-high five homers in Toronto on April 17 and also matched a career-high three walks on April 23 at Citi Field.
Braves pitching coach Roger McDowell evaluated this three-start stretch and came away with the belief that Teheran needed to regain his aggressive approach and get back to relying on his fastball again.
Teheran utilized his fastball (both four-seamer and two-seamer) with fewer than 50 percent of his pitches against the Blue Jays and Nats. He threw 10 straight fastballs to open Sunday's start and ended up utilizing his fastball with 64 of the 102 pitches he threw (62.7 percent). This fastball percentage is in line with the 60.9 percent mark he produced during last year's All-Star campaign.
"My mindset coming in was to fight and really focus on this game," Teheran said. "I know that's something I didn't have a couple starts ago."
Comforted by the early three-run first inning his offense produced against Johnny Cueto, Teheran settled into an early groove. He induced a Joey Votto double play groundout to end the top of the first and stranded a pair of runners in the second inning.
Teheran's most impressive stretch came when he struck out five consecutive batters after Votto walked to open the fourth inning. The Reds made contact with 15 of the first 16 fastballs they swung at on Sunday. But they missed three of the final four they swung at in the fourth inning. Todd Frazier and Brandon Phillips both whiffed on 94-mph heaters during this span.
"I was feeling good," Teheran said. "I was feeling my fastball coming out of my hand. All of my pitches were good. I was really focused on this game."
Votto's one-out single in the sixth inning accounted for the only hit Teheran surrendered with his fastball. Brennan Boesch hit a curveball to right field with two outs in the second inning and Cueto made enough contact with another curveball in the fifth to produce an infield single that traveled approximately 60 feet.
"I'm never going to sleep on Julio," Braves left fielder Jonny Gomes said. "If our backs are against the wall, I'm sure we'll go to him more often than not."
Mark Bowman is a reporter for MLB.com. This story was not subject to the approval of Major League Baseball or its clubs.