Cosart done in by sloppy sixth inning
Phillies end right-hander's scoreless streak at 16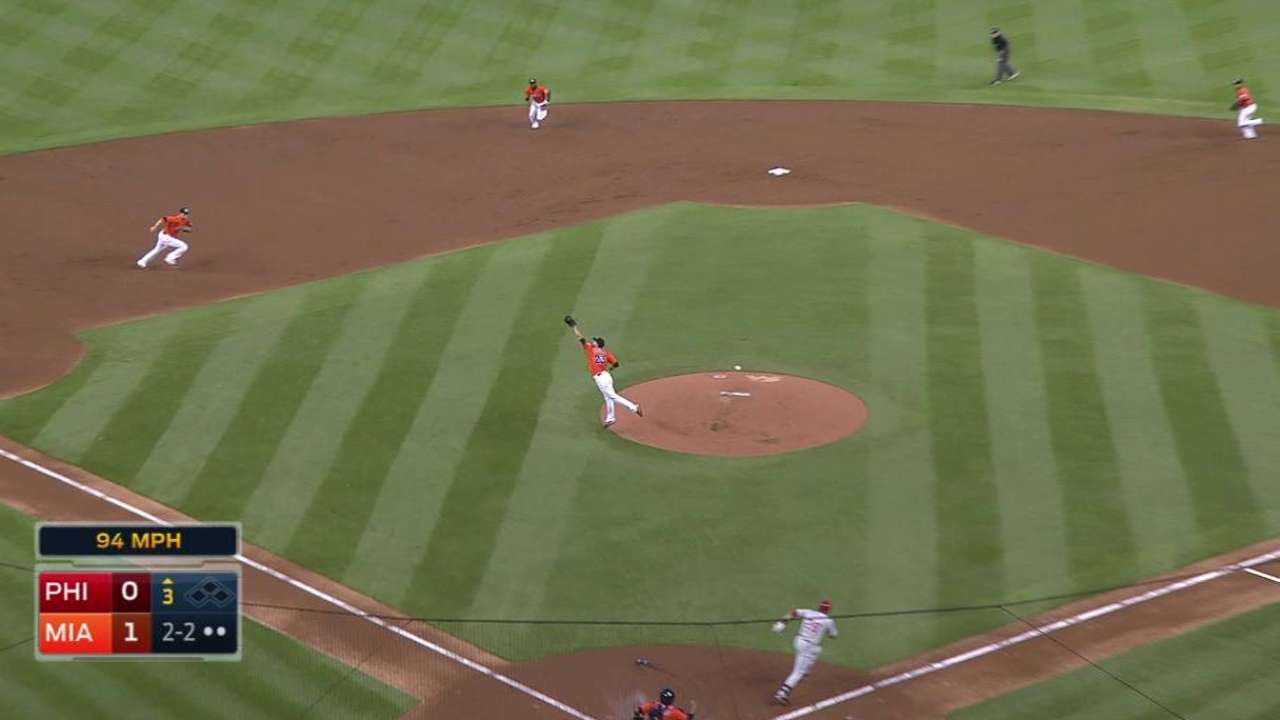 MIAMI -- The Marlins' hot streak started with Jarred Cosart on the mound at Philadelphia on April 22. On Sunday, Cosart was hopeful of ending the impressive homestand riding momentum.
It didn't play out exactly as Cosart anticipated. The Phillies rallied with two runs in the sixth inning, and went on to beat the Marlins, 6-2, at Marlins Park.
Miami ended up taking two of three in the series, and seven of nine at home.
"I'm excited for the team," Cosart said. "We started against these guys. I was able to get it started. I was hoping to finish it off. We still have a lot of momentum. We face three really good teams on the road. Hopefully, we can carry that over, and I'll be ready for my next start."
The Marlins on Monday open a three-game set at Washington, then go to San Francisco for four games, before winding up the trip with three against the Dodgers.
Cosart will look to regroup on Thursday against the Giants. He was progressing nicely on Sunday before giving up two runs in the sixth.
"The sixth inning was about as bad as you can get," Cosart said. "We talk about shutdown innings as pitchers. I was able to do that the first time. We got out to a quick lead. I pretty much cruised through five."
In the fifth inning, the Phillies tied it at 1 on Ben Revere's RBI single. It snapped Cosart's 16-inning scoreless streak.
Miami went up 2-1 in the fifth, but Cosart hit Darin Ruf to open the sixth and Ryan Howard followed with an RBI triple, his first three-base hit of the year. Grady Sizemore's RBI single ended Cosart's afternoon after five-plus innings and 92 pitches.
"I tried to go inside to Ruf to strike him out," Cosart said. "It was a close pitch. I didn't get the call. Then, I tried to do too much. Came back in there again, hit him.
"Then, I just threw pitches down the middle. I don't care if they're batting zero, zero, zero or five hundred. In the Major Leagues, you can't throw balls down the middle."
The six runs on Sunday were the most by the Phillies since they beat Miami, 7-3, on April 21 at Citizens Bank Park.
"Cosart had to use a lot of pitches today," Miami manager Mike Redmond said. "It looked like he was just missing off the plate early. For me, the game came down to that sixth inning. In the fifth, he had a chance to get that bunt down and maybe we add on a run. He couldn't get through the sixth."
Joe Frisaro is a reporter for MLB.com. He writes a blog, called The Fish Pond. Follow him on Twitter @JoeFrisaro. This story was not subject to the approval of Major League Baseball or its clubs.