Rox offense has yet to get rolling on road
After sweep in Milwaukee, lineup has hit .233 away from home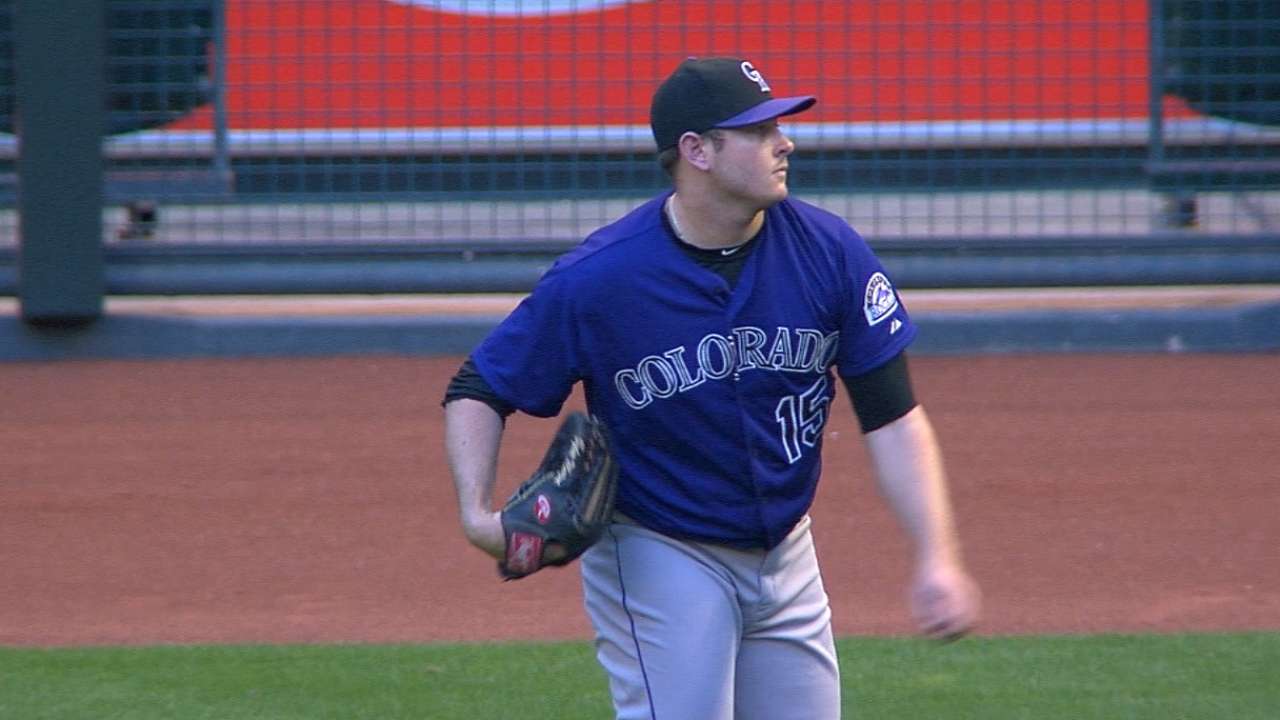 SAN DIEGO -- In the first three games of the season, the Rockies scored 20 runs and swept the Brewers at Miller Park. But that series -- when the Rockies hit .322, put up a .336 on-base percentage and a .585 slugging percentage -- didn't usher in an era of big road performances.
In the 11 road games between then and Sunday afternoon, the Rockies hit .233 with a .282 OBP and a .353 slugging percentage. That's not much different from last year's .228/.279/.357 slash line that was a key contributor to the 21-60 road record, worst in club history.
Actually, the Rockies spent April above .500 even though they haven't clicked offensively, anywhere. The seven runs on Opening Day are a season high. The runs aren't coming, even though DJ LeMahieu entered Sunday with a .964 OPS, and five teammates were above .800. Carlos Gonzalez (.592 OPS) is struggling and Justin Morneau (.701) hasn't hit his stride, but the Rockies are managing too few runs with so many productive offensive performers.
"We haven't had several guys rolling at the same time," Rockies manager Walt Weiss said. "Our offense will really be dangerous when we get four or five guys at the same time. I don't think that's happened here lately, but it will."
Worth noting:
• Left-hander Tyler Matzek was pitching well and had just 79 pitches through five innings against the D-backs last Monday before a left hamstring cramp forced him out of the game. That short start has been compounded by the fact that no one starter pitched as many as six innings the rest of the week.
After the game, Matzek boiled down the issue to simple advice: "Drink more water, eat more bananas." But after going over everything he ate the two weeks before the aborted start, something else was added to his menu.
"The doc says more magnesium -- he said potassium [bananas] is fine, the hydration is fine," Matzek said. "That's with more nuts, kale, avocado, more stuff like that to put in my diet. They've got some in chocolate, but I'm sure it's not the candy chocolate."
Matzek threw two bullpen sessions and reported no issues. Yet, his hamstring is under watch.
"Last time it happened, last year, I tried to pitch through it and had problems with it for two weeks," Matzek said. "I don't want to put myself in a position where it's affecting me the rest of the season."
• Right-hander Jon Gray, the Rockies' top prospect according to MLB.com, is 1-3 with a 9.13 ERA, but Saturday he turned in his best performance of the season -- five innings, five hits, two runs with two strikeouts and a walk in a 12-10 victory over Salt Lake. More instructive, Gray gave up a run in each of the first two innings, then dominated for the rest of his 86 pitches. Gray's fastball sat 95-97 mph, and touched 99 mph.
Thomas Harding is a reporter for MLB.com. Follow him on Twitter @harding_at_mlb, and like his Facebook page. This story was not subject to the approval of Major League Baseball or its clubs.