X-rays negative on Cozart's bloody finger
Shortstop suffers bruise on grounder, three innings after being hit by pitch on left wrist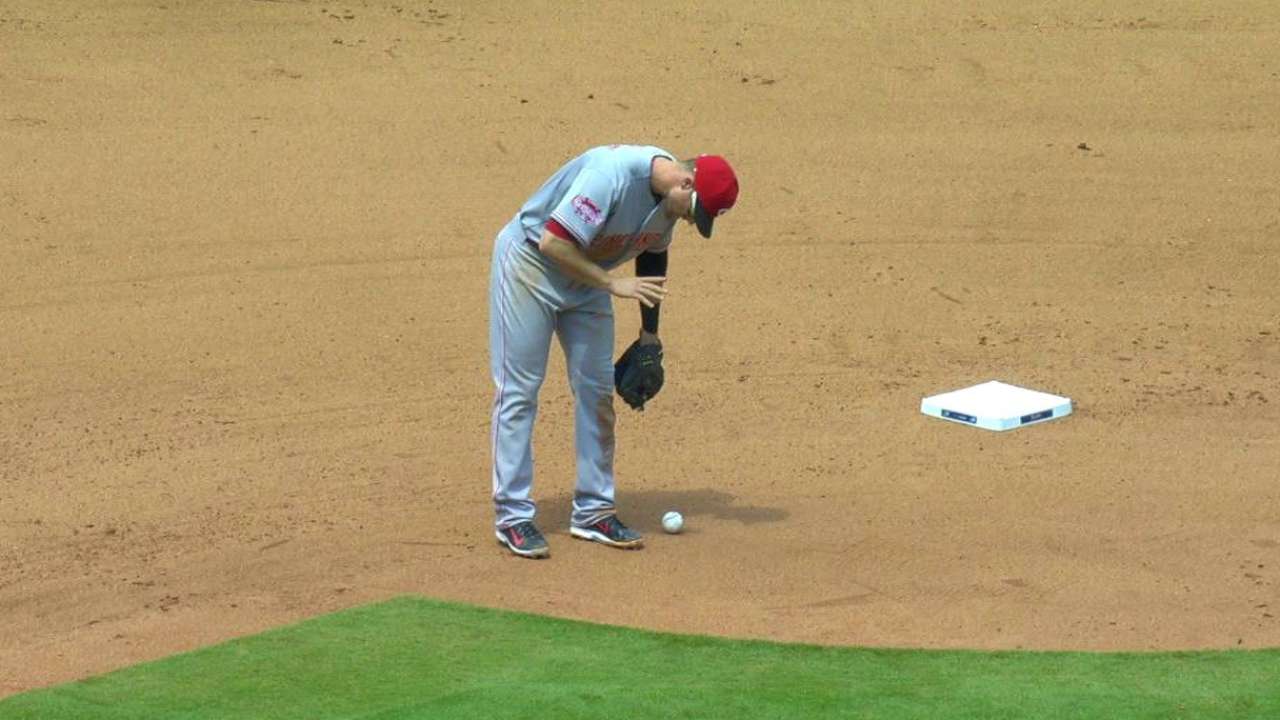 ATLANTA -- The Reds' off-day couldn't come at a better time for Zack Cozart, who had a rough time protecting his hands from baseballs in Sunday's 5-0 loss to the Braves.
The 29-year-old shortstop exited the game in the bottom of the fourth with a bruised right index finger after mishandling a ground ball hit by Braves pitcher Julio Teheran. X-rays came back negative.
"I'm guessing I put my hand in too early and it just hit straight on and kind of bent the nail back a little bit. And then, you know, just bleeding a lot," Cozart said.
Cozart's finger was still bleeding through his bandage after the game.
"I've been hit in this finger a lot over the years," he sad. "I didn't even think anything of it. I was just like, 'I can't believe I made an error,' and then I looked down and picked the ball up and blood's everywhere. It kind of shocked me."
The injury came after Cozart was hit on the left wrist by a Teheran fastball in the first inning.
"He got me pretty good," Cozart said.
Teheran tested Cozart's wrist with a pickoff throw to first, with Cozart diving back in safely. It "didn't feel great," but Cozart decided to stay in the game.
Reds manager Bryan Price said he's more concerned about Cozart's finger than his wrist.
"The wrist, with no fracture, will probably be a little sore," Price said. "But that fingertip, we'll have to see how that comes back around. Obviously on his throwing hand, it's a central part of making those throws across the diamond, so we'll see. You have to say it couldn't have come at a better time with a day off tomorrow and a night game the following day, so hopefully he'll be good enough to play."
Aimee Sachs is a contributor to MLB.com. This story was not subject to the approval of Major League Baseball or its clubs.