Emerging Morrow, returning JJ key to Padres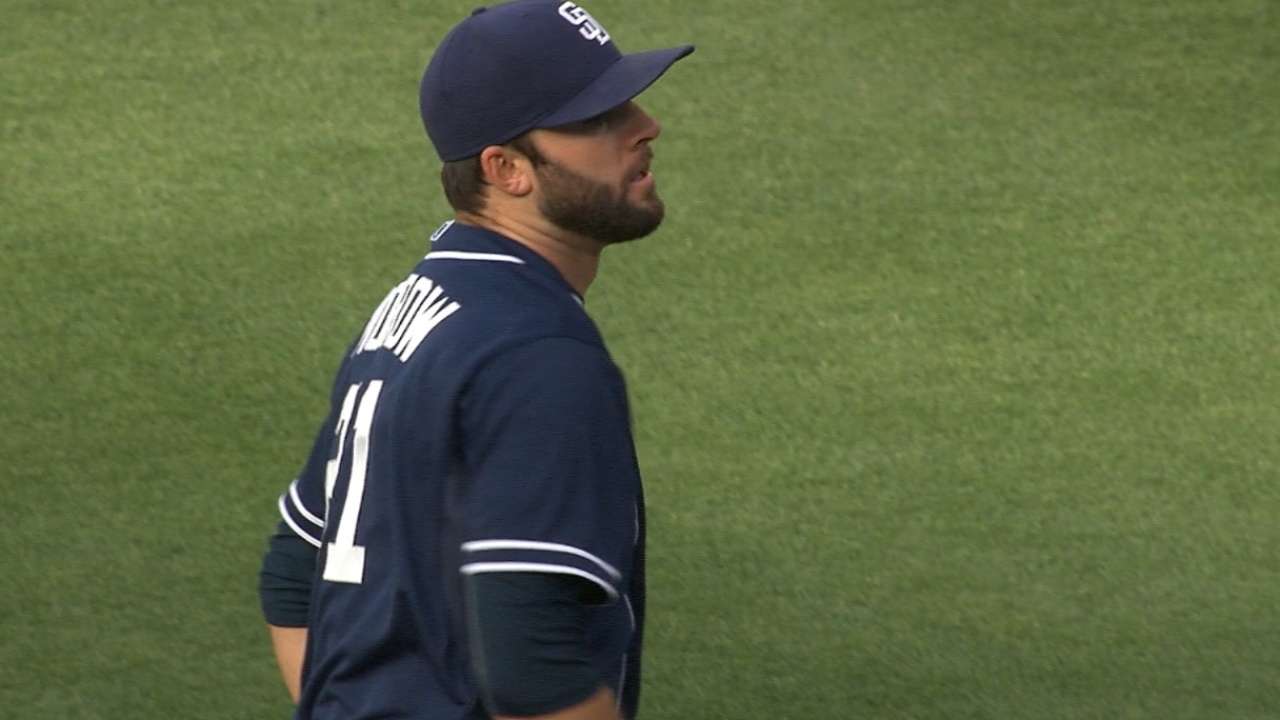 Bill Center, longtime sportswriter for U-T San Diego, is an employee of the Padres.
As I looked over the Padres roster just before Spring Training, two starting pitchers intrigued me.
They were not who you might expect.
I knew the track record of James Shields. I expected him to deliver. And from what I had witnessed from Tyson Ross and Andrew Cashner, I thought the Padres had two developing top-of-the-rotation starters. As for Ian Kennedy, his history said he was going to give you a chance to win any time he took the mound. Few teams had a No. 4 starter as solid as Kennedy.
The subjects didn't even include Odrisamer Despaigne, who, because of his variable delivery and variety of pitches, is a tantalizing pitcher -- both versatile and durable, as well as tough as nails -- to square up when his stuff is working.
No, my eyes locked on Brandon Morrow and Josh Johnson.
Earlier in their careers, both had the stuff of aces. Johnson, indeed, was one with the Marlins. He led the National League with a 2.30 ERA in 2010 and had a 1.64 ERA after nine starts in '11 before the injuries hit.
Johnson, who is currently rehabbing from his second round of Tommy John elbow reconstruction surgery, has also had shoulder problems in his career. Morrow, who in 2010 had 17 strikeouts while taking a no-hitter two outs into the ninth, was rapidly approaching star status when injuries also sidetracked his career.
Morrow is 30. Johnson is 31.
Both signed with the Padres last winter in hopes San Diego would be a great place to reignite their careers.
Johnson, who missed the entire 2014 season as a Padre due to Tommy John surgery, is nearing the start of a rehab assignment that could have him ready to return to the Major Leagues in June.
Morrow, meanwhile, is already making his mark with the Padres. After five starts, the 6-foot-3, 210-pound right-hander is 2-0 with a 2.73 ERA. That is the second-lowest ERA among the five Padres starters to Cashner's 2.61 mark. But here's a key stat: The Padres are 5-0 in games started by Morrow.
And Morrow is 2-0 with a 1.67 ERA at Petco Park, where he has allowed five runs on 23 hits and six walks with 18 strikeouts in 27 innings. Morrow has worked at least six innings in each of his first five starts this season. The only other time that has happened in his career was 2012.
The most interesting part will come when Johnson is ready to join the Padres, who will then have six quality Major League starters.
From the scorebook
• Center fielder Wil Myers was 1-for-3 on Saturday with two walks, two runs scored and an RBI. He tied a Padres record by scoring multiple runs in four straight games, and he leads the Major Leagues with 25 runs scored. He has drawn two walks in back-to-back games after drawing only two walks in his first 102 plate appearances this season. He has 17 RBIs from the leadoff slot this season.
• Catcher Derek Norris was 2-for-4 on Saturday with his 11th double of the season. He was 2-for-3 against Rockies left-handed starter Jorge De La Rosa and is hitting .619 (13-for-21) against left-handed pitchers this season.
• Second baseman Jedd Gyorko snapped a 0-for-12 drought Saturday night with a fourth-inning double. Gyorko is 12-for-18 lifetime against De La Rosa, his most hits against any pitcher in his career. Gyorko is 6-for-17 (.353) against left-handed pitchers this season, with three doubles.
• Closer Craig Kimbrel successfully converted his 33rd straight save opportunity Saturday night. The streak, which started last June 24, is the longest active streak in the Major Leagues.