Darvish progressing through rehab process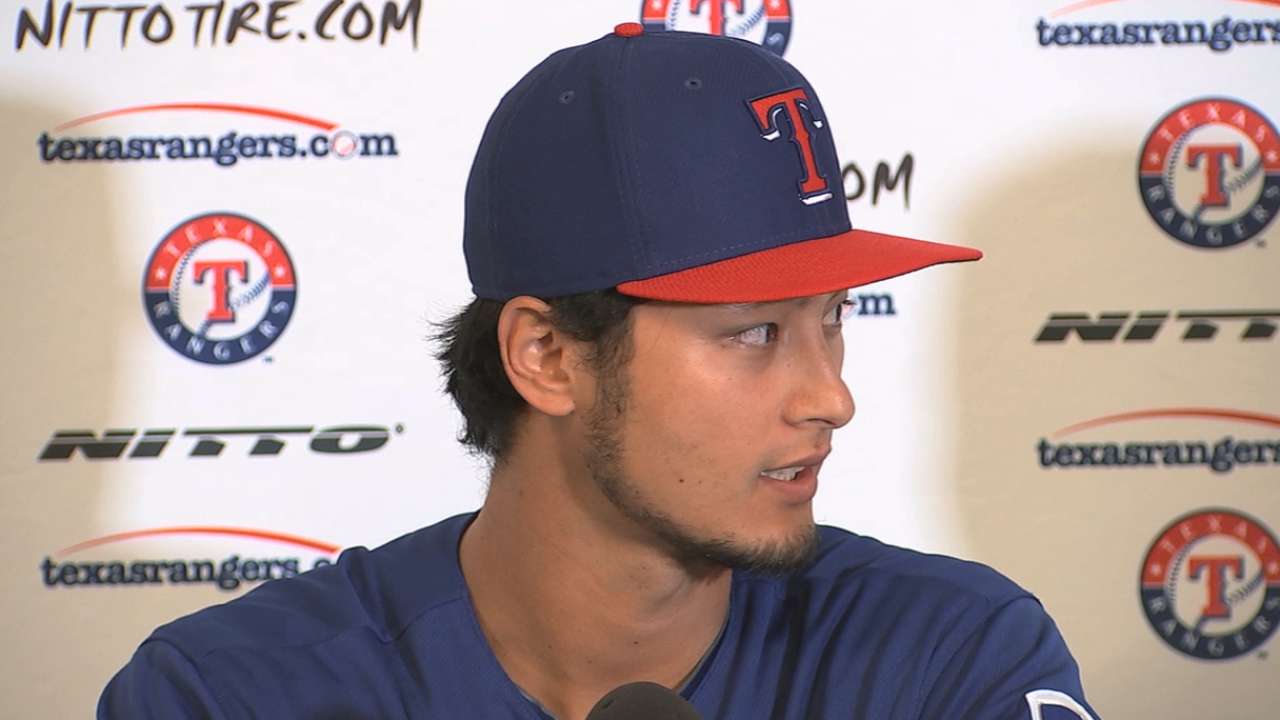 ARLINGTON -- Other than the obvious fact that he can't pitch this year, there are other drawbacks to Rangers right-hander Yu Darvish undergoing season-ending Tommy John surgery.
Darvish, who wants to become an American citizen while recovering from the operation, says his English has suffered as a result of his injury and not being around the team.
"When the team is on the road, I'm not with my teammates, so I'm not really speaking any English," Darvish said. "I want to improve on my English and ask the team if they can help me improve on my English. I'd like to get my [American] citizenship as well."
Not only does Darvish aspire toward dual citizenship, but also a successful return from surgery he underwent in March to repair a torn UCL in his right elbow. He had the brace on his right arm taken off Friday and is progressing through his rehab program, completing the range-of-motion-exercises portion Saturday and beginning on exercises for his shoulder and forearm.
"The rehab is going really well," Darvish said. "I really have a positive mindset, just doing what I can. ... I have no frustrations at all. I can't throw right now. It is what it is. I'm cheering on my teammates."
Darvish is being cautious in his recovery, careful not to push himself too far. An All-Star in each of his first three seasons with the Rangers, Darvish was placed on the disabled list with elbow inflammation last August before being shut down for the season in early September.
Darvish, who was 10-7 with a 3.06 ERA in 22 starts last season, left his Spring Training debut this year with tightness in his right triceps before making the decision to have Tommy John surgery.
"I actually didn't have much pain compared to the other players who have had [Tommy John] surgery," Darvish said. "So if I wanted to push it, I could've, but I wanted to take it slow and take the right path to recovery."
Darvish is unsure when he will start throwing again, reiterating his intentions to be cautious throughout his recovery while maintaining his sense of humor.
"I think I can start throwing next week," Darvish joked. "I'll have to talk to my doctors about this, but I don't really want to push it early in the schedule.
Darvish is currently one of five Rangers starting pitchers on the disabled list, Nick Tepesch (elbow inflammation), Derek Holland (shoulder stran), Matt Harrison (spinal fusion surgery) and Martin Perez, who also underwent Tommy John surgery this year.
Christian Corona is a contributor to MLB.com. This story was not subject to the approval of Major League Baseball or its clubs.