Cuddyer goes above the wall to rob Zimmerman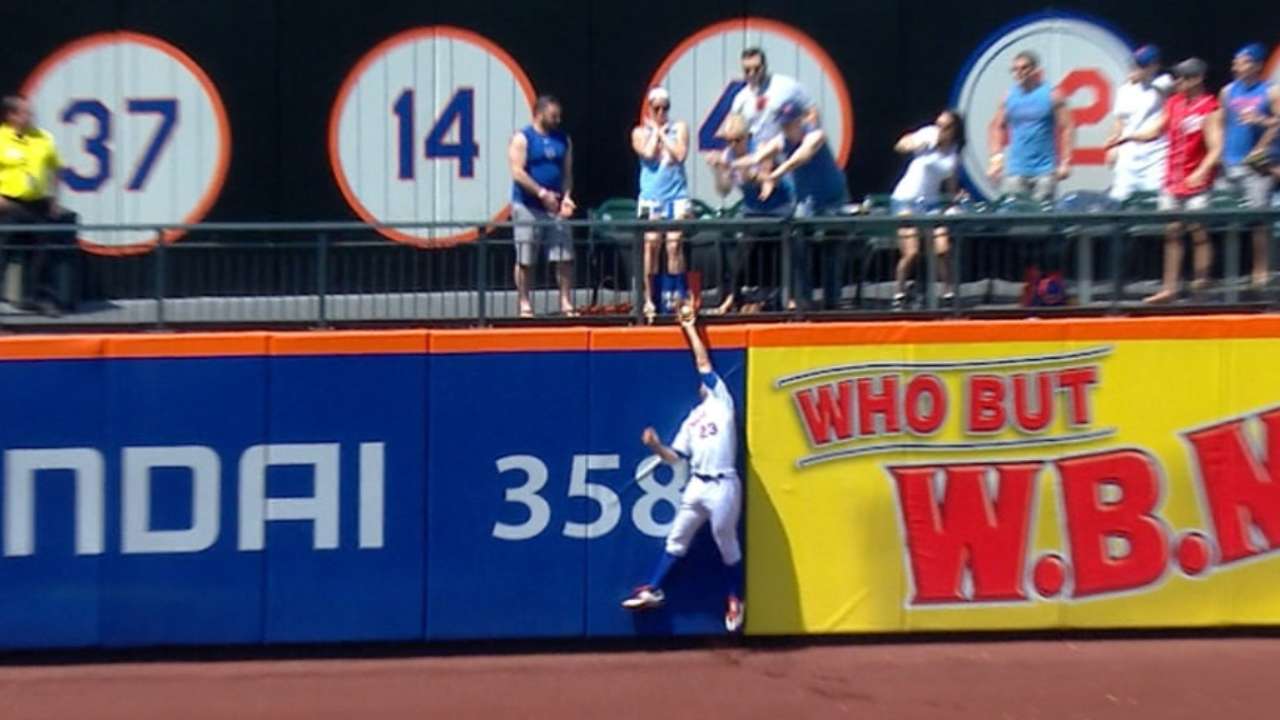 NEW YORK -- Michael Cuddyer said he had never robbed a home run before, not in Colorado, Minnesota, the Minors or even Little League.
So he hopes you excuse the lack of style points.
"[That's] probably the most unathletic home run rob you'll ever see," said Cuddyer, describing his wall-scraping grab against Ryan Zimmerman in the fourth inning of the Mets' 1-0 loss to the Nationals on Sunday at Citi Field. "I was probably just as shocked as anyone else."
Cuddyer leaped and reached just beyond Citi Field's eight-foot-high wall in left to rob Zimmerman and keep the Nationals' early lead at 1-0. That score held until the end of the game, but not before Cuddyer had a chance to tie it with two runners on in the eighth.
Cuddyer struck out on a check-swing against reliever Aaron Barrett.
"I didn't think I swung," Cuddyer said. "[The umpire] did."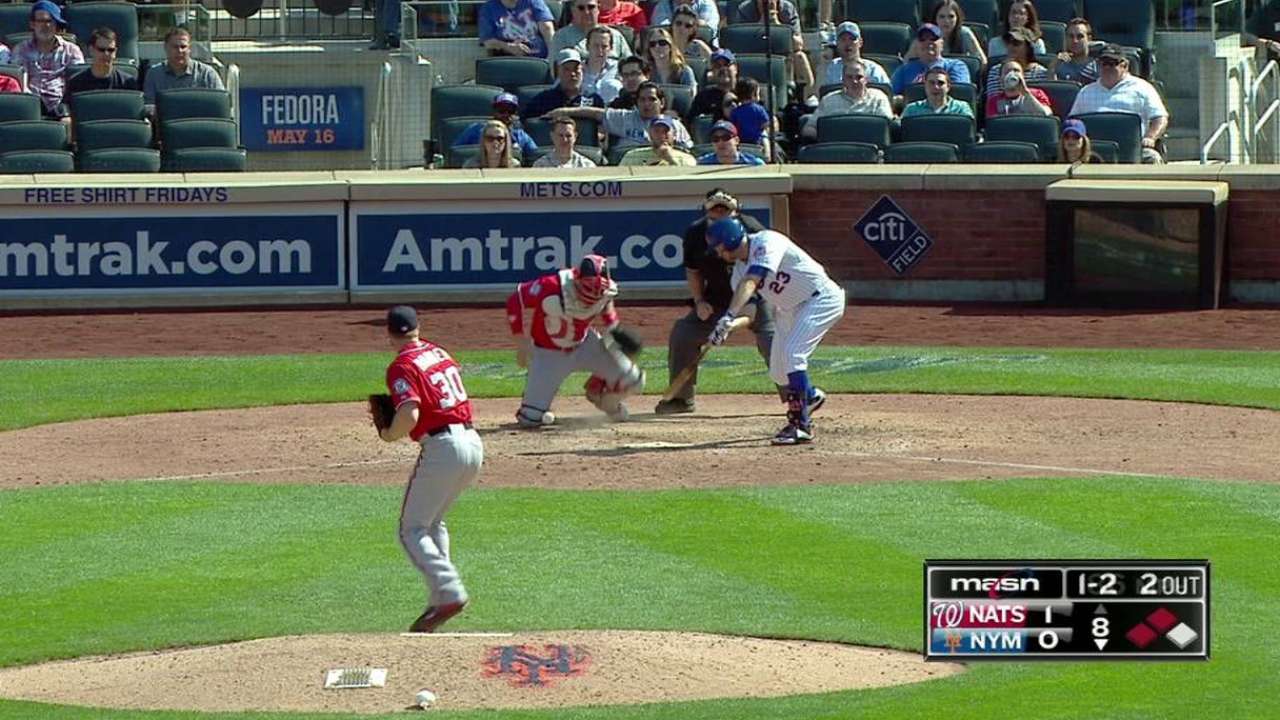 A much happier surprise awaited Cuddyer in the fourth, when he backpedaled to the wall and reached up into uncharted territory.
"I didn't feel the wall so I didn't know exactly how close I was," Cuddyer said. "I don't have too many instances like that to fall back on."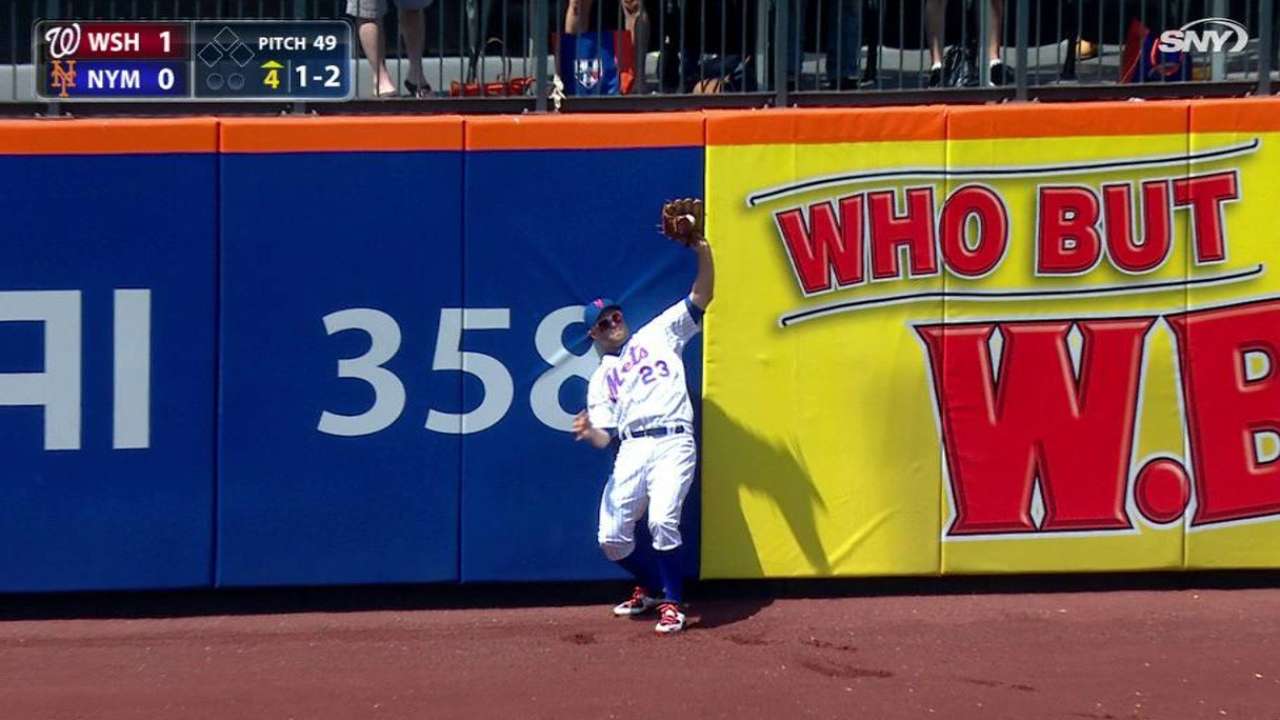 As a kid in Virginia Beach, Va., Zimmerman looked up to Cuddyer, who grew up about 25 miles down Interstate 64 in Chesapeake. At the time, Cuddyer was one of the first local players to be touted as a Major League prospect from the area that eventually produced Zimmerman, David Wright, Melvin Upton Jr., Justin Upton and other big league players.
On Sunday, Cuddyer returned the adulation by robbing Zimmerman blind.
"[That's the] first time I ever robbed a home run in my life," said Cuddyer, shaking his head. "And it was against him."
Joe Trezza is an associate reporter for MLB.com. This story was not subject to the approval of Major League Baseball or its clubs.