Cutch just as proud of mom as she is of him
Bucs star always delighted to hear his mother sing national anthem at PNC Park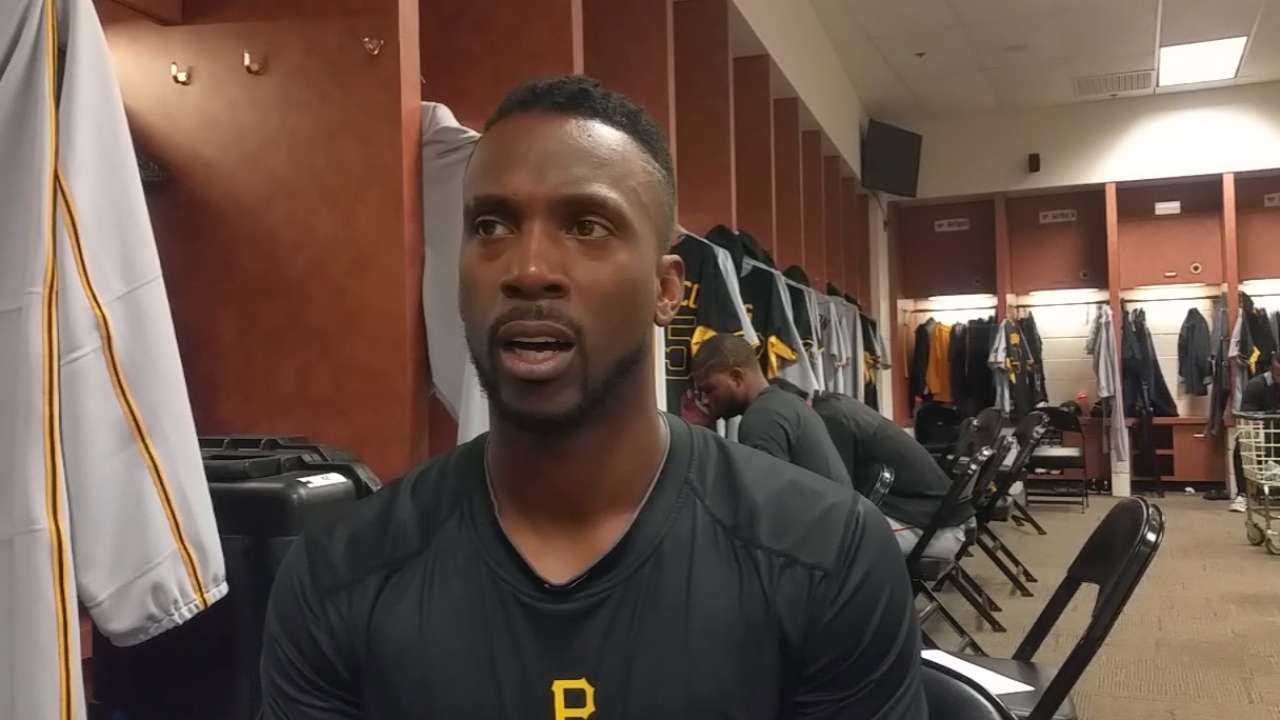 PITTSBURGH -- Andrew McCutchen recalls those walks in the late 1990s, mother and son. She, a onetime athlete, exercising to get back in shape after the birth of a daughter. He, already a young athlete of renown at 11.
As the Pirates center fielder remembers, "We'd walk. And sometimes jog."
One time, the jog accelerated into a run, and Petrina McCutchen flashed back to her volleyball and track days.
"She picked up the pace, and started really, really running," the Pirates star recalled. "And I was like trying to beat her. I either barely beat her, or she beat me -- one or the other. But she definitely made me get going. So I'm thinking, 'OK, I see where I got my speed from.'"
Andrew McCutchen got much more than just his legs from Petrina and dad Lorenzo McCutchen: his work ethic, commitment to set and pursue goals, faith.
And responsibility? One cannot minimize that life lesson from people who were in high school when they became parents but did not become husband and wife until their son was nearly six.
Petrina and Lorenzo wedded to ensure Andrew grew up in a stable, loving home.
Yeah, there are a lot of reasons for Petrina to be proud of her son. The flip side of that relationship? Off the charts.
"Mom is such a big part of my life," McCutchen says. "From where I was to where I am now … she's the backbone of the family. She taught me a lot along the way, instilled a lot in me. I use the things she taught me every day in my life. I appreciate having a mother like her."
Andrew's baseball skills would have found daylight regardless, safe to say. But it did not hurt to have Petrina prepare and sell those $5.50 spaghetti dinners to fund his way to baseball tournaments, or for the Ft. Meade, Fla., community that embraced her to raise the $5,000 to send him to Puerto Rico for more high-profile exposure.
If you call the Polk County Sheriff's office today, chances are Petrina McCutchen will still be the one on the other end.
"She has always worked, and still does, supporting my sister and her endeavors," Andrew says.
Loren, Andrew's only sibling, graduated last June from Ft. Meade High School and is studying nursing at Florida A&M University. She credits her big brother with setting a great example for her -- but that is just yet another of Andrew's inheritances from his parents.
Andrew and Petrina share a unique relationship, no question. Parenting experts clinically advise people to "be a parent, not a friend" to their children, but Andrew is blessed to truly have both.
"My family is very young," Andrew said. "My parents are in their 40s. We we all just hang out and have a good time. It's always very relaxed, laid-back, laughing about whatever, joking around.
"Now that my wife [Maria] is in the mix with the family, it makes it even that much more special. I made Pittsburgh my home, but I still have a place in Lakeland, right outside Ft. Meade, because my parents are still there, and I get back there whenever I can."
Sons typically are challenged to express their feelings for their moms. Not so much because of the proverbial "it's a man thing," but because it's almost a rhetorical question. You can read the emotions on the sons' faces, however.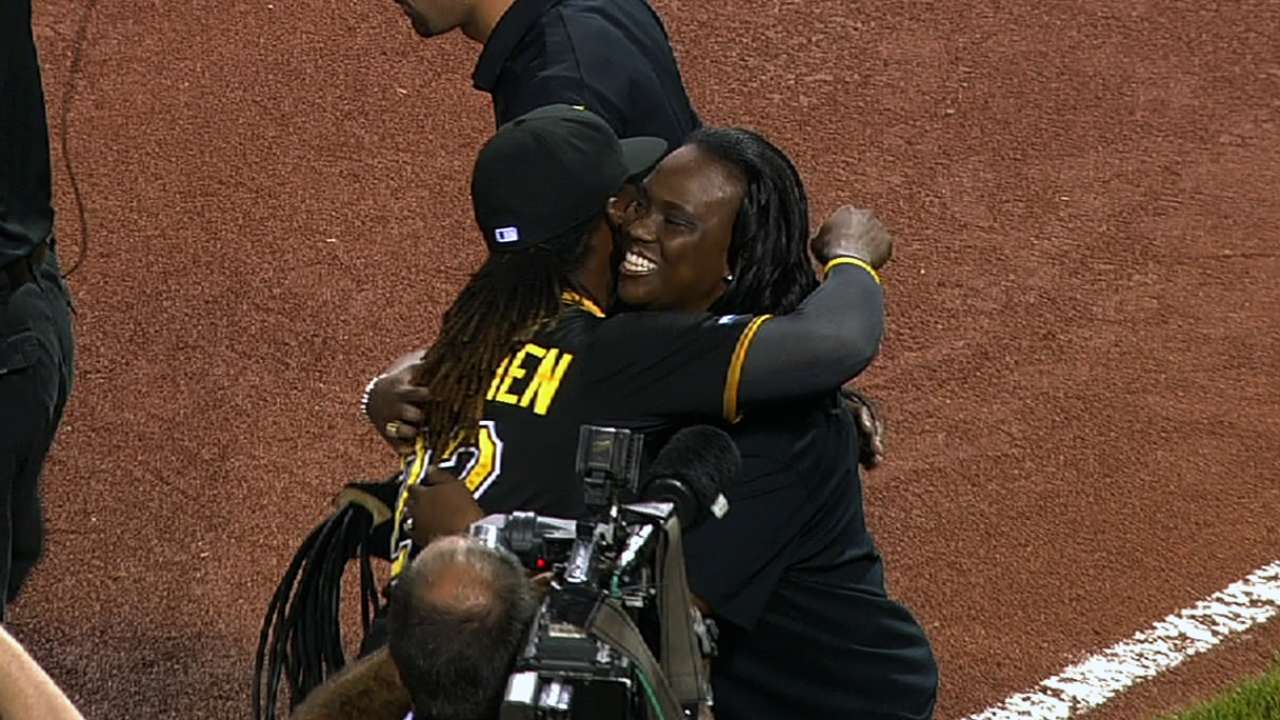 Andrew's face is an open book when Petrina belts the national anthem prior to a Bucs game at PNC Park, which she has done a few times.
"I'm proud of her, to see her on such a big stage being able to use the gift she's blessed with -- her voice," Andrew said. "I've been hearing it all my life. She probably started singing to me when I was in her womb.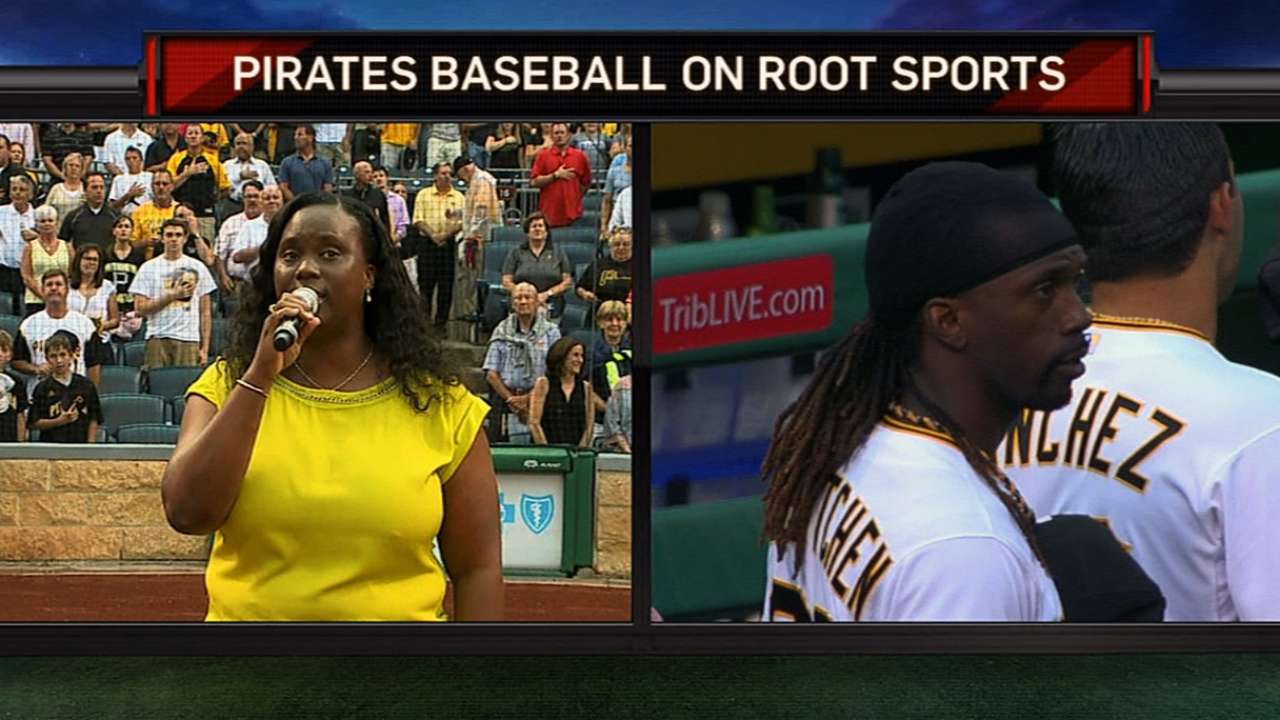 "As a kid growing up, [your mom] is always proud of what you do, of what you've been able to become. In those moments, the table is turned -- I can be the person really excited for and proud of her."
Partisan praise? Not exactly: Two months ago, MLB.com chose the Top 10 anthem renditions of recent years and ranked Petrina McCutchen's version prior to the 2013 Wild Card Game as No. 2 -- three spots ahead of Mary J. Blige.
Not bad.
On Mother's Day, Andrew will be out "to make her feel special, to let her know it's her day. I've got a couple of surprises up my sleeve this time, and I'm sure she'll be excited."
Tom Singer is a reporter for MLB.com and writes an MLBlog Change for a Nickel. Follow him on Twitter @Tom_Singer. This story was not subject to the approval of Major League Baseball or its clubs.