Reverence for Mom common thread for Reds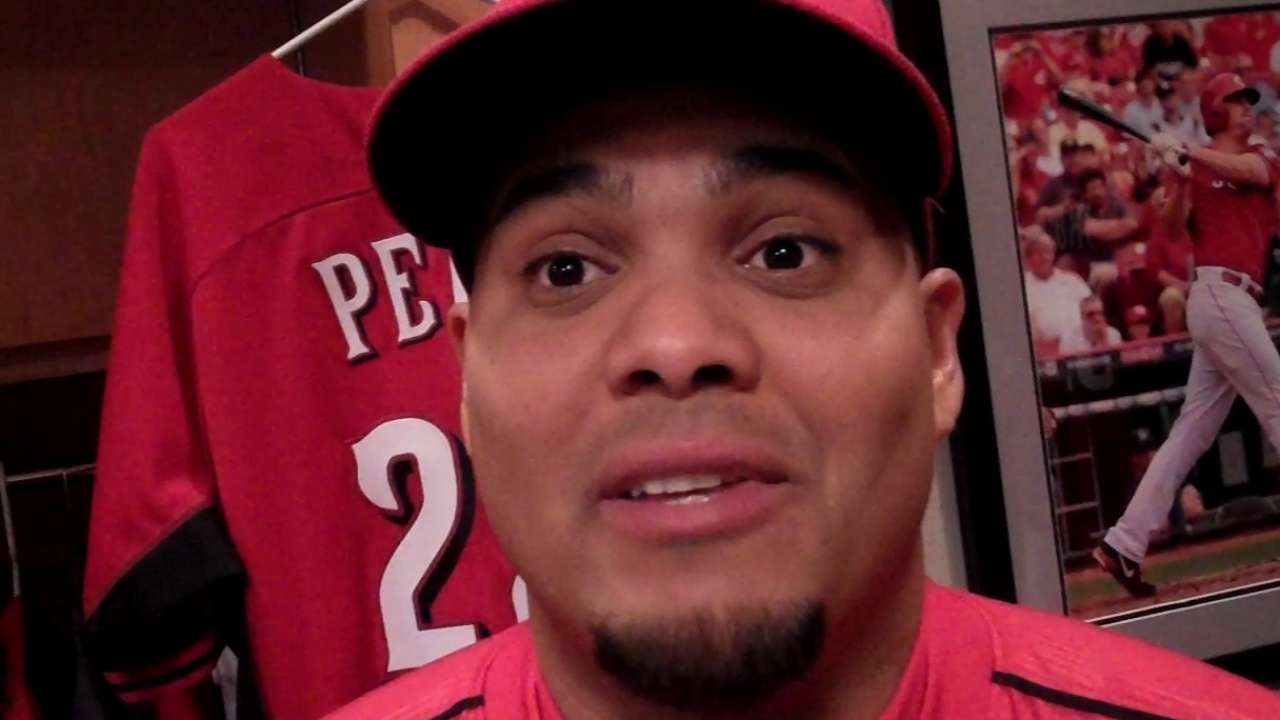 CINCINNATI -- Like most Major League clubhouses, the Reds are a melting pot featuring players of different ages, race, backgrounds, experiences, nationalities and more.
But one common trait many of them have is appreciation for their mothers. With Mother's Day approaching, MLB.com has asked several Reds players to describe their mother with one word and why. Here are the responses:
Catcher Brayan Pena on his mother, Carmen: Hero.
"She is my hero because of what she went through when I defected back there in Cuba. I had to leave my family behind and she was the one who was very strong for everybody. She was the one who was always there for me, supporting me and believing in me. … I think I get a little emotional talking about her. It was very hard to defect when I was 16, but it was even harder to leave my mother and my dad behind. She really took it very hard but at the same time, she was supporting. She told me it was going to be special, and she really was right on. After that, I was in the big leagues for a lot of years and thank God, I'm still here. She is in Miami and last year, she became an American citizen. She's doing great."
Center fielder Billy Hamilton on his mother, Polly: Amazing.
"Amazing is one word that takes over so many words. She's a lady who is very strong, and taking care of me was a big deal. I was a bad little kid. For her to put her priorities on me and everything, I had two sisters. She was one of those ladies who is very special and would do anything for me. If she could be at every game, she would. She's very proud of me. I'm just happy to be in a situation to take care of her and for her to be able to part of a special day. Mother's Day is a special day in baseball. She's a special lady."
Outfielder Skip Schumaker on his mother, Marlene : Supportive.
"I've called her after really good games and really bad games. If I'm 0-for-4 with four strikeouts, she'll say, 'You looked really good though.' That's what moms do. They're always finding the positive in every game. She is always supportive throughout my career -- the good, the bad, the ugly. She is always in my corner. There has never been any pressure or negativity my whole baseball life, all the way up to the big leagues. That's why I think I've been successful, because I've always had two parents that have been supportive and not hard on me -- which I think is lost in the little leagues nowadays."
Closer Aroldis Chapman on his mother, Maria Carida: Everything.
"Mom is everything for me. First of all, she gave me life. She gave me everything. She's fought for me to give me all the education I have. Everything I've done so far, everything I've achieved is because of my mom."
Rotation ace Johnny Cueto on his mother, Cristina: Life.
"My mother brought me into this world. She supported me every single second. She always supported me. She sustained me the whole time. There is not a word that I can say or explain, it's hard."
Reliever J.J. Hoover on his mother, Carol: No one word.
"I don't think I can do justice for my mom with just one word to describe her, because she's loving, caring and she's always there for me. There are too many words to describe her. One word doesn't do it."
Mark Sheldon is a reporter for MLB.com. Read his blog, Mark My Word, and follow him on Twitter @m_sheldon. This story was not subject to the approval of Major League Baseball or its clubs.