Colon, Royals complete stellar double play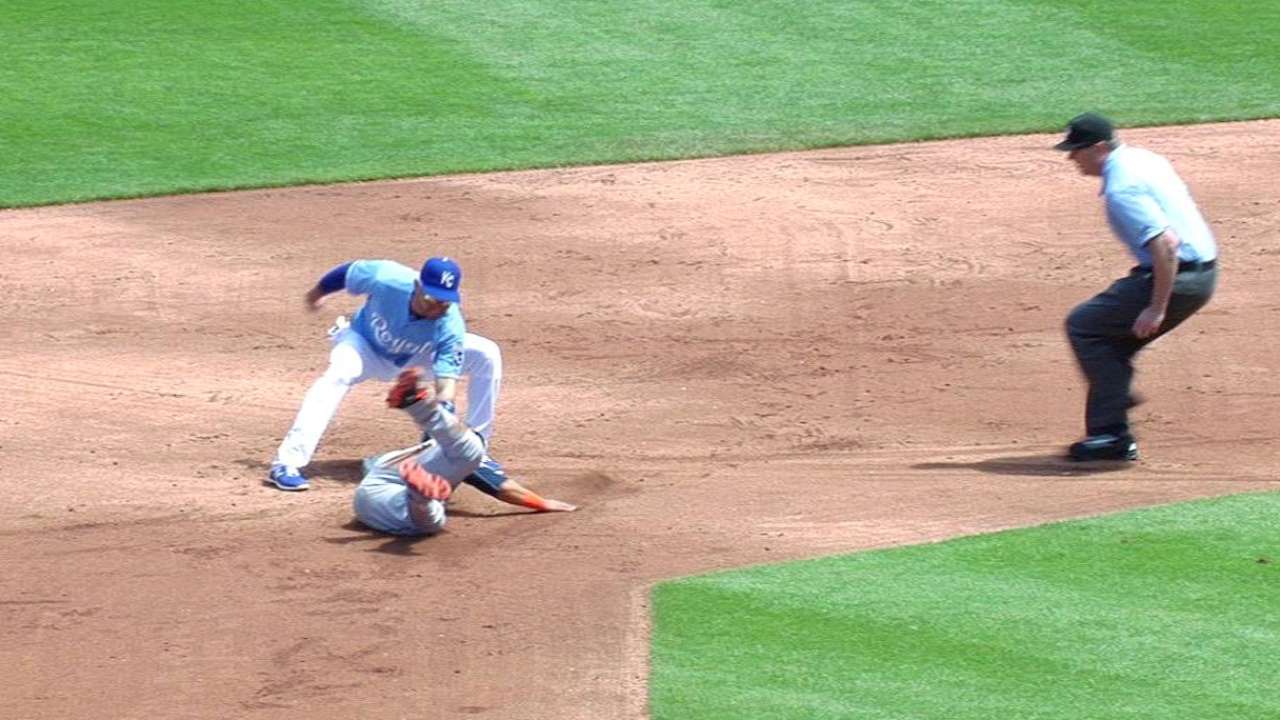 KANSAS CITY - The Royals pulled off what likely is their double play of the season so far in the third inning of a 6-4 loss to the Tigers on Sunday at Kauffman Stadium.
With Detroit's Jose Iglesias on second and one out, Ian Kinsler lined a one-hopper at shortstop Christian Colon, who flipped to second baseman Omar Infante, who slapped a tag on Iglesias.
After the tag, Infante instinctively rifled a relay to first, causing second-base umpire Lance Barrett to duck out of the way before he ruled Iglesias out.
The relay skipped into first baseman Eric Hosmer's glove on one hop, and Kinsler was called out. Replays seemed to show Kinsler was safe, but after consideration, the Tigers chose not to challenge.
"I took a peak at [Iglesias] and I saw him a little off [the bag]," Colon said. "I picked up [Infante] coming over, so I threw a strike. And then, I saw the relay. ... I didn't think we had a chance. But he's got such quick hands."
Added Royals manager Ned Yost, "I don't know if you'll see a better double play. As soon as Christian caught the ball and threw to second I thought, 'Wow, that's a smart play, but I hope he can get the tag down.' And then the next thing you know, boom, Omar cuts a bullet to first base and they call him out. I thought, 'Wow, where did that come from?'"
Jeffrey Flanagan is a reporter for MLB.com. Follow him on Twitter at @FlannyMLB. This story was not subject to the approval of Major League Baseball or its clubs.