Walden placed on 15-day DL; Tuivailala recalled
ST. LOUIS -- The Cardinals placed relief pitcher Jordan Walden on the 15-day disabled list before Sunday's game against the Pirates and have recalled fellow righty Sam Tuivailala from Triple-A Memphis.
Walden complained of biceps discomfort earlier this week and was held out of the past few games. The decision to put Walden on the DL came after he tried unsuccessfully to get ready for Saturday's game.
"Yesterday he said, 'I feel really good, those two days really helped,'" Cardinals manager Mike Matheny said. "Got him fired up, and when we did, got just about ready to go, and all of sudden got a call that said something didn't feel good, so we decided not to push it."
Walden (0-1) had a 0.87 ERA in 12 appearances in the bullpen this season. He had given up seven hits, walked four, had 12 strikeouts and even had a save, though he was used primarily as the setup man for Trevor Rosenthal.
Tuivailala has not allowed an earned run in eight relief appearances this season at Memphis with three saves and 12 strikeouts in nine innings.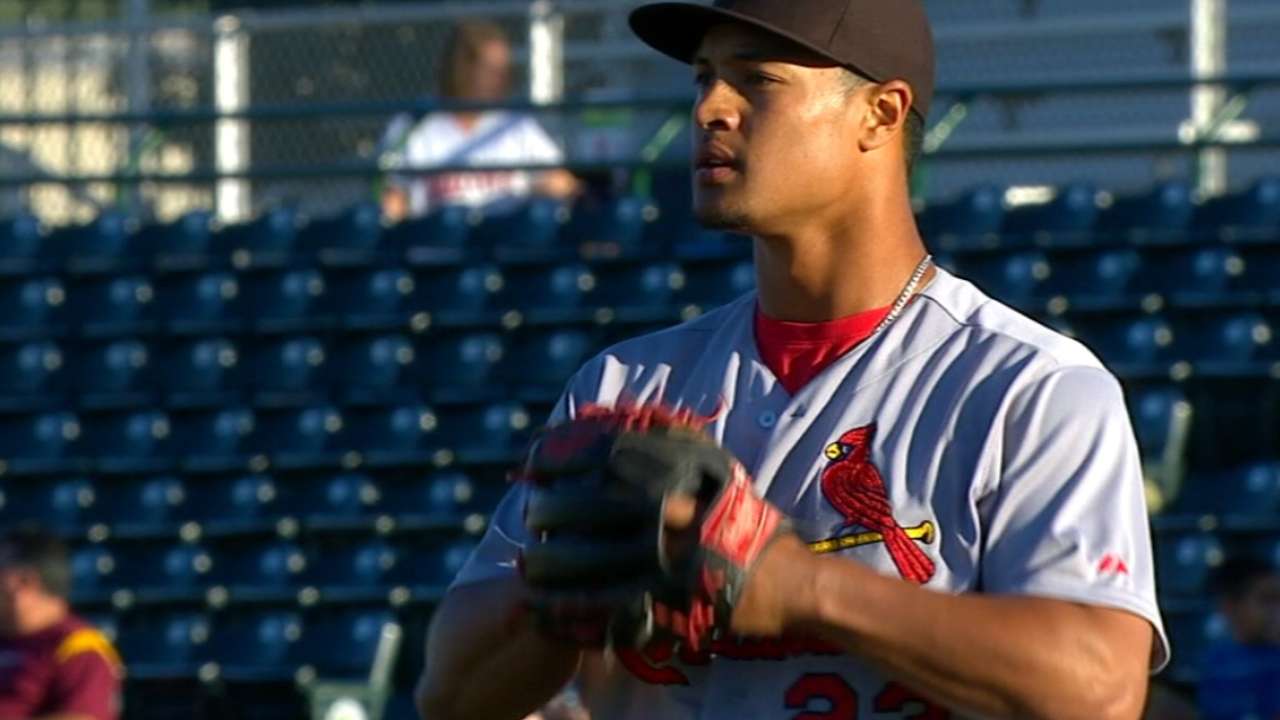 "He's been throwing the ball well, he's been in the strike zone, he's been controlling counts," Matheny said. "I think he's gaining faith in his secondary pitches. No doubt there's a fastball there. Just trying to know when and how to use the changeup and the breaking ball, and both of them are plus pitches if he trusts them."
Tuivailala pitched in two games last year and gave up four runs in an inning of work. Tuivailala said that experience has served him well.
"When you get the call, you're always happy to get the call to come up here," Tuivailala said. "I've already been here before, got a little taste of what it was last year. Spring Training got to hang out with the guys a little more and compete with them during the Spring Training games, and I feel pretty comfortable here."
Walden's absence provides several questions for what has been a taxed bullpen of late -- namely who will take the eighth-inning role. Matt Belisle and Seth Maness would figure to be two candidates while Walden is out.
Matheny hopes the proactive approach will minimize Walden's absence.
"If we can get ahead of this now, once we get a really good look of what's going on, that will increase our chances on having him for the rest of the season," Matheny said.
Joe Harris is a contributor to MLB.com. This story was not subject to the approval of Major League Baseball or its clubs.