MLB.com Columnist
Alyson Footer
Chisenhall, Kluber receive GIBBY awards
Third baseman wins Hitting Performance; right-hander named Breakout Pitcher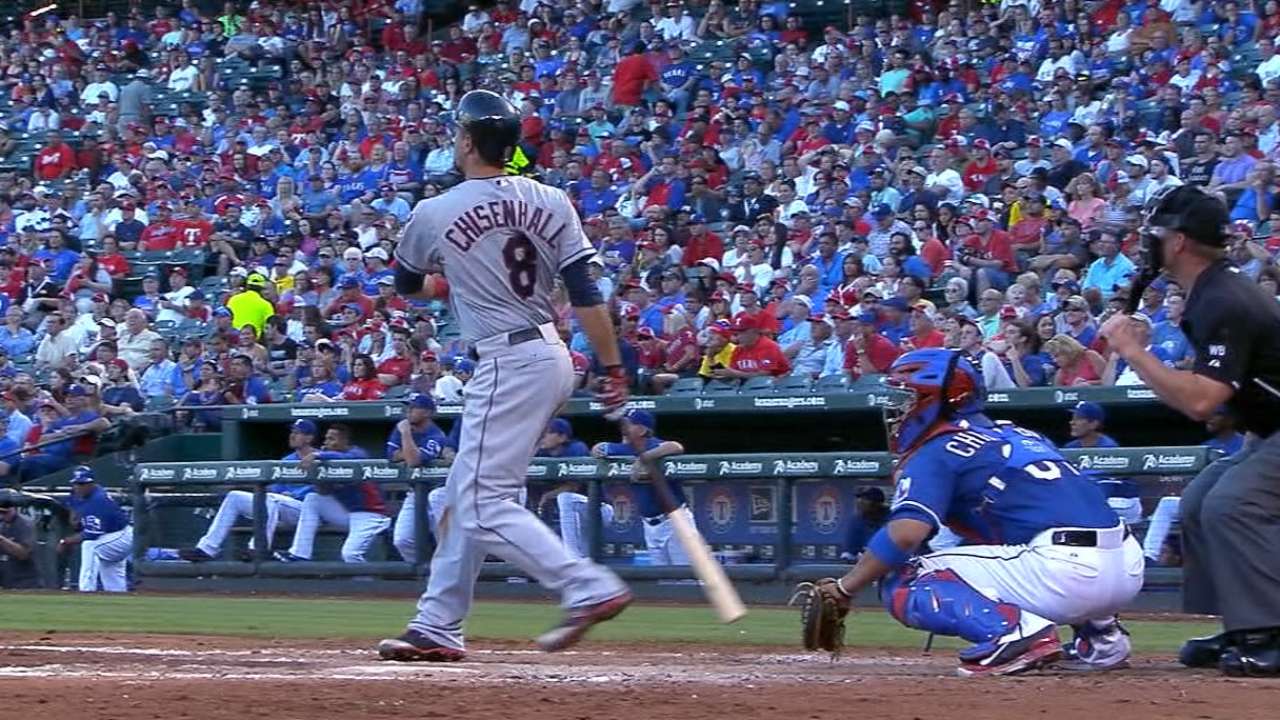 CLEVELAND -- Lonnie Chisenhall still doesn't have a concrete explanation for how things came together during his historic performance last June in a game against the Rangers, but when he does reflect back, he can't help but smile.
It goes without saying that Chisenhall was seeing the ball well that day. Very well. But there are plenty of days when he feels comfortable at the plate, and these aren't the results. So rather than try to pick apart every pitch, every swing and every play, Chisenhall just shrugs and chalks it up to one of those days -- an historic and perhaps once-in-a-lifetime day, one that produced three home runs, nine RBIs and hits in all five of his at-bats.
"You smile, enjoy it, mess around with the team with it," Chisenhall said. "The whole team was swinging it pretty well that day too. The RBIs were a credit to them. it was just a fun night."
On Sunday, Chisenhall received his GIBBY Award for the Hitting Performance of the Year. Cy Young Award winner Corey Kluber also received a GIBBY as the Breakout Pitcher of the Year. The players were presented their awards during a pregame ceremony prior to the Indians finale with the Blue Jays.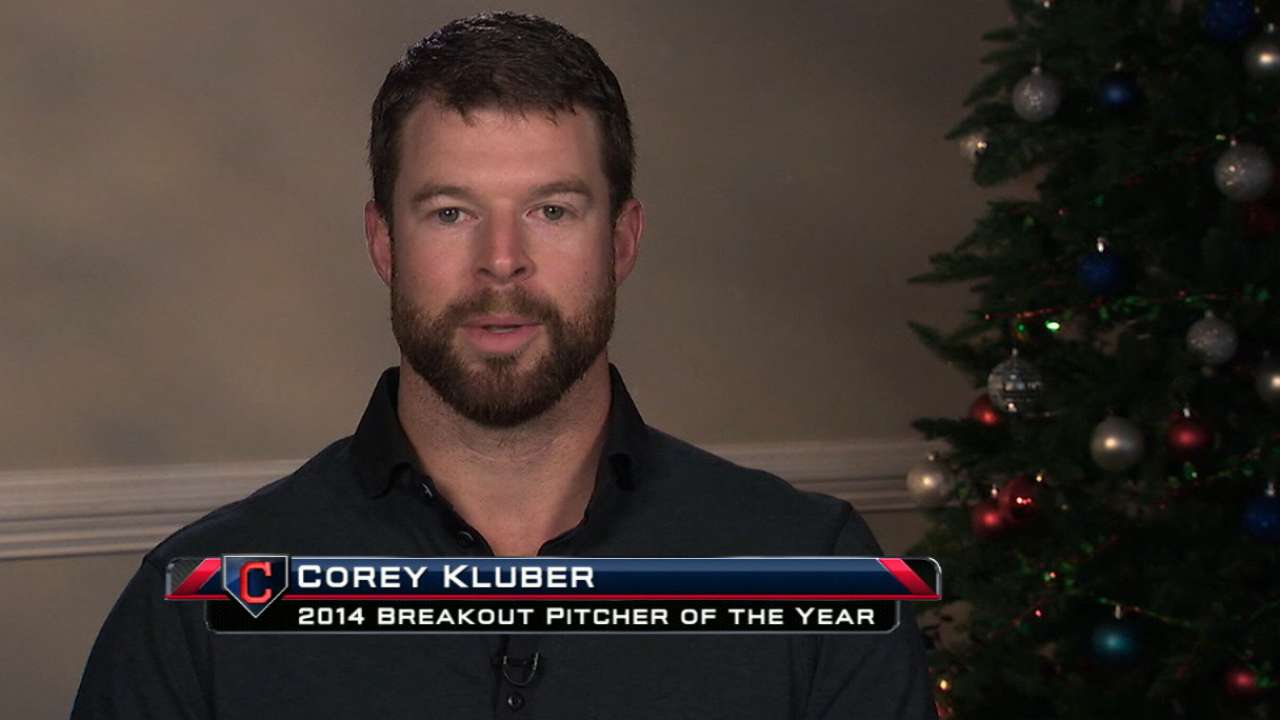 The GIBBYs (Greatness in Baseball Yearly Awards) are presented by MLB.com and represent the ultimate honors of the industry's awards season. The votes are based on input from broadcasters, reporters, front-office personnel, MLB alumni, fans at MLB.com and the Society for American Baseball Research.
As the fourth Indian to win the Cy Young Award, it's no surprise that Kluber was the runaway favorite in his category. He was 18-9 with a 2.44 ERA and 269 strikeouts in 235 2/3 innings last year, and he led the Majors with a 1.73 ERA in the second half of the season. In his final five outings of the year, he went 5-0 with a 1.12 ERA and 54 strikeouts.
Chisenhall's category presented some tough competition, including Charlie Blackmon's 6-for-6 performance during the Rockies' home opener, and Jose Abreu's six-RBI day in an April game that ended with his walk-off grand slam in the White Sox 9-6 win over the Rays.
Chisenhall's feat was something that had only happened four times in Major League history. The other three players who have had five hits, three homers and nine RBIs in a single game were Fred Lynn (1975), Gil Hodges (1950) and Walker Cooper (1949).
"Anytime you put your name on a short list in baseball, it's a pretty big accomplishment," Chisenhall said.
His day began with a first-inning single during that fateful game against the Rangers. He launched the first of his two two-run homers in the second inning, followed by another one in the fourth. He doubled in the sixth, and in the eighth, he capped his mind-boggling performance with a three-run shot.
What was going through his mind after the last homer?
"It was a little funny because I get picked on a little bit for pulling a lot of pitches that I'm not supposed to pull," he said. "It was kind of a backup slider low and away and I hooked it around the pole in right field. You're not supposed to do that but on that night, anything can happen. It was a fun night. We joke about it all the time."
While awards in baseball are somewhat commonplace after a season ends, the GIBBYs are special, because they're the only awards that invite fans to vote.
And it's the fan appreciation that made this extra special for the Indians players.
"I know the fans vote and the fans are a big part of the game, especially online," Chisenhall said. "It's nice to get a little bit of recognition."
Alyson Footer is a national correspondent for MLB.com. Follow her on Twitter @alysonfooter. This story was not subject to the approval of Major League Baseball or its clubs.