Abreu: Blame falls on players, not Ventura
Slugging first baseman, team leader says manager 'lets you play your game'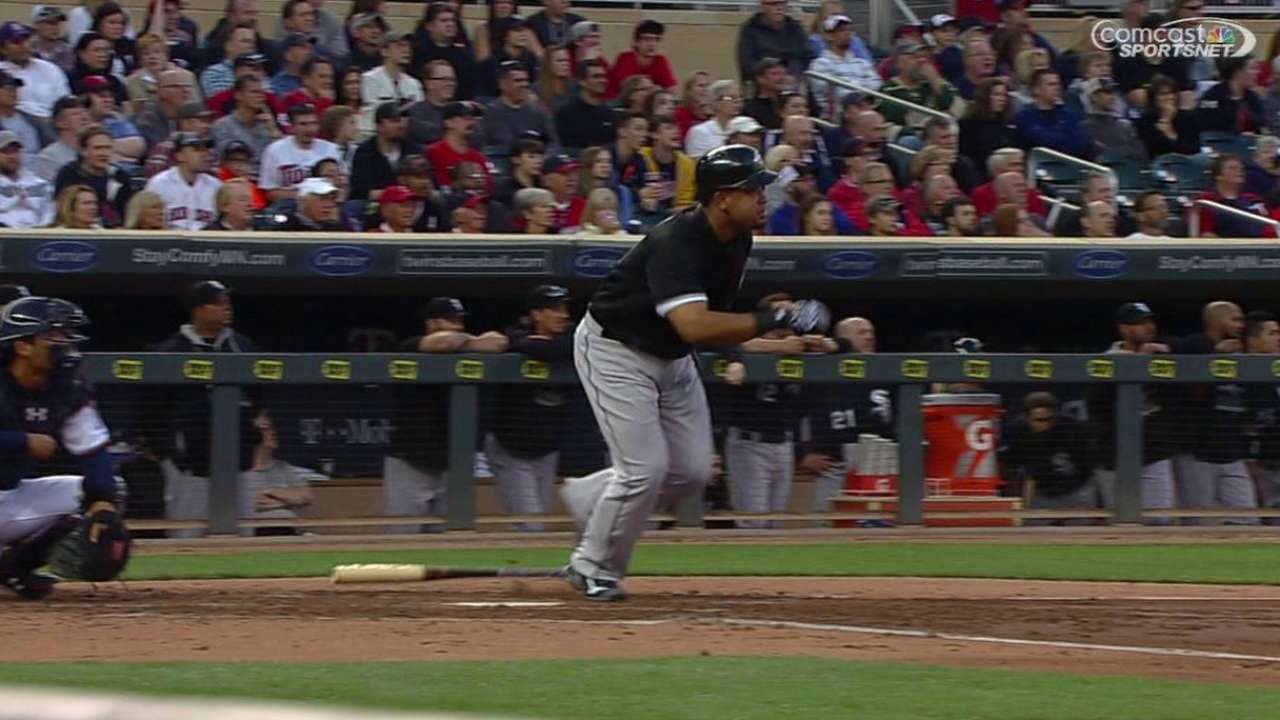 MINNEAPOLIS -- Jose Abreu issued strong words of support for Robin Ventura Sunday morning, not that the White Sox manager truly needed them after just 21 games making up a rough start.
But the first baseman, who has quickly and quietly become a clubhouse leader, said blame should fall upon the players on the field.
"We cannot blame Robin for the situation of the team," said Abreu, through interpreter and White Sox Spanish language broadcaster Billy Russo. "It's our fault, because we are the ones who are playing. We are the people who are in the field. Just for us, we are not doing the things right.
"If the people want someone to blame, it's the players, not Robin. He's doing what he can do, but the results aren't there."
Entering Sunday's action, the White Sox had a 2-10 record on the road, an 8-12 mark within the American League Central and sat 6 1/2 games behind the first-place Royals. That division deficit would be quite worrisome in September or even August, but not as much in the first week of May.
In 2010, the White Sox stood at 24-33 and 9 1/2 games out of first on June 8. By July 15, they had a 50-38 mark and a one-game lead.
This season's greatest problem has been the eye test, in that Chicago has not looked good as a team pretty much from the opening series in Kansas City. It hasn't hit consistently or received steady performances from a highly-touted starting rotation, not to mention making baserunning and defensive mistakes not expected from a veteran group.
Blame immediately falls upon the manager in this sort of inability to reach lofty expectations, as it's easier to point to one or two as opposed to 25 when a team falls short. Ventura has stayed away from any sort of blame game, sticking to his familiar mantra of one game at a time.
"I don't think anybody is sitting around here and pointing fingers at somebody," Ventura said. "It's a team game we play, and we all have to do our part. I do, the players do, everybody does.
"It's not a time to sit there and point fingers. It's a time to play better, and they know that time is coming and they have to continue to grind and get through rough patches, and you realize what's there and what guys are capable of. The focus today is trying to win today, not anything that's happening in the future. We're focused on what we're doing today."
Abreu followed that example, by stating that his 2-for-19 slump is a thing of the past and Sunday marked a new start behind Ventura.
"He's a friend, he's a brother, he's like a father in some situations," Abreu said. "He lets you play your game. That's good. Something that in baseball, if you are a good person, that doesn't translate that you are going to be successful every time. He's very good. I love to play for him."
Scott Merkin is a reporter for MLB.com. Read his blog, Merk's Works, and follow him on Twitter @scottmerkin. This story was not subject to the approval of Major League Baseball or its clubs.