Bucs show infectious offense on road trip
Club provides evidence for 'hitting is contagious' theory, believes it can improve together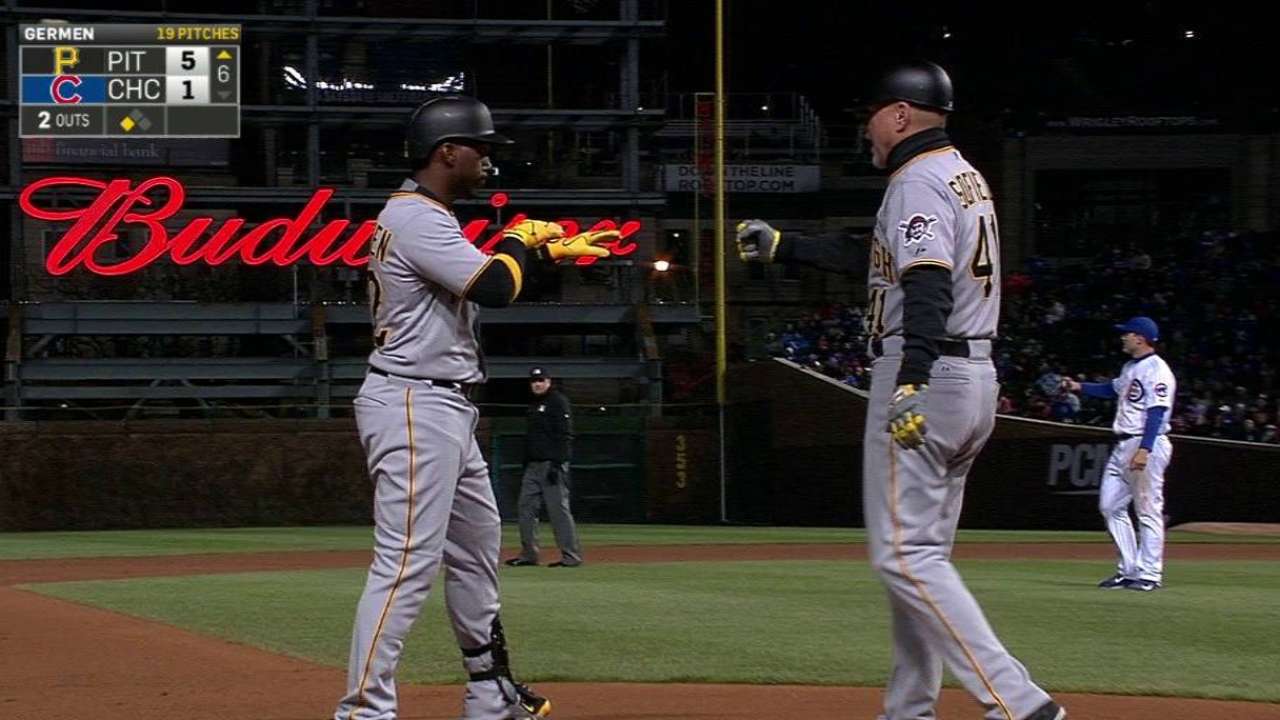 ST. LOUIS -- One of baseball's time-worn beliefs holds that "hitting is contagious." It is a theory, and also an excuse, invoked by slumping clubs. And it is generally accepted -- but is it true?
You aren't going to get any proof, obviously. But there is some evidence, and the Pirates currently offer a scorebook full of it.
After Sunday's 3-2 loss in St. Louis, the Bucs' regular eight does not include anyone hitting .300 -- but it does have four players below in the .220s.
The Pirates also have two (Pedro Alvarez and Andrew McCutchen) of the 53 Major Leaguers with 10-plus walks -- but three of the 25 National Leaguers who had fanned 21-plus times.
And the big picture of infectious offense: Through 25 games, it has been either feast or famine for the Pirates (definitely the case for their unsupported pitchers). The Bucs have scored two runs or fewer in 12 of the games, and five or more in 10 others; either everybody hits, or nobody does.
The road trip that concluded Sunday vividly reflected that trend: The Pirates scored 28 runs in the nine games -- 16 of them concentrated into two games.
"If I were to sit everyone struggling right now," manager Clint Hurdle said, "we wouldn't be able to put enough on the field to play. We've got to figure a way out of it together. These guys are more than capable of getting hot, and staying hot, together."
The most troubling aspect of the early-season offense isn't the batting average but the on-base percentage, as a team .282 after Sunday's game. That's a reflection of a ratio of 4-to-1 strikeouts-to-walks (the league average is below 3-to-1).
"That's definitely an area that has grabbed our attention early," conceded Hurdle, referring to his staff. "I still like the lineup; that thing will figure itself out, too."
Tom Singer is a reporter for MLB.com and writes an MLBlog Change for a Nickel. Follow him on Twitter @Tom_Singer. This story was not subject to the approval of Major League Baseball or its clubs.