Hutchison's slider key to getting back on track
Right-hander has posted 7.47 ERA through first six starts of '15 season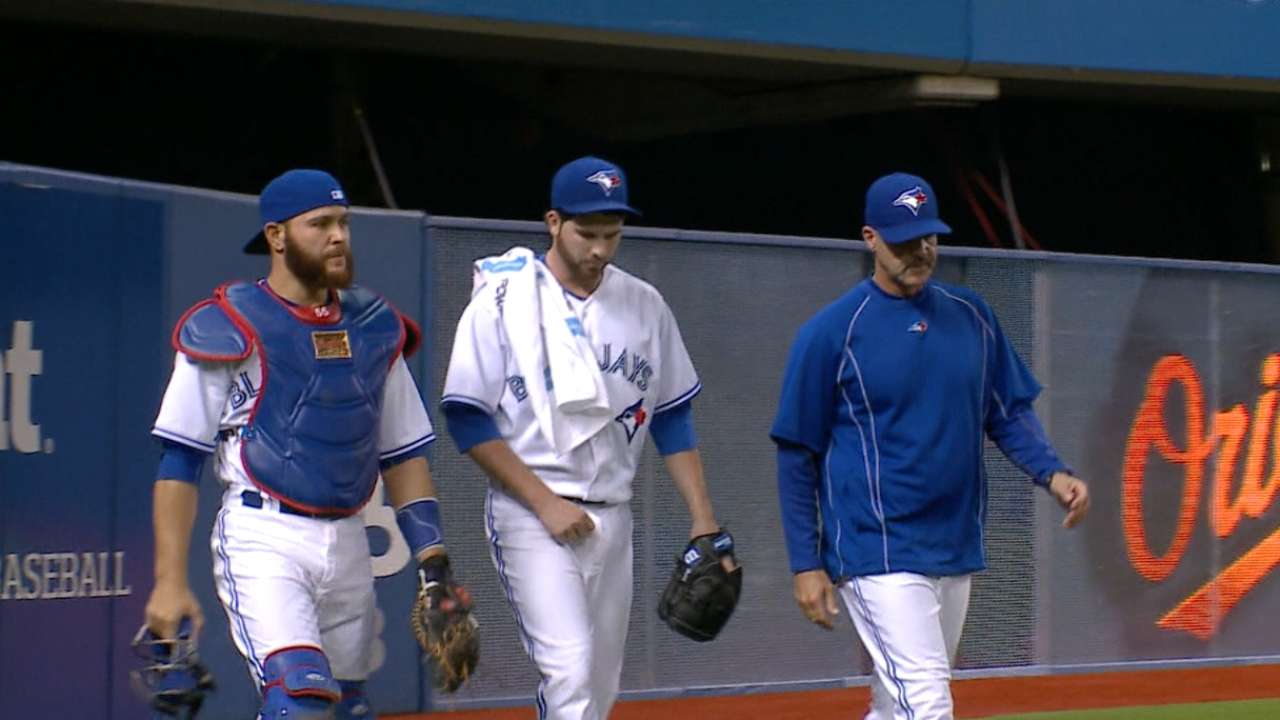 CLEVELAND -- One of the keys to getting Drew Hutchison back on track this season is the shape of sliders to come.
The 24-year-old had a promising season last year after recovering from Tommy John surgery, staying healthy for all 32 starts and posting a top-20 strikeout rate in the Major Leagues. That strikeout rate, in the second half, became a top-10 mark, and it coincided with a mechanical adjustment made by Hutchison that gave him more vertical drop on his slider.
The shape of that slider, and the results that came with it, led to high expectations for the young right-hander this season. However, through Hutchison's first five starts, he's posted a 6.67 ERA and a significantly decreased strikeout rate.
After Sunday's 10-7 loss, in which Hutchison allowed six runs on eight hits over 4 1/3 innings, his ERA now sits at 7.47 for the season.
It's not just about the slider, of course. Like most pitching-related issues, it all begins with mechanics, and fastball command. If a pitcher can't command his fastball to get ahead in a count, the secondary pitches become meaningless.
"His release point right now, we're trying to stay consistent with this slot and get it back to where it was last year," Blue Jays pitching coach Pete Walker said. "I think there have been times where he's been a little lower. His front hip opens up a little too soon at times and he tends to get around the baseball."
An inconsistent arm slot, changed from last season, leads to Hutchison getting around the ball, rather than coming over top of it. Getting around the ball is leading to poor command of the fastball, and the slider having more flat, sweeping action, like it used to, and staying in the zone longer. When Hutchison gets on top of the ball in his delivery, like the Blue Jays desire, the slider obtains that vertical drop that gets hitters to chase as it falls out of the zone.
"When you look at the shape of the slider right now, there have been a couple of games where he has a little more of the vertical drop and the downward action," Walker said. "For him, it is about staying on top of the baseball and it's about keeping that good depth on his slider … We definitely have to get back to that feel. He definitely had it at the end of last year and we're trying to get back to that right now."
That being said, the Blue Jays aren't overly concerned. Unlike some of the other young starters in the Blue Jays' rotation, they have seen Hutchison do it for a full season before. He knows what it takes to be effective. He just has to get back to it.
"We know [the strikeouts] will come," Walker said. "It's only been five starts so far, so we're not overly concerned in that department. He's shown flashes of it. … The slider and the strikeouts will come, but I think first and foremost he has to get comfortable and he'll get on a roll."
August Fagerstrom is an associate reporter for MLB.com. This story was not subject to the approval of Major League Baseball or its clubs.