Kluber adjusting to working with Perez
In four starts together, right-hander has 5.68 ERA as Gomes recovers from knee injury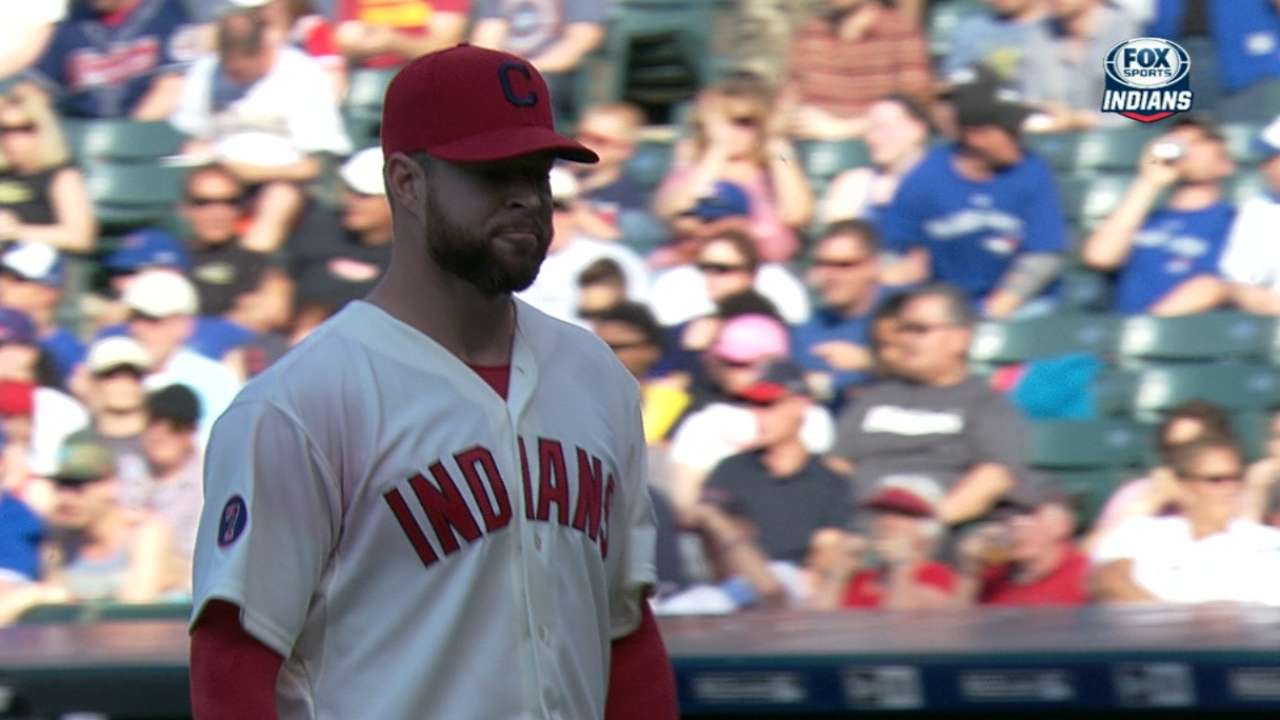 CLEVELAND -- Indians ace Corey Kluber formed a cohesive bond with catcher Yan Gomes last year that resulted in a special season and an American League Cy Young Award. Since Gomes has landed on the disabled list with a knee injury this year, Kluber's performance has slipped.
Kluber admitted that he and catcher Roberto Perez -- as would be expected under the circumstances -- are currently going through an adjustment period.
"There's obviously a difference," Kluber said before Sunday's game against the Blue Jays. "Whether it be myself with Yan, or somebody that gets traded, for example, there's always a period where you've got to work to know what each other wants to do. I think that's normal for any player to go through. It's not just Roberto and myself."
Gomes, who helped guide Kluber through the bulk of his 18-win breakout season last year, sustained a sprained right knee on April 11 and could be sidelined for at least three more weeks. That forced Perez into the everyday role behind the plate after appearing in only 29 Major League games for Cleveland last year.
In four starts with Perez behind the plate this season, Kluber has posted a 5.68 ERA in 25 1/3 innings (though it's fair to note that the pitcher turned in eight strong innings with the catcher on April 17 in Minnesota). The disconnect between the batterymates has mostly come in Kluber's last three starts, which have included a 7.27 ERA in 17 1/3 innings.
Kluber posted a 2.63 ERA in his first two starts this season with Gomes.
"There's no secret how comfortable Klubes and Gomer were," Indians manager Terry Francona said. "That was a pretty special relationship that you want. ... When a guy like Gomes goes down, you don't have a Gomes sitting on the bench. I think we're pretty fortunate where we are, but they're not going to have that same sync. It's impossible. That's not fair to anybody."
In 293 1/3 career innings with Gomes catching, Kluber has turned in a 2.58 ERA with a 5.25 strikeout-to-walk ratio and a .634 opponents' OPS. With Perez, Kluber has a 5.61 ERA in 33 2/3 innings and an .874 opponents' OPS. With any catcher other than Gomes, the right-hander has turned in a 4.73 ERA with a 3.48 strikeout-to-walk ratio in 196 innings.
Indians pitching coach Mickey Callaway said the onus might be on Kluber to work more closely with Perez, even shaking off certain pitches during an outing if the right-hander is more comfortable going in a different direction
"I think it's mainly just getting on the same page," Callaway said. "Kluber's a guy that likes to get in there, Gomes calls a pitch and he follows his lead. That little bit of an adjustment might have a little something to do with why he's not quite as effective as he'd like to be.
"In that situation, you've got to know that 'Berto's 90 days into his Major League career and, 'I just won a Cy Young. I'm going to help him out a little bit and take some of the pressure off.'"
Kluber agreed that Perez was not solely at fault for the pitcher's recent struggles.
"If anything," Kluber said, "I'd say it's having a little more awareness of when hitters are kind of hanging out over the plate, and kind of eliminating half of the plate, and keeping them honest. That's as much, if not more, my job than it is his. Ultimately, we're the ones throwing the pitches. His fingers are just suggestions."
Jordan Bastian is a reporter for MLB.com. Read his blog, Major League Bastian, and follow him on Twitter @MLBastian. This story was not subject to the approval of Major League Baseball or its clubs.