A's bullpen unravels in 10-inning loss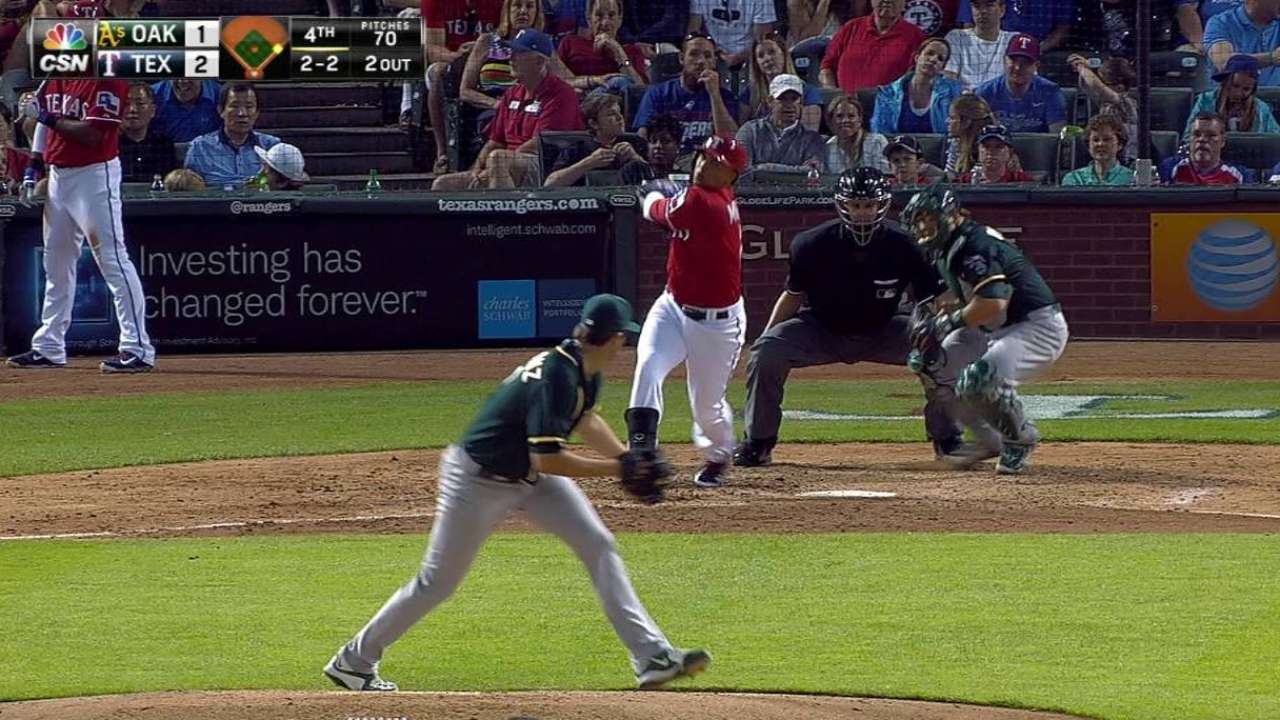 ARLINGTON -- The A's bullpen continues to sink this team, unable to provide the shutdown innings they so easily cruised through last year.
On Saturday, Oakland's relievers blew a four-run lead in a 10-inning, 8-7 loss to the Rangers, who scored five times after starter Drew Pomeranz's exit. It's the bullpen's eighth loss of the season already, most in the Majors -- and more than the first-place Astros have as a team.
In all, A's relievers have allowed 42 earned runs in 78 innings for a dismal 4.85 ERA.
"It's really weird what's going on right now," said A's catcher Stephen Vogt. "I think we're creeping into the territory of mental. We all still have faith in every single one of the bullpen guys, but at this point in time, it's getting very frustrating."
Any momentum gained by the club's uplifting comeback victory on Friday night was squashed in familiar fashion Saturday. The A's rallied for six runs in the seventh to stage a 7-3 lead, only for the Rangers to tie it in the bottom half of the inning, highlighted by Shin-Soo Choo's three-run home run off lefty Fernando Abad.
Chris Bassitt, who was on the mound for the beginning of the frame, issued a pair of one-out walks, and Dan Otero was brought in to face two batters -- including Kyle Blanks, who singled to load the bases -- ahead of Abad, whose two-out, full-count offering to Choo was launched into the right field stands.
Abad, who posted a 1.57 ERA last season, has a 7.04 ERA in 11 appearances this season, and the lefty specialist has struggled mightily against lefties, who are batting .438 (7-for-16) against him.
Yet he's the lone southpaw residing in the bullpen, after the A's placed Eric O'Flaherty (shoulder strain) on the disabled list Saturday.
"Fernando was absolutely terrific for us last year. He's just going through a tough stretch, giving it up right now," A's manager Bob Melvin said. "Obviously it's an important spot. But you've got to have faith in these guys. Obviously we've just gone through a horrible stretch here. We've just got to work to get better."
"He's not locating like he did last year," Vogt said. "His breaking ball's not as sharp. He's a big part of our bullpen, a big part of our team. We need him to get the lefties out, especially with Eric out for a while. Hopefully, whatever's going on with him, hopefully he gets a grip on it."
Ryan Cook was stung with the loss, after the loading the bases on a Choo double and two consecutive walks in the 10th. Melvin brought in R.J. Alvarez, promoted Saturday, to face Rougned Odor, who hit the game-winner off shortstop Marcus Semien's glove.
"They're trying to bunt, I'm trying to throw the ball right down the middle. I didn't," said Cook. "That's all there is to it.
"We're out there battling. We have to get better. That's the bottom line. It's frustrating, no doubt. We all want to do well, obviously. We want to do well for the guys, and right now we're not."
Jane Lee is a reporter for MLB.com. Read her blog, Major Lee-ague, and follow her on Twitter @JaneMLB. This story was not subject to the approval of Major League Baseball or its clubs.