Nicasio, Garcia continue to impress in relief
Dodgers bullpen overcomes Baker's short outing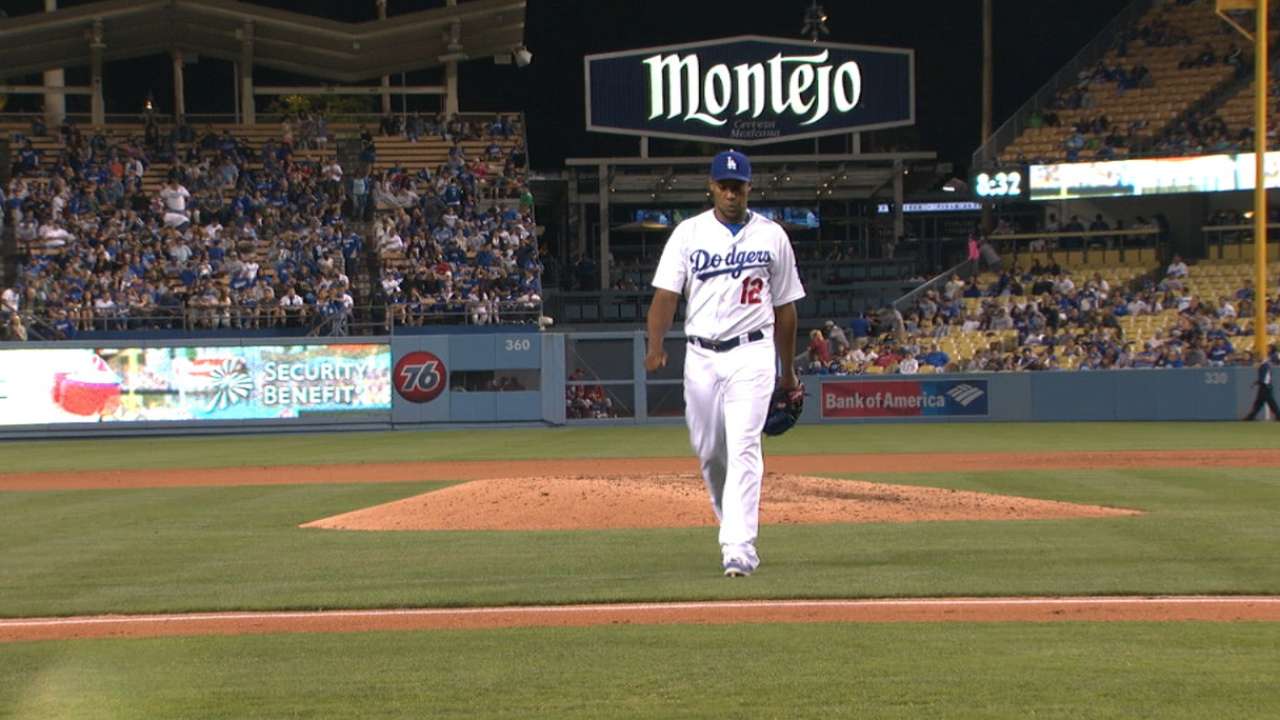 LOS ANGELES -- It wasn't the Fight of the Century, but the Dodgers had to battle their way to a 6-4 decision over the D-backs on Saturday.
They erased three deficits. Joc Pederson wiped away the sting of three consecutive strikeouts with a massive game-tying home run. The bullpen overcame Scott Baker's four-inning start with five scoreless frames, three of them by winning long reliever Juan Nicasio.
Those were followed by a scoreless inning through the middle of the lineup by Yimi Garcia and a bizarre game-ending baserunning mistake by Jordan Pacheco that gave Chris Hatcher a save that was more an escape.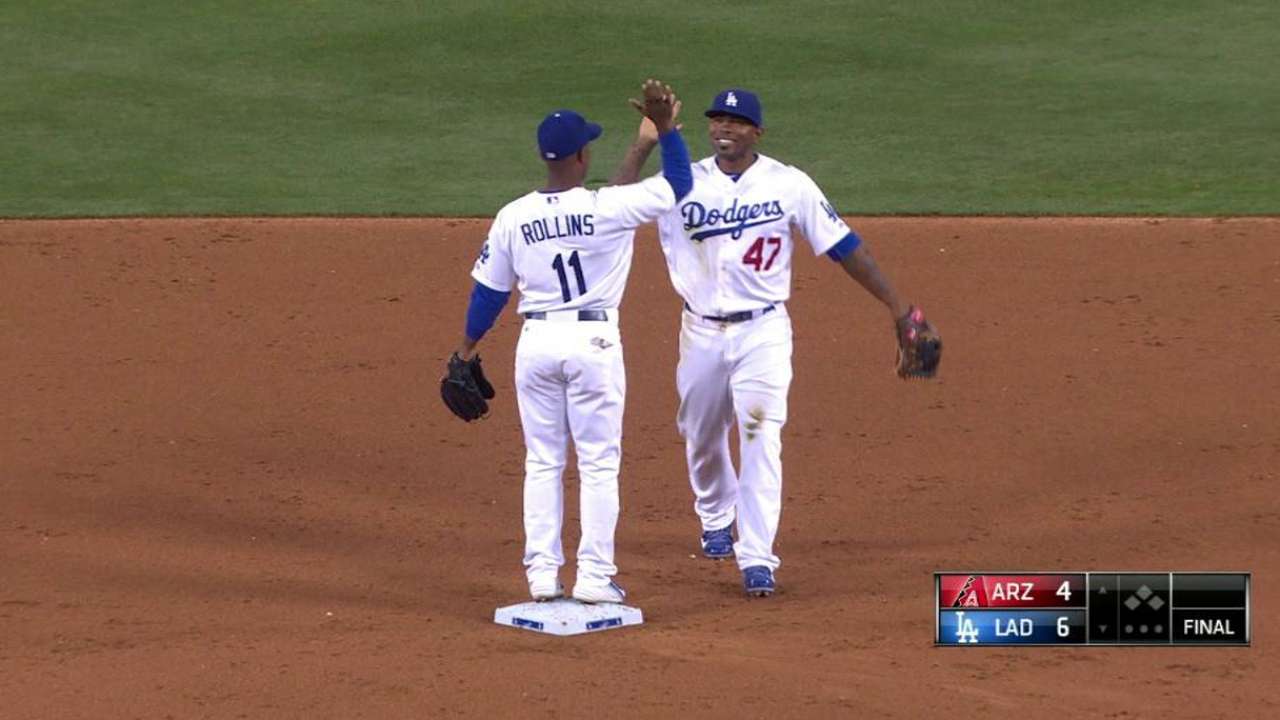 The only two hits off relievers were Pacheco's one-out single in the ninth and David Peralta's two-out single that would have put the tying runner on base, except the ball struck the foot of Pacheco, who was running on the pitch and not watching the hitter, as the Dodgers were conceding him second base. Game over.
"You always see something you've never seen before," said manager Don Mattingly.
Another example of that was Pederson's seventh-inning opposite-field blast in the seventh inning that tied the game at 4-4, the third time Arizona had let a lead slip away. Pederson had struck out his three previous at-bats, but he jumped on the first pitch from reliever Evan Marshall.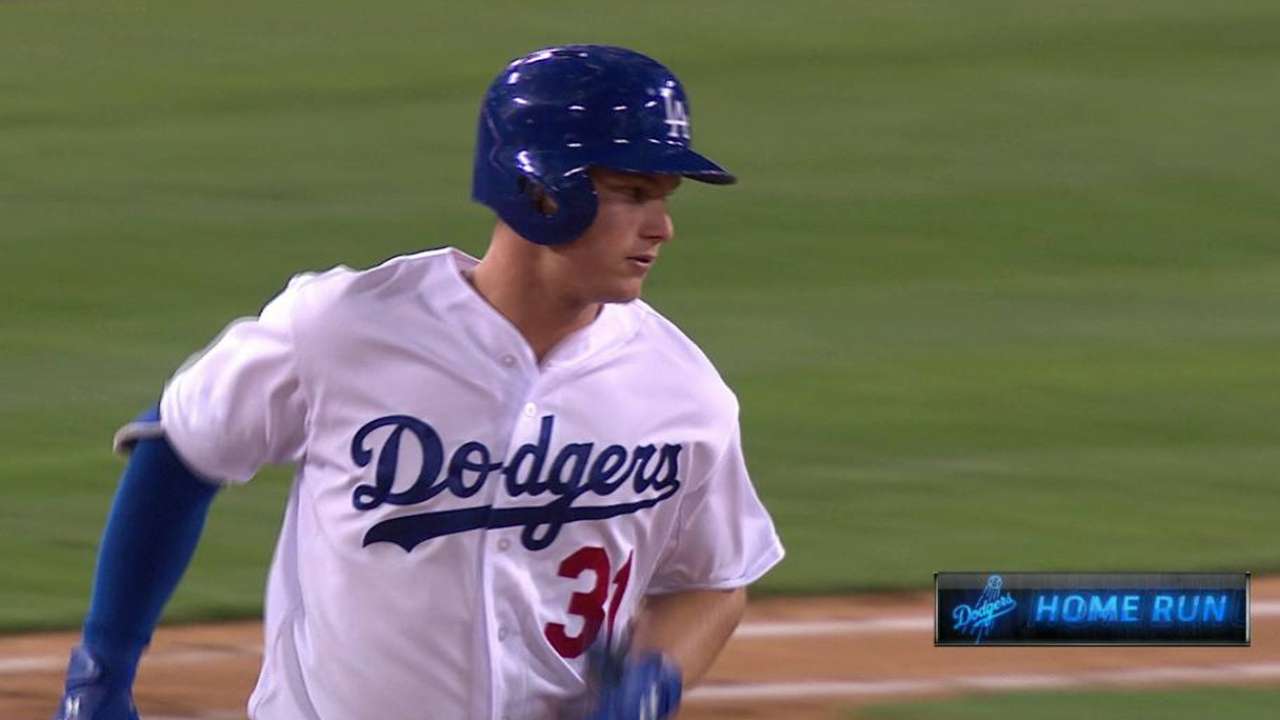 Pederson now has homered in four consecutive games in which he has an at-bat, the first Dodgers rookie to do that since Bill Sudakis in 1969, according to Elias Sports Bureau. Mike Piazza didn't do it, Raul Mondesi didn't do it, Yasiel Puig didn't do it.
"Obviously, huge for us," said Mattingly. "It shows how strong Joc is, to go the opposite way, there's a lot there. I do think he's making adjustments."
Without Hanley Ramirez and Matt Kemp, with Yasiel Puig and Carl Crawford on the disabled list, Mattingly is getting production from all over the place. Justin Turner homered and followed Pederson's tying homer with a double, then scored the go-ahead run on Howie Kendrick's two-out single.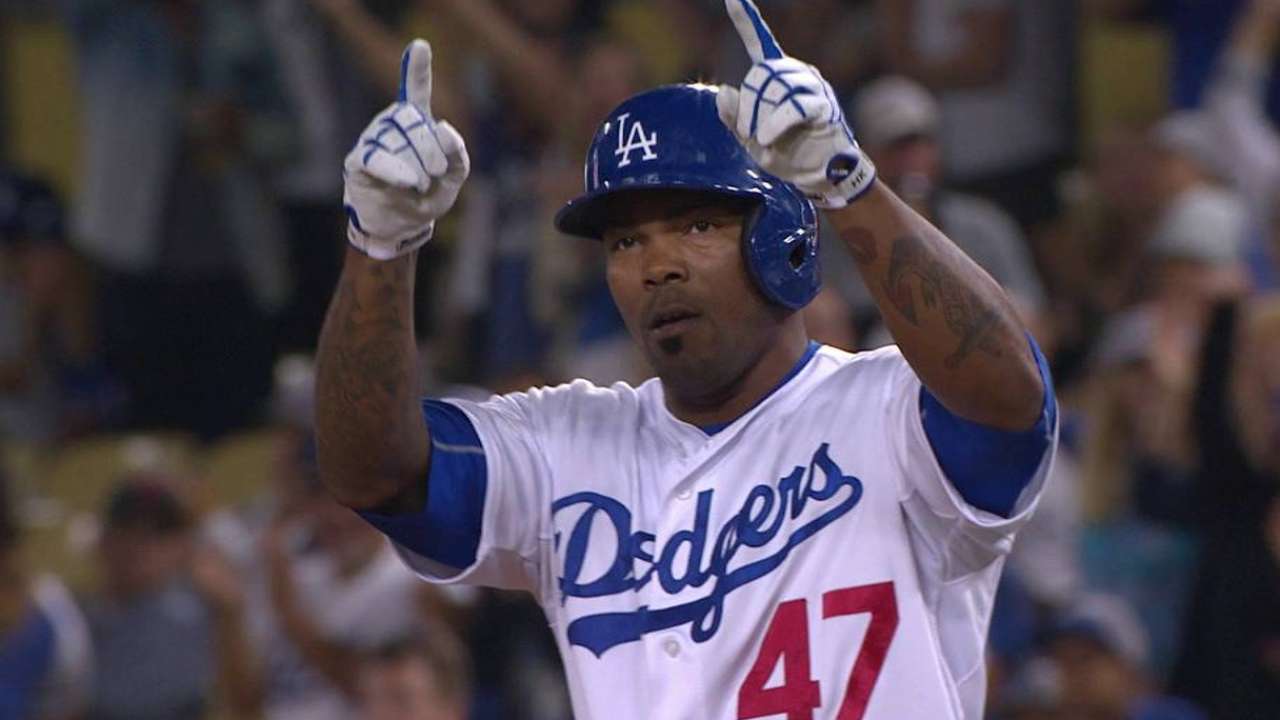 Scott Van Slyke singled in a run to extend his hitting streak to 10 games, while Yasmani Grandal snapped an 0-for-13 slump with three hits. The Dodgers are 12-2 at home, averaging just shy of six runs. They have 37 home runs in 23 games.
Meanwhile, the bullpen continues its dominance. It hasn't allowed a run in its last 19 innings, with a 1.98 composite ERA. Nicasio, a former starter for the Rockies, got his first Dodgers win, lowering his ERA to 1.46.
"I feel comfortable in the bullpen," said Nicasio. "Every day, somebody else does the job down there."
Mattingly brought on Garcia to pitch the eighth and he got through the middle of the Arizona lineup with only a walk to Mark Trumbo. Hatcher came on and got the shaky save, but Mattingly said the matchups would have been just as favorable if the pitchers had switched innings.
"All spring we weren't anointing any closer, just going with the best matchups," he said.
Ken Gurnick is a reporter for MLB.com. This story was not subject to the approval of Major League Baseball or its clubs.