Myers sees success with patience at plate
Padres center fielder's two walks lead to runs in win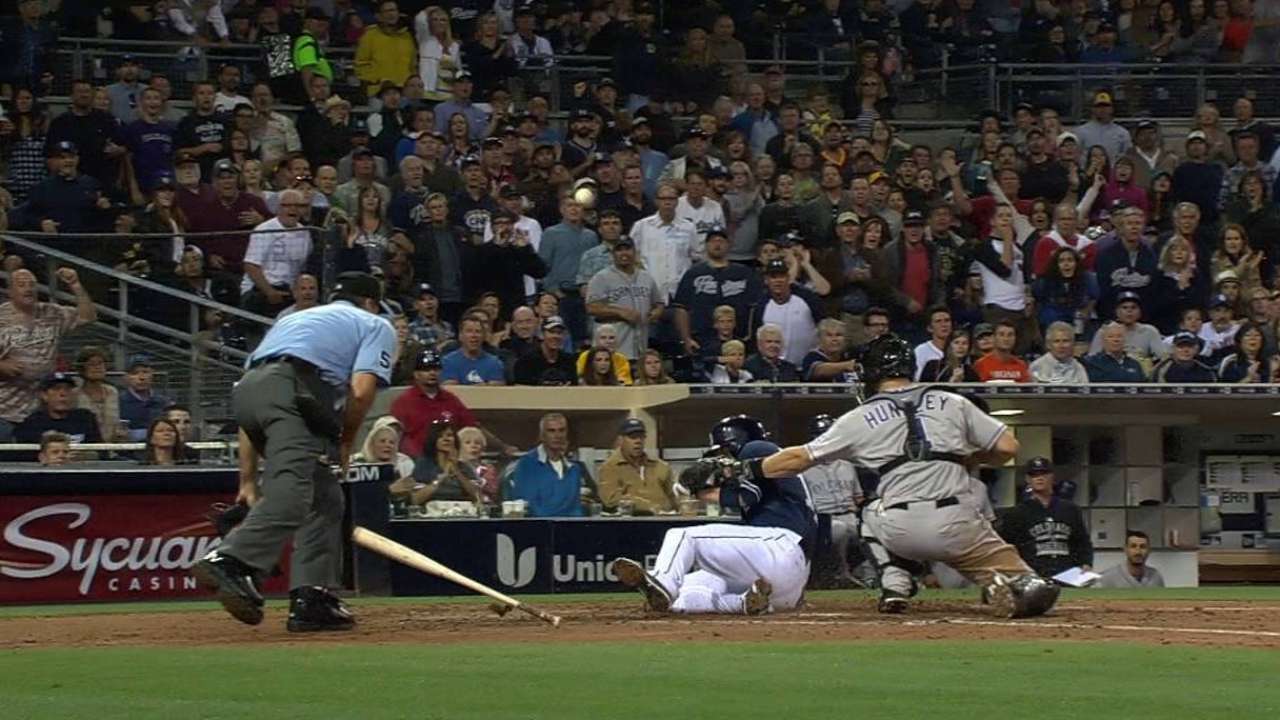 SAN DIEGO -- After walking twice in his first 23 games with the Padres, center fielder and leadoff hitter Wil Myers has suddenly morphed into the … master of the free pass?
Myers walked twice Friday and did so again in Saturday's 4-2 victory over the Rockies, with both walks leading to runs.
Has Myers, who would much rather swing the bat than merely hold it, made it a point of emphasis to see more pitches and be more selective?
Fat chance, he said.
"Just the at-bats [in which] I've walked ... they haven't really thrown anything over the plate to hit," Myers said. "It's always been a 3-1 walk. I'm not really getting my pitch right now. I'd rather swing the bat than walk because I'd like to take my chances."
The last thing the Padres want -- or, really, need -- from Myers is him taking pitches. They recognize he's not the prototypical leadoff hitter and they're quite content with that.
"You don't want to ever take the aggressiveness out of a young hitter, because that's what makes them … and in his mind, he can hit," manager Bud Black said. "And hitters swing. They have confidence, especially young hitters, that they can hit anything.
"It's going to take time for him to understand that at the big leagues pitchers can throw the ball where they want it, they can expand the zone, they can keep it out of the strike zone. He's got to learn to lay off of that. I think in time, you'll see more games like tonight, where he will not expand the zone."
Myers' walk in the first inning came two batters before Matt Kemp's RBI single. Then, in the fifth inning, he walked again to start the inning. He moved to third base on a Derek Norris double and later scored when Justin Upton lined a two-run single to center field.
He later added an insurance run, this time by swinging the bat, as his RBI single gave the Padres a 4-2 lead in the sixth inning.
"I feel I've done a good job there. The last two days, after the walks, it's thrown my off some. I had to figure out how to stay aggressive up there," he said.
So far, it's all working for Myers, who leads the National League with 25 runs. His average is up to .279 and he's knocked in 17 runs.
"It's a process. Experience is the best teacher, and he'll learn that," Black said. "You've got to be patient. It was good to see him lay off some pitches tonight. We're seeing some good signs."
Corey Brock is a reporter for MLB.com. Keep track of @FollowThePadres on Twitter. This story was not subject to the approval of Major League Baseball or its clubs.