De La Rosa shows old form, but walks costly
Rockies lefty strikes out 9 over 5 innings, falls to 0-2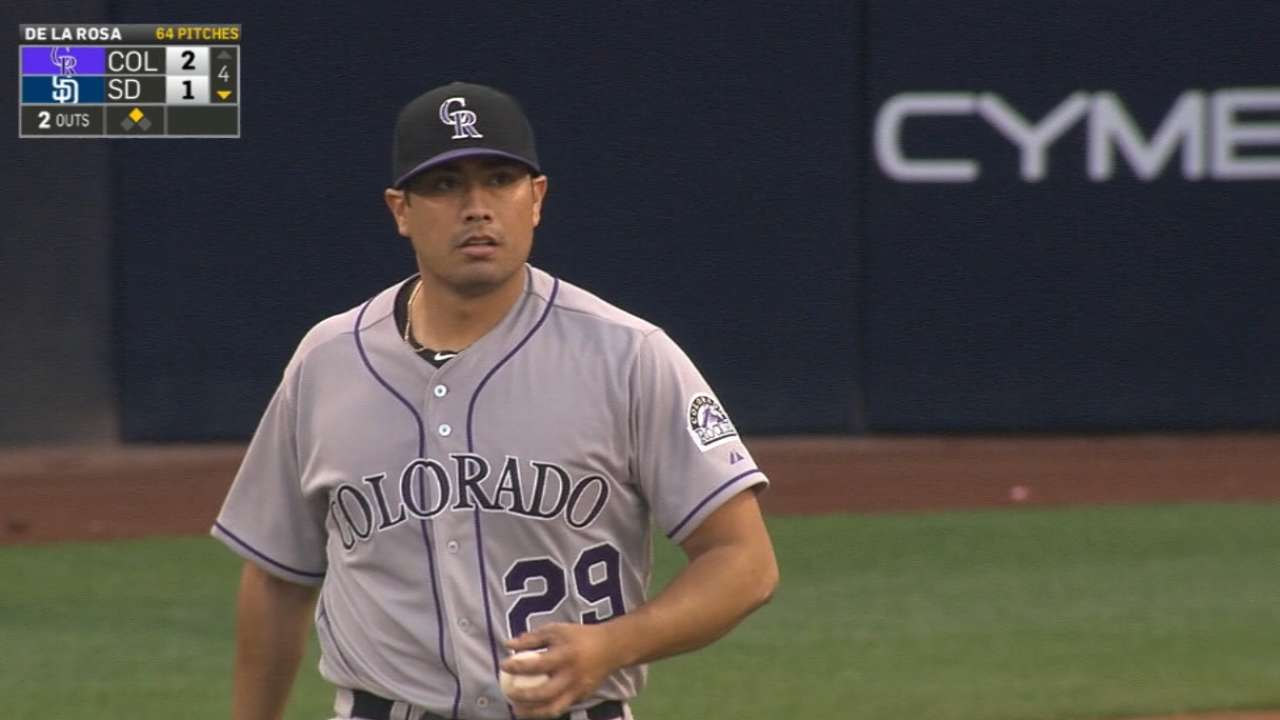 SAN DIEGO -- Saturday night's 4-2 loss to the Padres dumped the Rockies into the group of sub-.500 clubs, but they just may be able to hold onto the pitching of Jorge De La Rosa until they right themselves.
Of course, De La Rosa's work wasn't as adequate as it needed to be. He threw 101 pitches in five innings, which made Saturday the 13th game in 23 that the starter didn't make it past five. But with nine strikeouts and a game that was a couple of ill-timed walks away from possibly being good enough, the Rockies feel that their top starter's form is starting to return.
De La Rosa (0-2) started his season late because of a left groin strain and was blasted by the Padres in his first outing, but has been better in his last two.
"He looked like himself, threw the ball real well, mixed in some curveballs for strikes to change their eye level and had the rest of his arsenal working," Rockies manager Walt Weiss said.
Two walks to Padres leadoff man Wil Myers prevented De La Rosa from being rewarded for his sharpness, and helped raise his pitch count.
In the first, Derek Norris and Matt Kemp followed the Myers walk with consecutive singles to push in a run before De La Rosa settled. In the fifth, Norris doubled following Myers' walk, and both scored on Justin Upton's grass-cutting single for a 3-2 Padres lead.
"Next time I'm going to try to attack the batter better," De La Rosa said.
The awful opener leaves De La Rosa with a 9.00 ERA through three starts, but his last two starts (nine hits, five runs, 16 strikeouts in 10 innings) represent the form that has made him the second-winningest pitcher in club history with 69, three fewer than Aaron Cook.
"When I want to throw hard I can do it," De la Rosa said. "The location in the first two games wasn't there, but today it was much better.
"We've got enough talent to get out of this."
Thomas Harding is a reporter for MLB.com. Follow him on Twitter @harding_at_mlb, and like his Facebook page. This story was not subject to the approval of Major League Baseball or its clubs.