Economical Price a model of efficiency
Lefty throws 106 pitches, never wavers in complete-game victory over Royals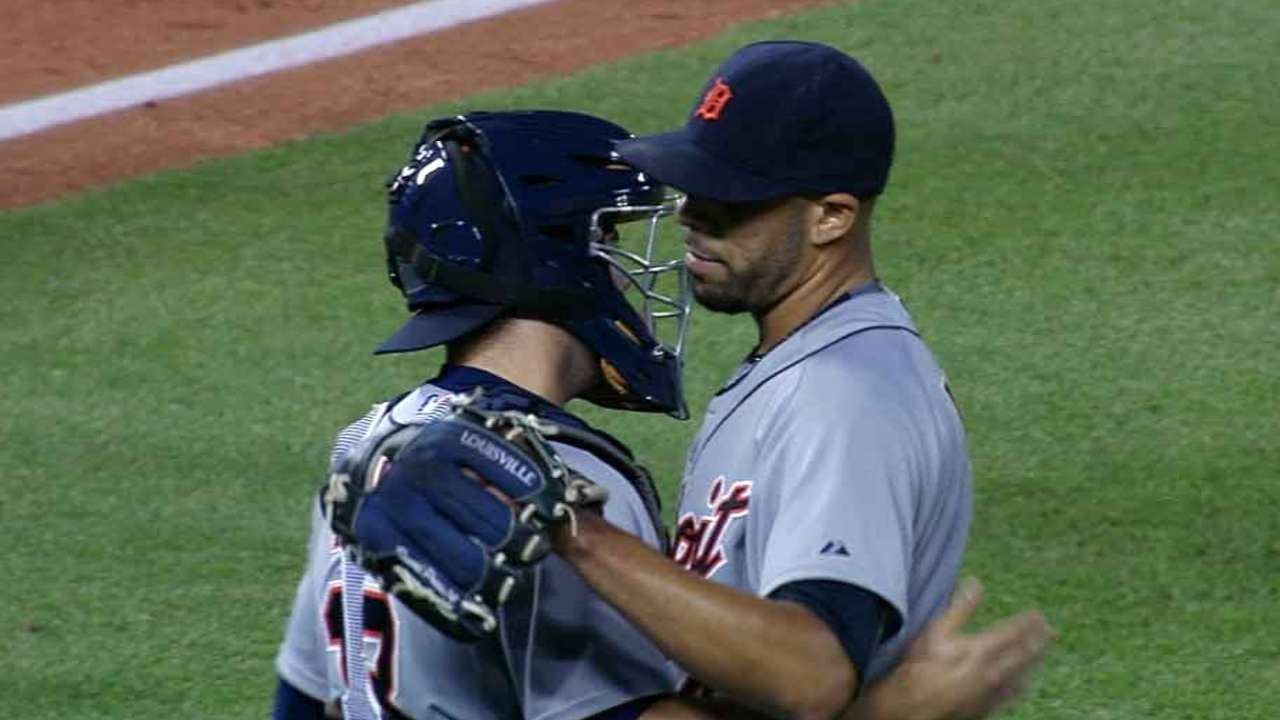 KANSAS CITY -- About the only thing that slowed down David Price in Saturday's 2-1 Tigers win at Kauffman Stadium was a fly -- not a fly ball.
He was on his way out for the fourth inning as soon as the Tigers had been retired in the top half. He quickly turned back and beckoned head athletic trainer Kevin Rand to take a look.
"Right before I got to the mound, a little gnat or something flew into my eye," Price said. "I never felt it come out or anything. It could still be in there somewhere, but it didn't affect me all."
Nothing did. Neither the peskiness of a confident Royals lineup, nor the roar of a sellout crowd unhinged Price from the rhythm he had found. He was so focused that he didn't realize Mike Moustakas tried a delayed steal on him in the fourth until catcher Alex Avila's throw came back at him.
"I'm glad he didn't try to catch it," Avila said.
Even the self-critical frustration of his own fielding error on a sixth-inning double-play ball didn't distract him from his larger task.
"I'm still one pitch away," Price said. "You can't let things spin out of control from that point."
He never did, not even when Lorenzo Cain's turn on an inside fastball finally broke up Price's shutout bid. Each time, the next pitch was a strike, as were 75 of his 106 pitches.
Price didn't quite fulfill his goal of getting hitters on or out in three pitches or fewer, but 22 out of 31 batters was a pretty good ratio, as was averaging just under 12 pitches an inning. It took the ninth-inning rally to deny him a "Maddux" -- a shutout completed with fewer than 100 pitches. Greg Maddux threw 13 of them. Price has come close, including two complete games with one run allowed, but has never done it in the big leagues.
"I'd love to do it in 80 pitches with zero strikeouts," he said.
He had just three strikeouts Saturday, but also just two three-ball counts -- none until the final out of the eighth inning. Price had just four two-ball counts over the first five innings, covering just 52 pitches, before Paulo Orlando and Alex Gordon worked him for seven-pitch at-bats in the sixth.
"I just had good fastball command," Price said. "I felt good [warming up] in the bullpen. First two or three innings, I didn't have to throw a lot of pitches, got some ground balls, plays defensively."
The efficiency not only helped him, it helped his defense.
"That's what you want from your pitcher," said third baseman Nick Castellanos, who followed up Price's error by starting a third-to-first double play on a Moustakas ground ball to end the sixth. "As a defense, we love that. If you could strike out 20 in a game, that's outstanding. But if you can also go seven-pitch innings and get three ground balls, or two ground balls and a fly ball, that's just as good."
It also helped out Price's own game, not simply for stamina, but for strikes.
"Since his pitch count was so low, as the game went on we were able to expand [the zone]," Avila said. "You can expand later in the game when they might tend to be a little more aggressive."
The strikes feed more strikes. The quick outing, in turn, allowed Price and the Tigers an early dinner.
Jason Beck is a reporter for MLB.com. Read Beck's Blog and follow him on Twitter @beckjason. This story was not subject to the approval of Major League Baseball or its clubs.