Blitz to 13 homers puts Cruz in elite company
Mariners' slugger tied for third-most HRs in season's first 24 games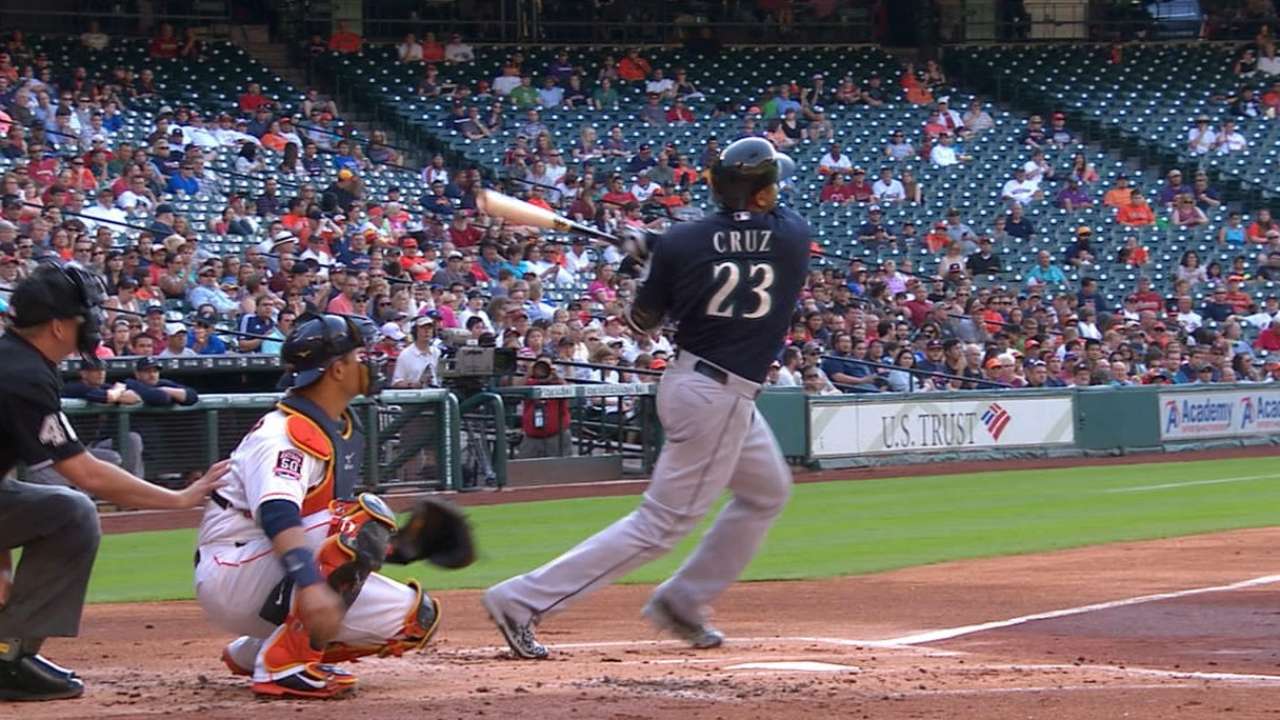 HOUSTON -- Nelson Cruz is going where few sluggers have gone in Major League history, with 13 home runs through 24 games, but now the Mariners' right fielder needs to figure out how to bring his team along for the ride.
Cruz smacked two long balls Saturday at Minute Maid Park, but Seattle fell to the red-hot Astros, 11-4, and dropped seven games back in the early American League West chase with a 10-14 record.
Cruz, 34, certainly has done his part. His 13 homers are tied for the third-most by any player in the opening 24 games of a season. Alex Rodriguez hit 14 in that span for the Yankees in 2007 and Albert Pujols did the same for the Cardinals in 2006.
Only five others have hit 13 in the first 24 games, including Seattle's Ken Griffey Jr. in his MVP season in 1997. The others are Cy Williams (1923 Phillies), Willie Mays (1964 Giants), Mike Schmidt (1976 Phillies) and Luis Gonzalez (2001 D-backs).
"He's swinging the bat good, no question about it," said Mariners skipper Lloyd McClendon. "Our challenge is to get runners on base for him when he's swinging the bat like this."
Ten of Cruz's homers have been solo shots, including both on Saturday -- a leadoff blast in the second estimated at 403 feet by Statcast and a one-out, 424-foot bomb in the sixth -- on a night Seattle scored all four runs on solo homers.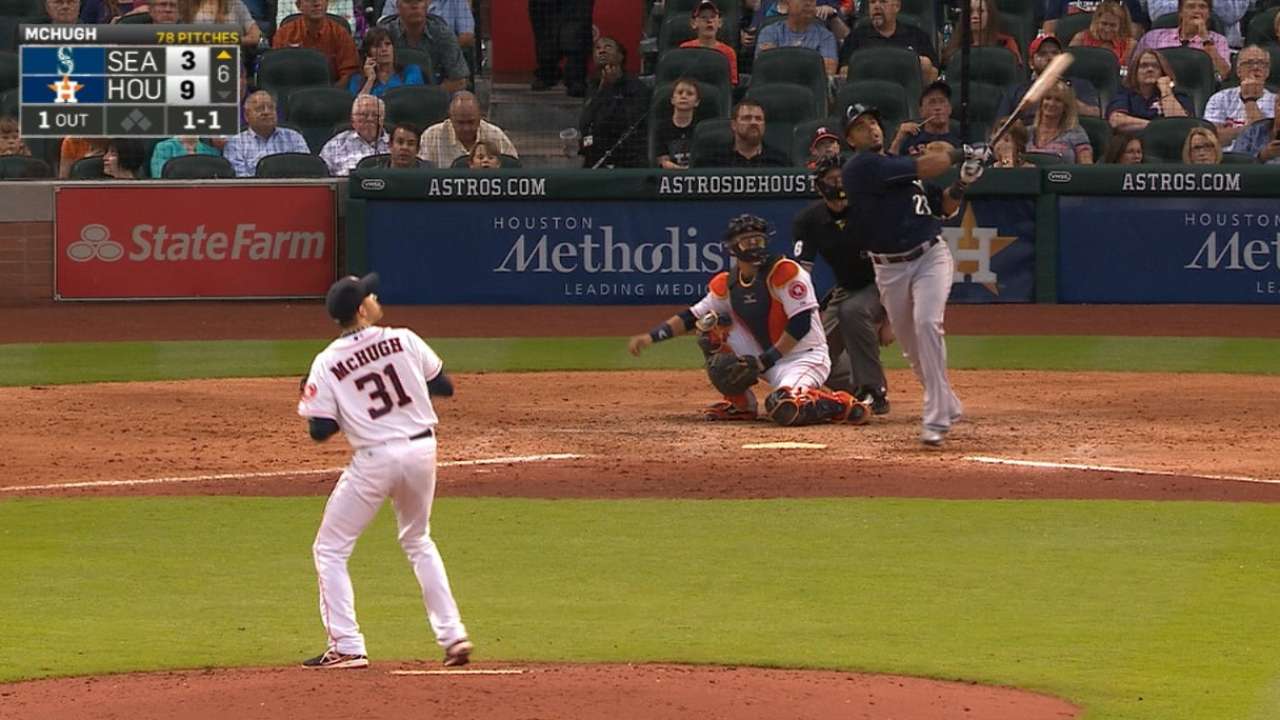 "I think I've been in a pretty nice groove the last couple weeks," said Cruz, whose 13 homers have come in the past 20 games. "It's nice. Hopefully I keep doing that and hopefully I get some runners on and I can do that damage also. It feels like every time I've got runners on, I've left them out there."
Cruz went 3-for-4 to raise his average to .347 with 25 RBIs, and his lone out came in the third when he popped out with runners on first and third. That seems to typify how things have gone for Seattle, which has struggled to put everything together in the first month.
"There's no doubt we have the talent," Cruz said. "It looks like one day it's the offense, one day it's the pitching. We have to figure out how to put all the pieces together. Also we're playing a pretty hot team. Sometimes you lose, sometimes they beat you. And I think they're finding ways to beat us. Hopefully tomorrow we'll come out on top."
Cruz homered on his first pitch in the ninth inning of Friday's 4-3 loss, then jumped on Collin McHugh's first offering in the second inning Saturday.
"The day before, they attacked me early," he said. "So I wanted to make sure if I got the right pitch, I was ready to hit it."
The Astros are open to suggestions as to how to pitch the big man.
"You want to face him tomorrow?" Astros manager A.J. Hinch said. "You can come in and pitch to him for us. When he gets going like this, I don't know what to do."
Cruz led the Majors with 40 homers last year for the Orioles but didn't hit his 13th until May 20 in his 42nd game of the year. He totaled 13 bombs in May and remembers that as the last time he was anywhere near this torrid.
"I don't remember the numbers, but I remember I was pretty hot," he said. "I think experience helps you to be more consistent and have a better approach. You know what to expect from pitchers."
And opposing teams are beginning to know what to expect from Cruz.
"He's as dangerous a hitter as there is in the big leagues," Hinch said. "I like when he comes up with no one on, I'll tell you that. He has guys around him that are difficult to navigate, but I'm glad they were solo homers. It gets to a point where you're happy to hold him to a single."
Greg Johns is a reporter for MLB.com. Follow him on Twitter @GregJohnsMLB as well as his Mariners Musings blog. This story was not subject to the approval of Major League Baseball or its clubs.