Simmons can't dodge grounder, called out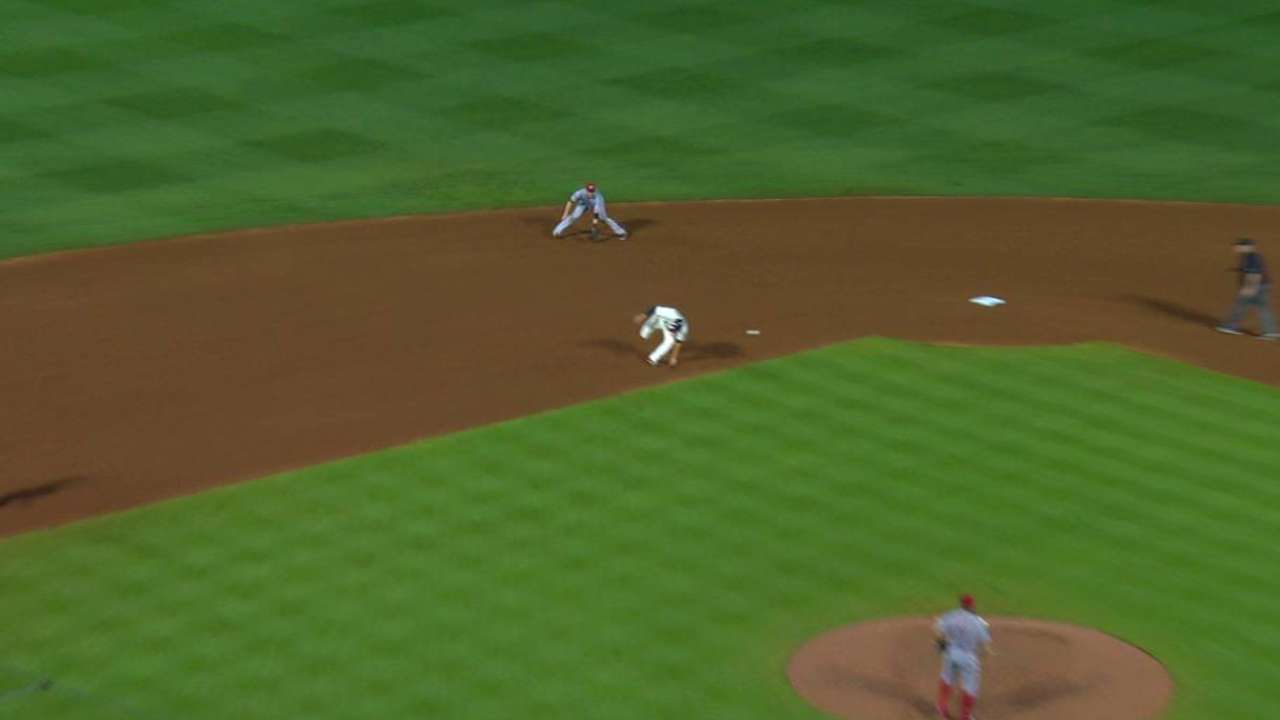 ATLANTA -- Nothing seems to be bouncing the right way for the Braves these days. Just ask Andrelton Simmons.
With the Braves down four to the Reds on Saturday night, Simmons snuck an RBI double just fair down the right-field line, pulling Atlanta within three and putting a runner on second with no outs. But Simmons was promptly eliminated when he was struck by Jace Peterson's ground ball, making the first out of the inning on runner's interference. The rally fizzled after that, and the Braves fell, 8-4.
"That situation right there, I was trying to get to third," Simmons said. "Jace hit the ball well, and I took my first step. And as I read the ball, I knew I [couldn't] go to third on that one. But by the time I was trying to get back to the bag, the ball already got to me. I tried to stall because the shortstop was right behind me. And I didn't want to make the first out at third, but I wasn't fast enough to get out of the way."
That play was one of several tough breaks for the Braves during a difficult stretch in which they have lost nine of their last 12 games. After Jay Bruce's two-out triple in the fourth inning, Simmons had no chance to make a play on a well-placed ground ball hit by Brandon Phillips, which drove in Bruce.
"It's frustrating, but you gotta do the stuff you can control better," Simmons said. "We have to have better at-bats. I mean, you can't prevent the bloop singles or the balls right in the middle of two players, and you've gotta just be able to score runs when you're hitting. You gotta produce, and we haven't been doing a great job lately. We haven't been up to par."
Aimee Sachs is a contributor to MLB.com. This story was not subject to the approval of Major League Baseball or its clubs.