Reds' homer trio, Bruce's triples beat Braves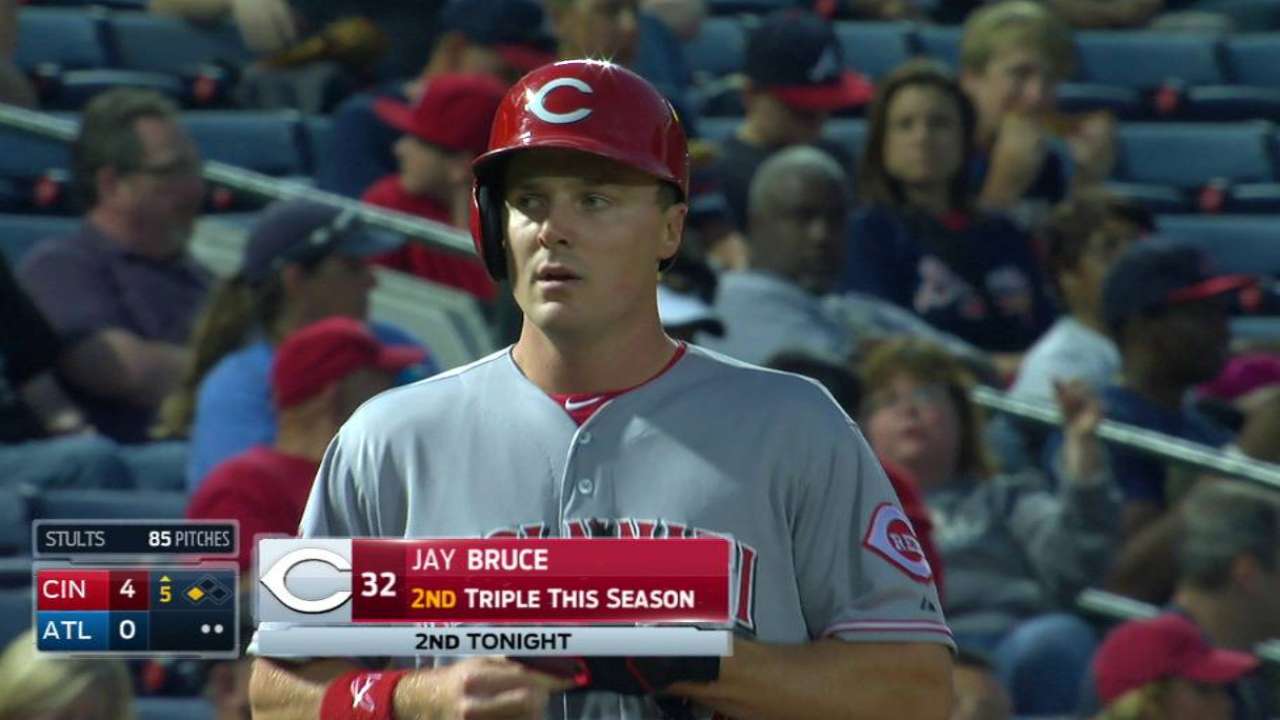 ATLANTA -- The Reds hit three home runs and Jay Bruce added a pair of triples in an 8-4 win over the Braves on Saturday night at Turner Field.
Bruce's first triple off Braves starter Eric Stults helped set up the first two runs in the fourth, and he drove in two more with his second triple. Marlon Byrd and Todd Frazier hit solo homers off Stults in the sixth and seventh, respectively, and Zack Cozart added a two-run shot in the ninth.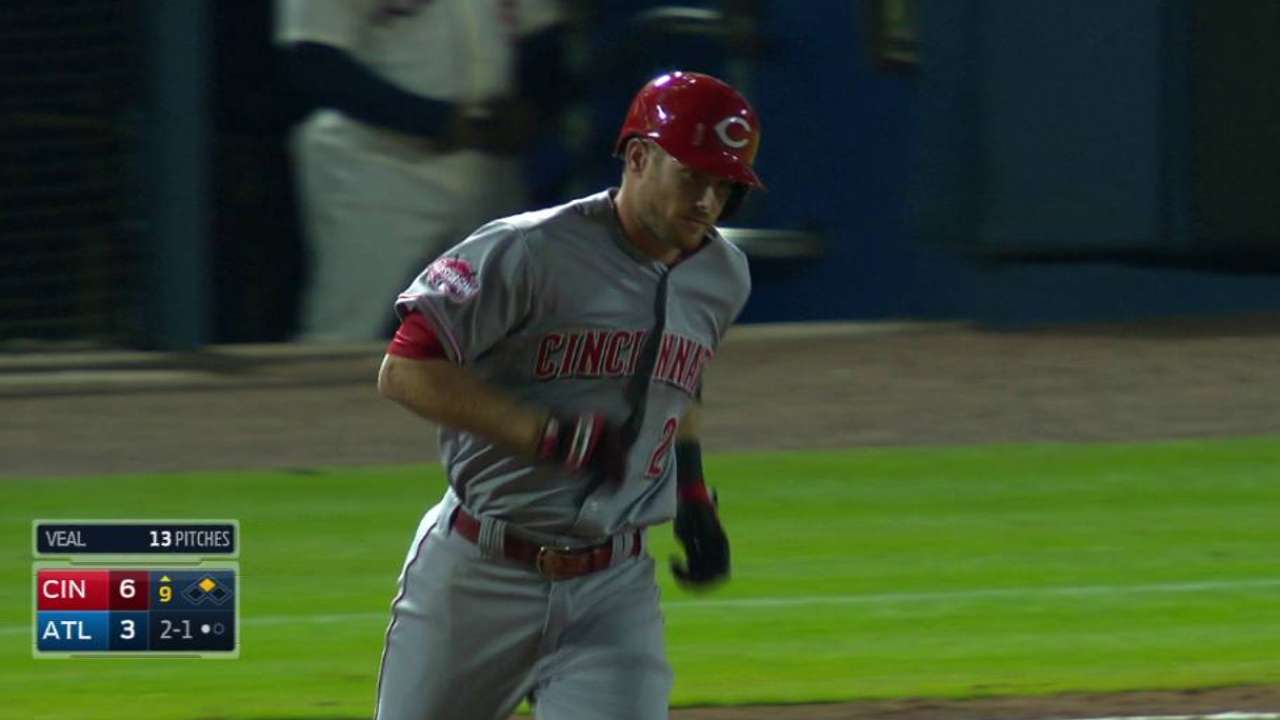 "There were a lot of good things," Reds manager Bryan Price said. "The eight runs and the continuing, we got up 4-0 and then they get the two-run homer from [Cameron] Maybin and we were able to get to 6-2, then 6-3 and was able to squelch that rally in the seventh."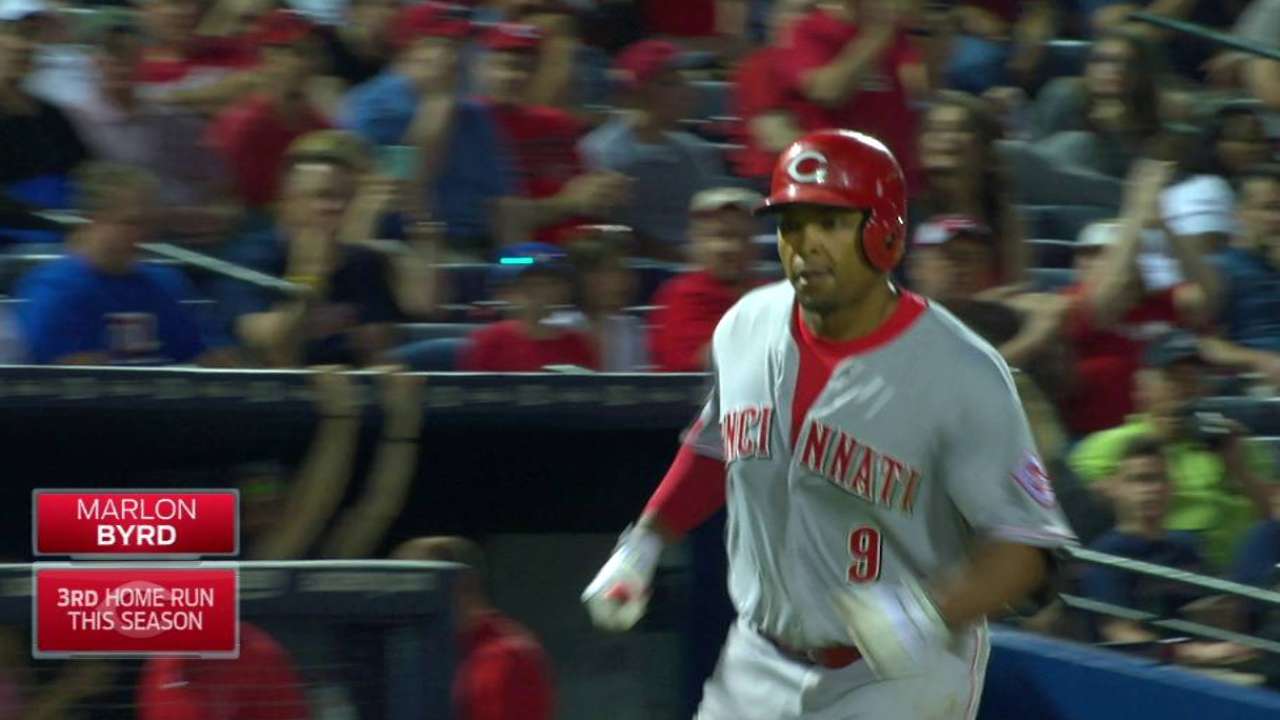 Maybin hit a two-run homer in the fifth inning for Atlanta, his fourth of the season, and he added an RBI single in the ninth.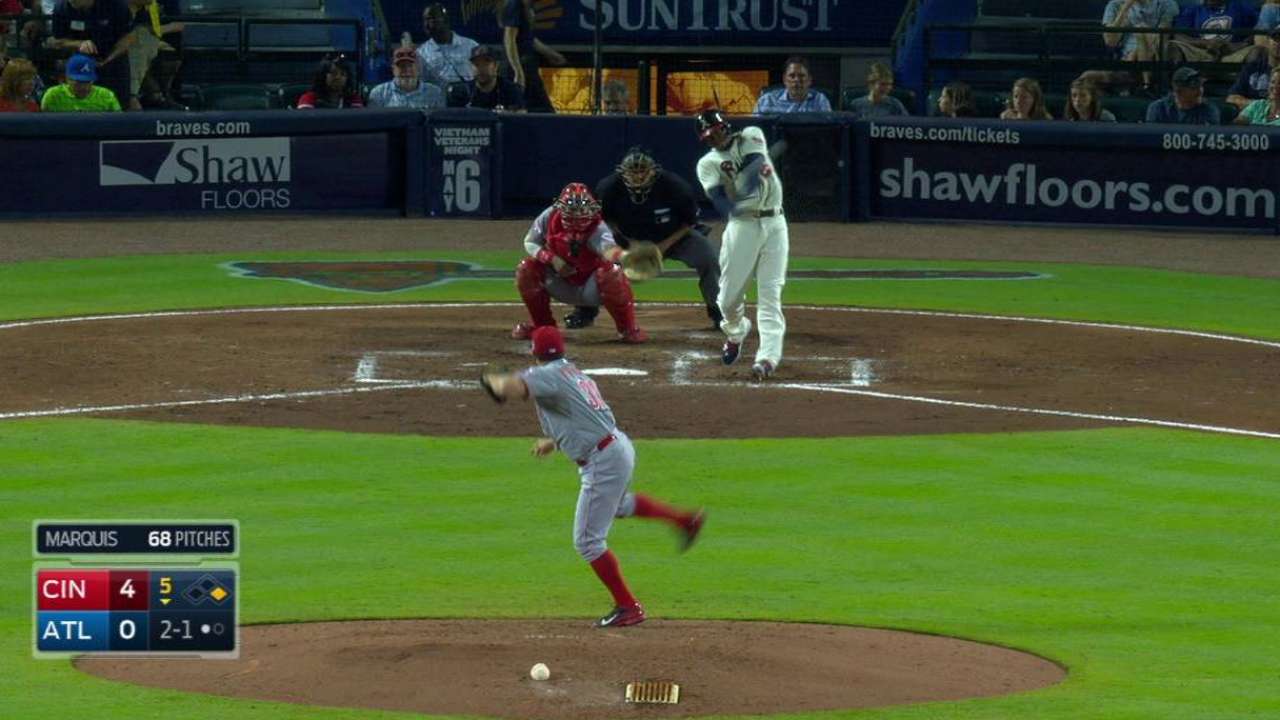 "When we score and we let the other team come back and score, it's hard to keep doing that," Braves manager Fredi Gonzalez said. "And [the Reds] added on late."
MOMENTS THAT MATTERED
Bruce's Triple Crown: On Kentucky Derby Day, Bruce went triple crazy. The Reds' right fielder, who didn't have a triple all season, belted two in consecutive innings. Both were integral to Cincinnati jumping out to a 4-0 lead. More >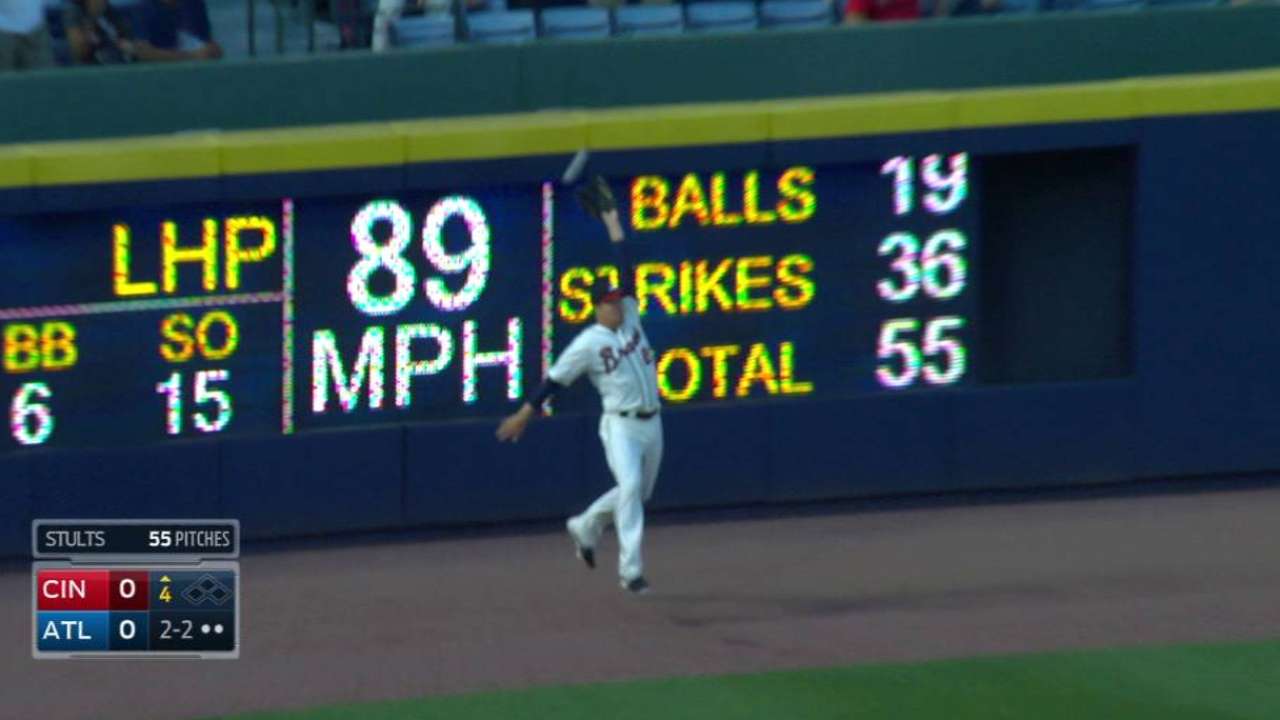 Red-y to launch: Cincinnati used the long ball to put the game away, with homers by Byrd and Frazier answering Maybin's dinger, and Cozart's shot sealing it in the ninth. Frazier has struggled at the plate of late, but his last four hits have left the yard.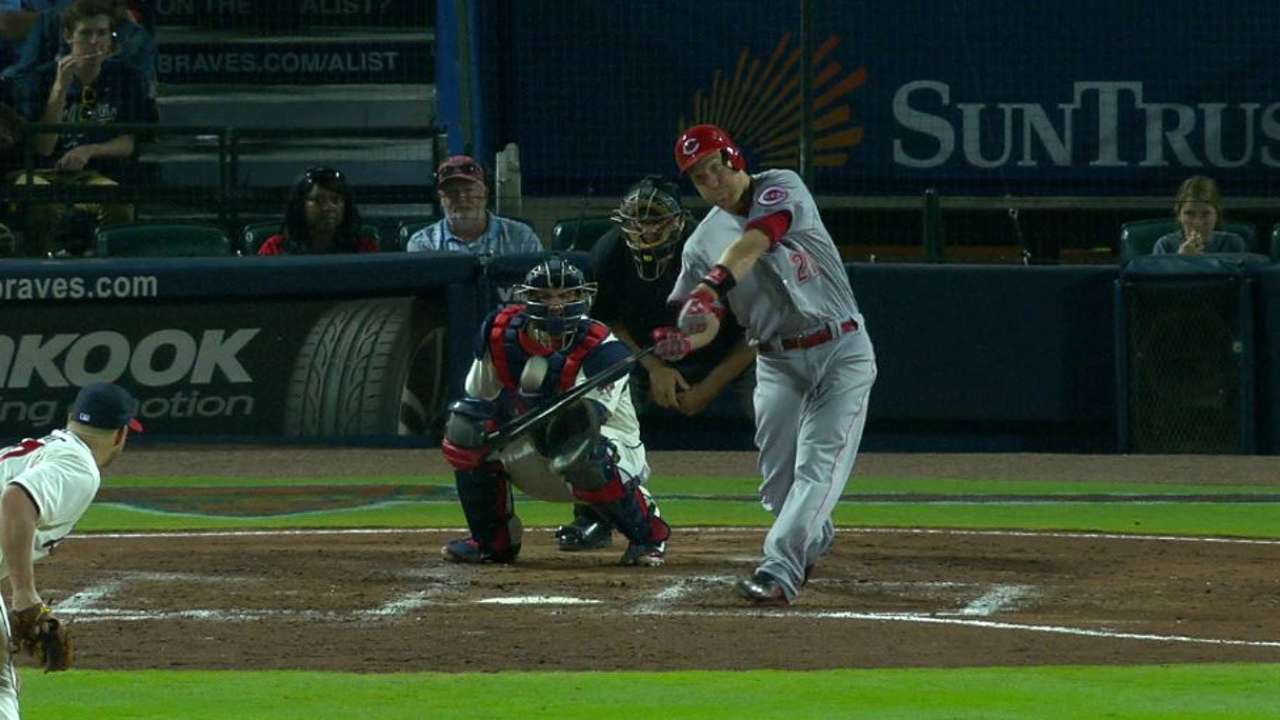 Stults falters with two outs: After escaping a jam in the second inning, Stults couldn't contain the Reds in two-out rallies in the fourth and fifth innings. Stults, who had allowed three home runs before Saturday, later gave up two more. More >
Simmons hit by ball in play: Andrelton Simmons ripped an RBI double just fair down the right-field line to cut the Reds' lead to 6-3 in the bottom of the seventh. But he was quickly eliminated when he was hit by Jace Peterson's grounder and called out for runner interference. The Braves' inning fizzled after the play. More >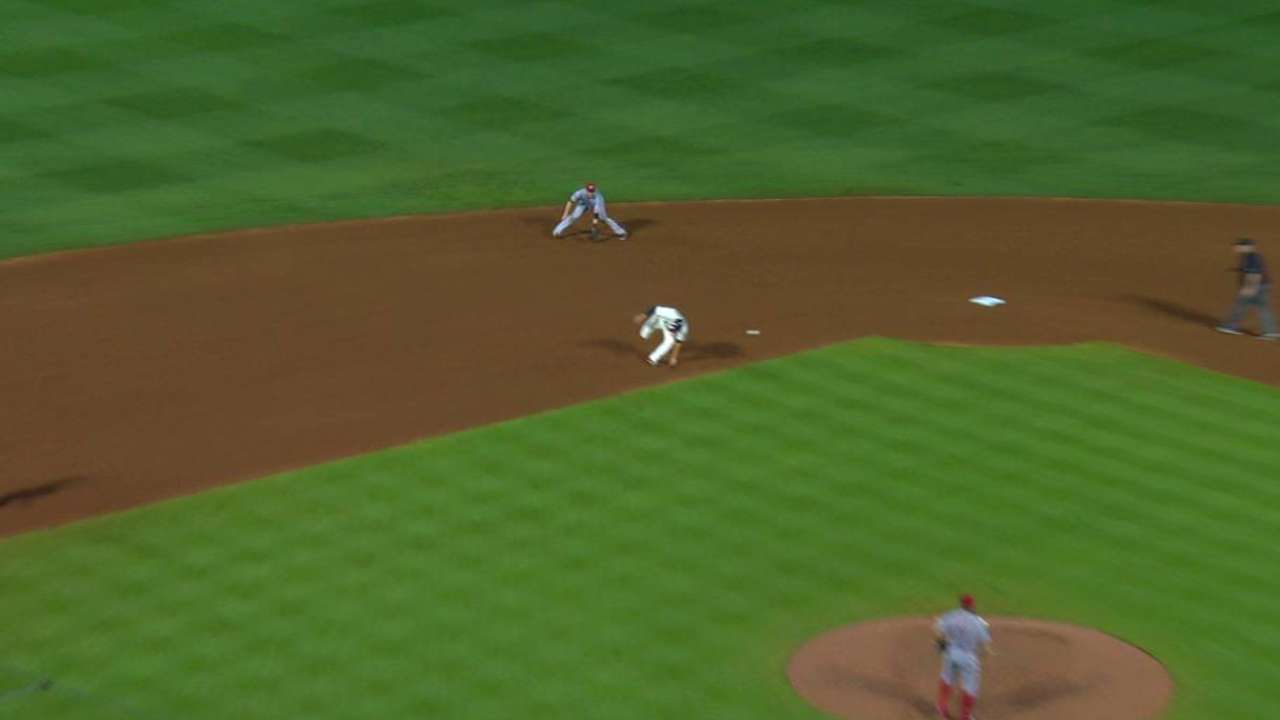 JASON TAKES ATLANTA
Jason Marquis, who broke into the Majors with the Braves back in 2001, held them at bay on to get the win, even surviving a comebacker off his pitching elbow. The win was Marquis' fifth against the Braves, all with different teams (Chicago in 2008, Colorado in '09, Washington in '11 and San Diego in '13). It's nothing personal against the Braves.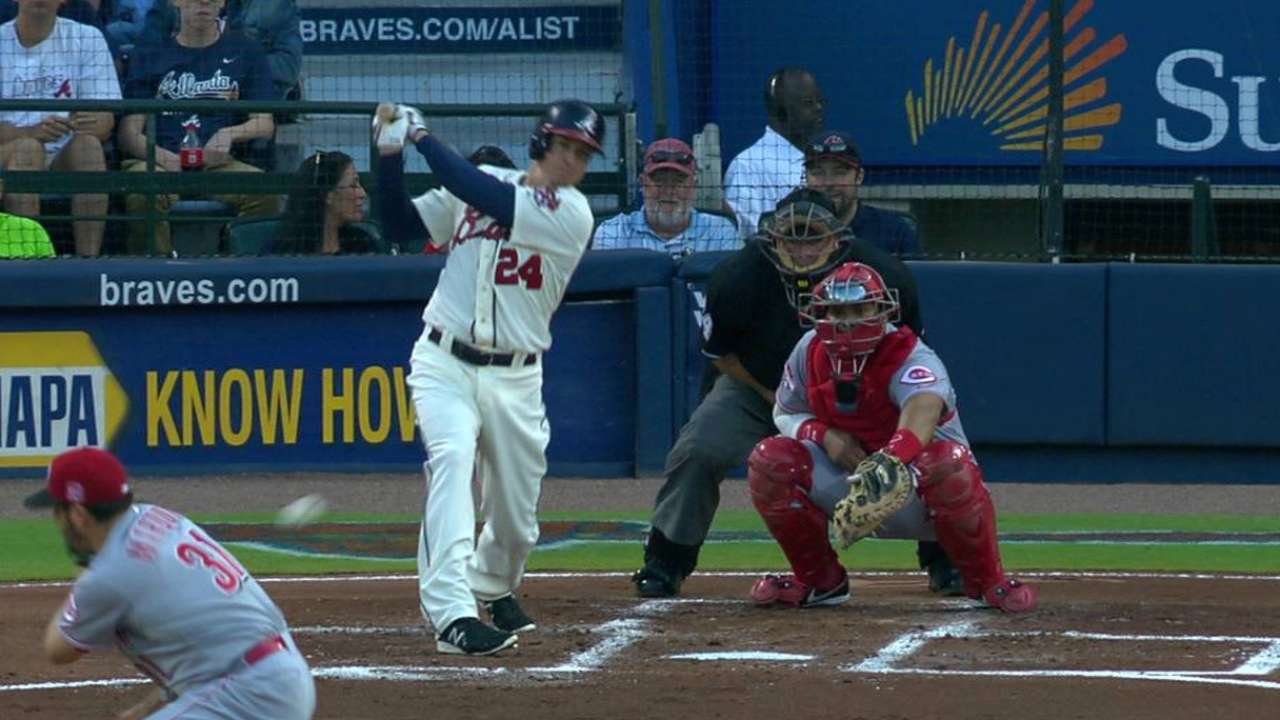 "I've been on nine teams now. So I think you lose that after three or four of them," he said with a laugh.
THE PEN IS MIGHTIER!
Cincinnati's bullpen has had its share of struggles in 2015, but over the last two nights, the 'pen has been all but untouchable. The relievers have allowed only one run -- Kevin Gregg's run in the ninth Saturday, with the Reds up five entering the inning -- on three singles in 5 2/3 innings, striking out eight and walking two. All this has been done without calling on closer Aroldis Chapman.
QUOTABLE
"I played with Jason. He's one of the toughest guys around. He's a no excuse-making type of guy. Something has to be broken for him to come out of a game, so I wasn't surprised. That's just the kind of guy he is. He's a bulldog out there." -- Maybin on Marquis
SOUND SMART WITH YOUR FRIENDS
With Brandon Phillips' successful steal of second base in the third inning, the Reds have now been successful on 29 of 30 stolen-base attempts. According to the Elias Sports Bureau, Cincinnati is the first team since stolen base information began being recorded to go 29 for its first 30.
WHAT'S NEXT
Reds: Cincinnati sends ace Johnny Cueto (2-2, 1.95 ERA) to the hill in Sunday's 1:35 p.m. ET series finale. Cueto, who has pitched at least seven innings in all five starts, has won back-to-back outings, pitching to a 1.69 ERA over his last two outings (three earned runs in 16 innings). He is 0-2 with a 2.77 ERA all-time at Turner Field.
Braves: Julio Teheran (2-1, 4.67 ERA) will make his fifth start of the season Sunday, and he hopes to bounce back from his rough outing against the Nationals on Thursday. Teheran got a no,decision but surrendered seven runs on 10 hits in 5 2/3 innings in Atlanta's 13-12 loss to Washington.
Watch every out-of-market regular season game live on MLB.TV.
Jon Cooper and Aimee Sachs are contributors to MLB.com. This story was not subject to the approval of Major League Baseball or its clubs.