Kluber fighting through early-season struggles
Reigning Cy Young winner drops to 0-4 after Saturday's loss to Blue Jays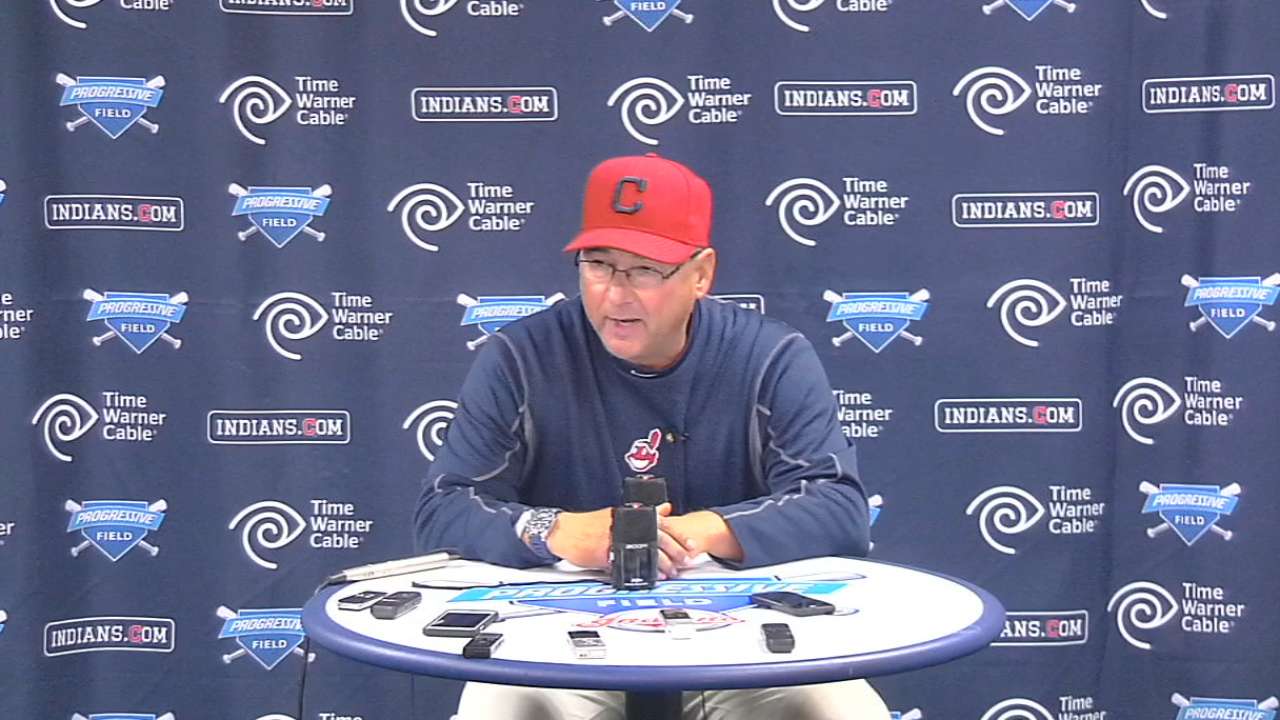 CLEVELAND -- The expectation for Corey Kluber this season was an electric start. Given the way he finished off hitters and closed out his season a year ago, it was easy to think that his encore would follow the dominant path he traveled down last summer.
As Kluber walked off the mound at Progressive Field on Saturday, it is suddenly easy to wonder what is going wrong with Cleveland's ace.
"I just have to do a better job," Kluber said.
In a discouraging 11-4 loss to the Blue Jays, Kluber logged five-plus innings and was charged with five runs (four earned). It marked the third outing in a row that the reigning American League Cy Young Award winner allowed at least five runs and the Indians fell to 0-6 in the games started by the right-hander this season.
Less than six months after shocking the baseball world with his Cy Young triumph, Kluber is 0-4 with a 4.62 ERA for the struggling Indians. The latest lapse against Toronto included eight hits allowed, two walks issued and only three strikeouts for a pitcher who finished with 269 punchouts last year.
Kluber believes there is a simple explanation for his recent woes.
"I think the biggest thing is probably just needing to sequence a little better," he said. "I'm not doing that good of a job of keeping guys honest. For the most part, guys are kind of hanging out over the plate and, when they're doing that, you kind of eliminate one half of the plate. So, when you do make a mistake, it's kind of magnified."
Both Indians manager Terry Francona and Kluber insist that the pitcher is healthy. The velocity readings would seem to support that claim. During Saturday's loss, Kluber averaged 94.3 mph with his sinker, 89.3 mph with his cutter and 84.1 mph with his curve. That falls in line with his averages for all of 2014 (94.2 mph for the sinker, 89.6 mph for the cutter and 83.5 mph for the curve).
Kluber said he does not feel like the movement on his pitches has been drastically different, either.
"My stuff is the same as it always is," he said.
Cleveland can potentially take some solace in the fact that Kluber went through a similar stretch at the outset one year ago.
Through his first six starts last season, Kluber went 2-3 with a 4.14 ERA, recording 35 strikeouts against 10 walks with 46 hits allowed in 37 innings. This year, his ERA is a touch higher (he has given up 20 earned runs this year compared to 17 earned runs through six starts last year), but he has 39 strikeouts, nine walks and 44 hits relinquished through 39 innings.
Kluber's struggles have mostly been limited to the past three starts.
In his first three outings of the season, Kluber posted a 2.49 ERA with a .176 opponents' average and .444 opponents' OPS in 21 2/3 innings. Over his past three starts, Kluber has a 7.27 ERA with a .397 opponents' average and 1.030 opponents' OPS in 17 1/3 innings.
Kluber's first two starts were caught by Yan Gomes, who landed on the disabled list with a right knee sprain on April 11. The last four have been handled by catcher Robeto Perez -- forced into the everyday duties behind the plate in Gomes' absence.
On Saturday, Edwin Encarnacion sent one of Kluber's cutters to the wall in center for an RBI single with two outs in the first inning. In the fourth, an 83-mph curve from Kluber turned into a leadoff homer for Russell Martin. After Kluber walked two to load the bases with none out in the fifth, Jose Bautista turned a 90-mph cutter into a two-run single. One more run was tacked on Kluber's line after his exit in the sixth.
"All I know is he was throwing strikes early and then expanding," Bautista said. "Some guys were able to walk and get into good hitting counts, even though he'd get ahead early. We just put a good sequence of at-bats together and it came to be a few runs."
Francona felt Kluber's fastball was partially at fault against Toronto.
"I thought early he was fighting his fastball command, especially to his arm side," Francona said. "So, he started out throwing a lot of cutters. Once they kind of got a bead on that, he never was able really to command his fastball like he can or will."
Kluber did not necessarily agree with that assessment.
"I think it's been OK," Kluber said of his fastball command. "It hasn't been unbelievable. I just think the biggest thing is not working both sides of the plate, not keeping hitters honest."
Jordan Bastian is a reporter for MLB.com. Read his blog, Major League Bastian, and follow him on Twitter @MLBastian. This story was not subject to the approval of Major League Baseball or its clubs.