Sanchez overcomes six walks to beat Indians
Rookie right-hander allows two runs, strikes out five over 5 2/3 innings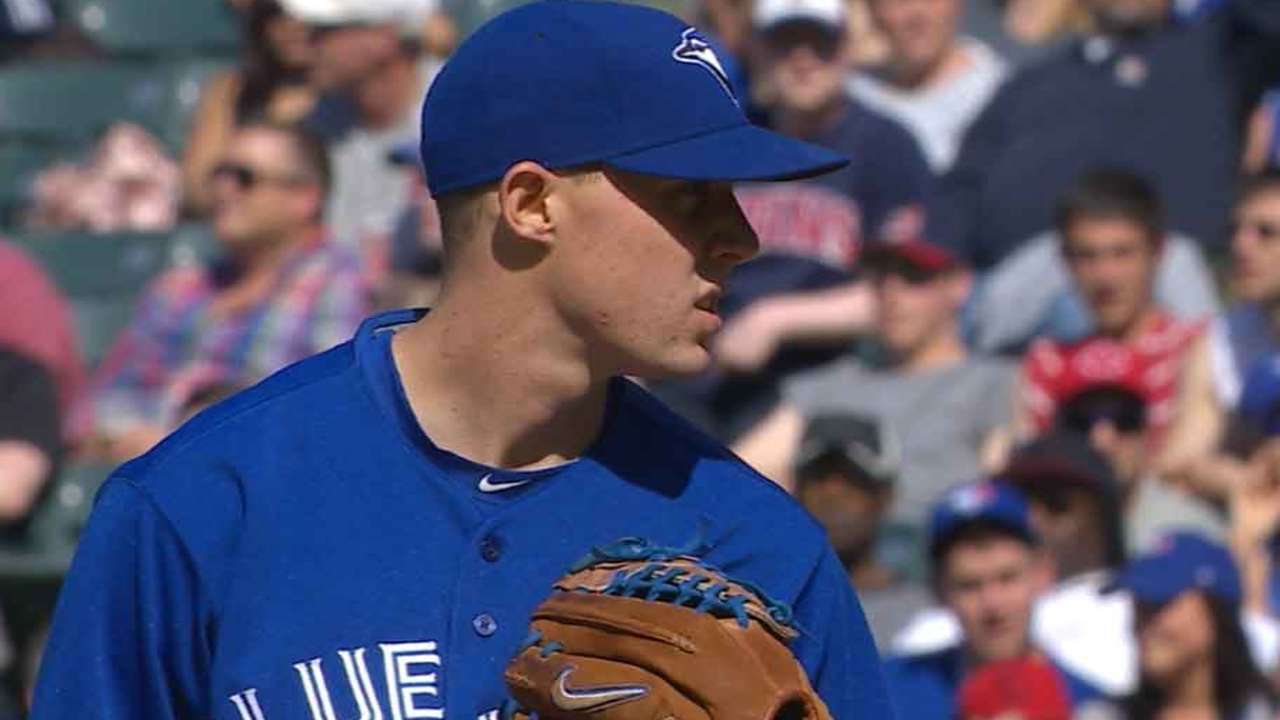 CLEVELAND -- Aaron Sanchez walked the tightrope in Saturday's 11-4 victory at Cleveland.
It's better to walk than to run, but it's also better to not walk at all. After all, that's what got him on the tightrope in the first place.
Sanchez's issue this season has been his control. He entered the game having walked 16.1 percent of all batters he'd faced -- the highest rate among all Major League starting pitchers who had thrown at least 15 innings.
That number only went up after Saturday's start. Sanchez walked six -- raising his walk percentage to 17.5 percent. Yet, he avoided the big inning, thanks to his lively fastball, his sharp curve and an ability to generate ground balls, rather than allow authoritative contact through the air. The right-hander finished with five strikeouts over 5 2/3 innings, and allowed only two runs.
Still, both the rookie Sanchez and manager John Gibbons know that this approach is not one that can last. An inexperienced tightrope artist can only walk for so long before he plummets back down to Earth.
"He got a lot of ground balls today, I'm not sure how many, but that's what he is," Gibbons said. "When guys are on base, he's able to get out of some innings like that. These last few starts, he's been pretty effective but he's walked a lot of guys too. Over time, that's not going to work, so he's got to get in the zone better. It's not like he's not trying to do it, it's one of those things that sometimes it just deserts you."
Sanchez generated nine ground-ball outs on Saturday, bringing his season's ground-ball rate to 59 percent -- a top-10 mark in the Major Leagues. The fastball topped out at 97. The curveball generated 11 swings and misses. It isn't a question of whether or not the raw stuff is there -- it is. It's a question of whether Sanchez can harness his mechanics to make it last.
"Sometimes he loses his release point," Gibbons said. "He's got a live arm, the balls moving up there pretty good. It doesn't take much to take it out of the zone."
Just 40 of Sanchez's 79 fastballs went for strikes. The inability to throw a fastball for a strike is a telltale sign of an inconsistent delivery. But the saving grace for Sanchez was the curveball, a pitch that went for a strike 21 of the 27 times he turned to it.
"I felt like that was the pitch that kind of got me back on track," Sanchez said. "I was pleased with the action I had on my pitches. Obviously, though, the walks are something that are a work in progress. But overall with my how pitches and the action I got on them, I was very pleased."
Sanchez knows he's still a work in progress. So do the Blue Jays. These are the peaks and valleys that come with a pitching staff loaded with young, live arms, figuring things out on the fly at the big league level. The missing piece is simply repeating the delivery, and throwing strikes.
That's all that's separating Sanchez from a tightrope artist, to being a dynamic big league starter.
August Fagerstrom is an associate reporter for MLB.com. This story was not subject to the approval of Major League Baseball or its clubs.