McGehee starting to find comfort level with SF
Giants third baseman tallies three hits, RBI against Angels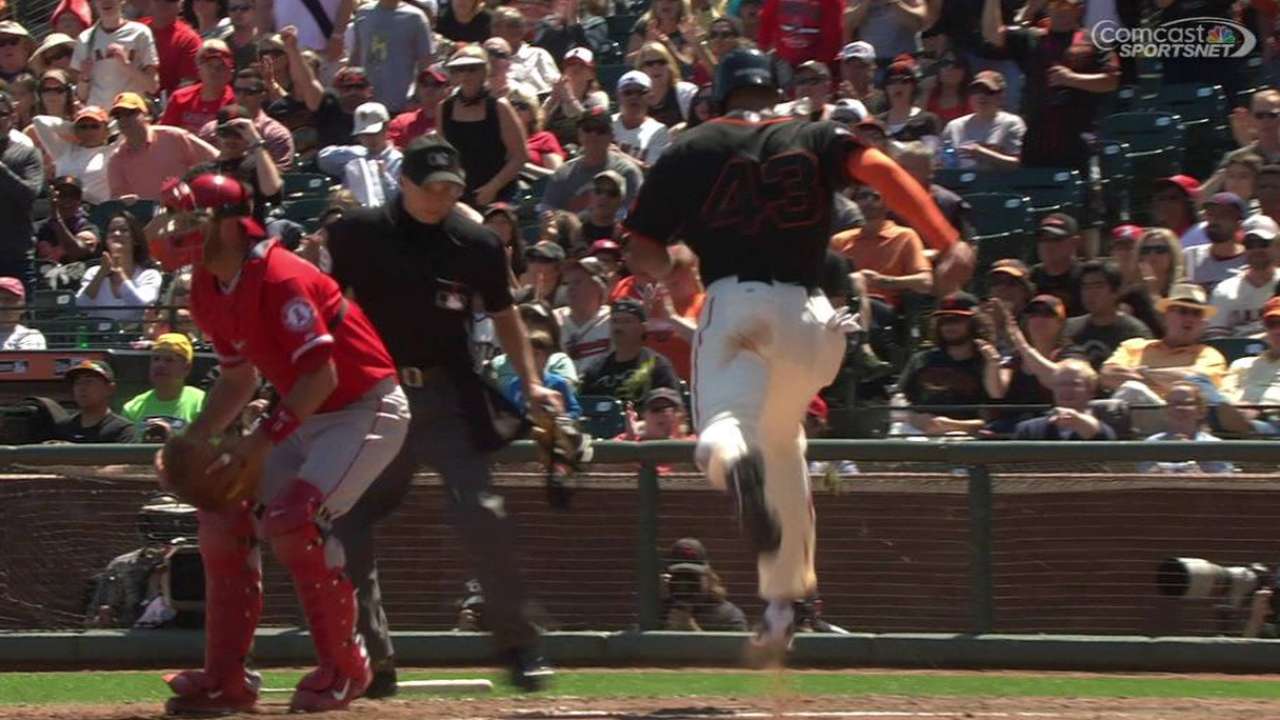 SAN FRANCISCO -- It was no secret that Casey McGehee's first month with the Giants was a difficult one. After hitting .169 in April and hitting into eight double plays, McGehee was an easy target for fan criticism. But he had the Giants faithful standing on their feet Saturday afternoon, as the veteran third baseman left his mark on the 5-4 win over the Angels at AT&T Park.
Giants manager Bruce Bochy said he thinks it was just a matter of time before McGehee figured out his problems after a knee injury sidelined him for four games in mid-April. But McGehee isn't using his balky knee as an excuse for his slow start.
"For whatever reason, it'd taken awhile just to settle in, period," McGehee said. "It's all on me. It's not anything anybody else has done or anything like that. Just kind of finding that rhythm of maybe not trying to do too much and being able to finally start to kind of relax. Sometimes the hardest thing to do is not so much focus on our results and just kind of focus on the things you can control."
McGehee put together his first three-hit day as a member of the Giants, driving in a run while also making some nice plays in the field to back up starter Tim Hudson. He finished 3-for-4 with a trio of singles and a run scored.
But when looking back at his afternoon, McGehee pointed to Johnny Giavotella's groundout in the third inning as a key play for his confidence. McGehee said he was happy to handle a bad hop and throw Giavotella out, even if it wasn't a big deal to anyone else.
"Sometimes you'd like to think you're mentally tough enough for whatever, but sometimes you just need to see something good happen," McGehee said. "It goes a long ways towards helping building confidence."
It's also worth noting that McGehee recorded his first RBI since he drove in two April 8. After Bochy won a challenge that allowed Justin Maxwell to stay at second base with two outs in the fifth, McGehee singled up the middle to give the Giants a 4-1 lead.
Adversity is nothing new for McGehee, who has bounced around the league since making his debut in 2008. He even spent the 2013 season in Japan after he couldn't latch on with any Major League club.
But the 32-year-old, who signed a one-year, $4.8 million deal this past offseason, said he's keeping his big day in perspective.
"Today is just one day," McGehee said. "With all the things I've been through in my career, you realize that you're never going to have this game figured out."
Alex Espinoza is a contributor to MLB.com. This story was not subject to the approval of Major League Baseball or its clubs.