MLB.com Columnist
Lyle Spencer
Hudson treasures season's first win
Giants veteran falls short of complete game but gets victory in nail-biter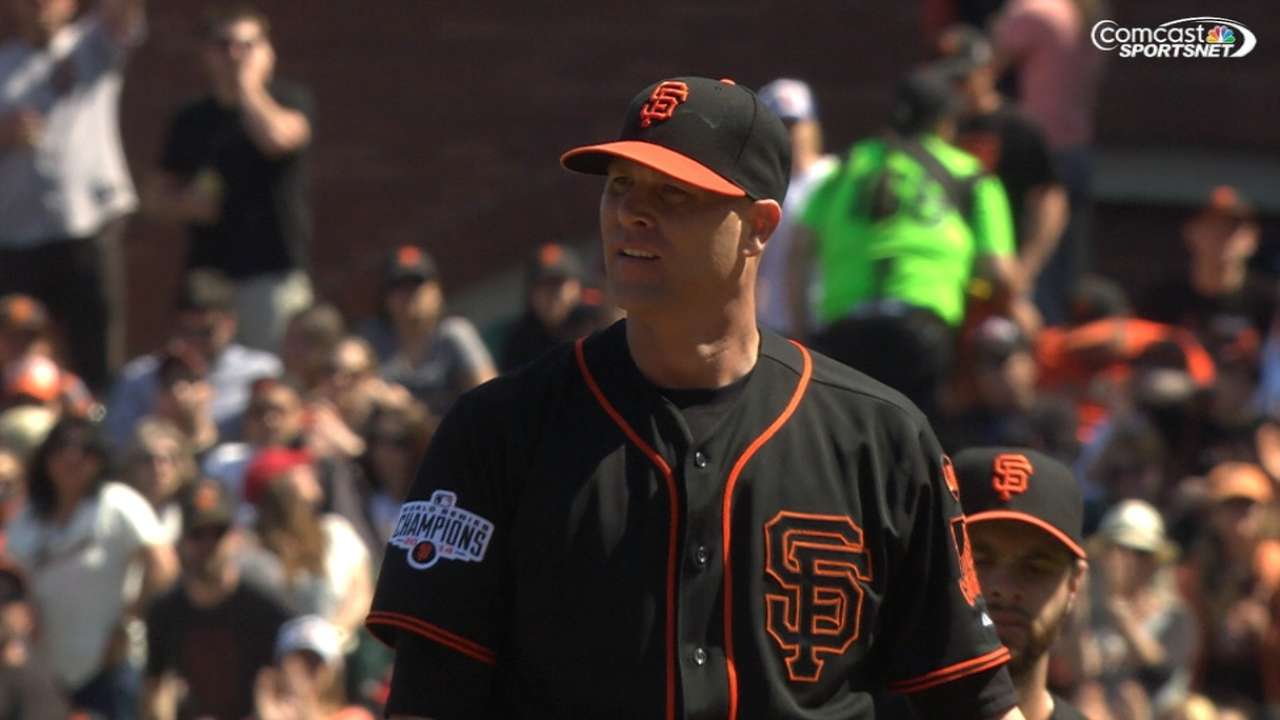 SAN FRANCISCO -- Pitchers get old, but the magic of a "W" next to their name in a box score never does.
Tim Hudson knows the feeling -- both feelings, actually -- better than any active starting pitcher in the Major Leagues. The man with the wicked sinker and classic command is 10 weeks shy of 40, and the great B.B. King's "The Thrill Is Gone" does not apply to his reaction to win No. 215 of a superb career. That's seven more W's than any pitcher still plying the demanding trade has experienced, Bartolo Colon and CC Sabathia each at 208.
"It always feels good," Hudson said, beaming. "You don't care how it happens."
It came Saturday at AT&T Park against the Angels, a 5-4 decision that lifted the reigning World Series champions a game closer to .500 and deepened the frustrations of the defending American League West champions. Both teams are 11-13 heading into Sunday's finale.
It did not come as easily for Huddy and his buddies as it appeared it would as he departed after walking pinch-hitter Collin Cowgill to open the top of the ninth inning.
The Giants were leading, 5-2, but the Angels stirred. A furious rally ended with Matt Joyce's line drive striking pinch-runner Taylor Featherston between first and second. Closer Santiago Casilla never felt so good about giving up a hit as he celebrated his seventh save.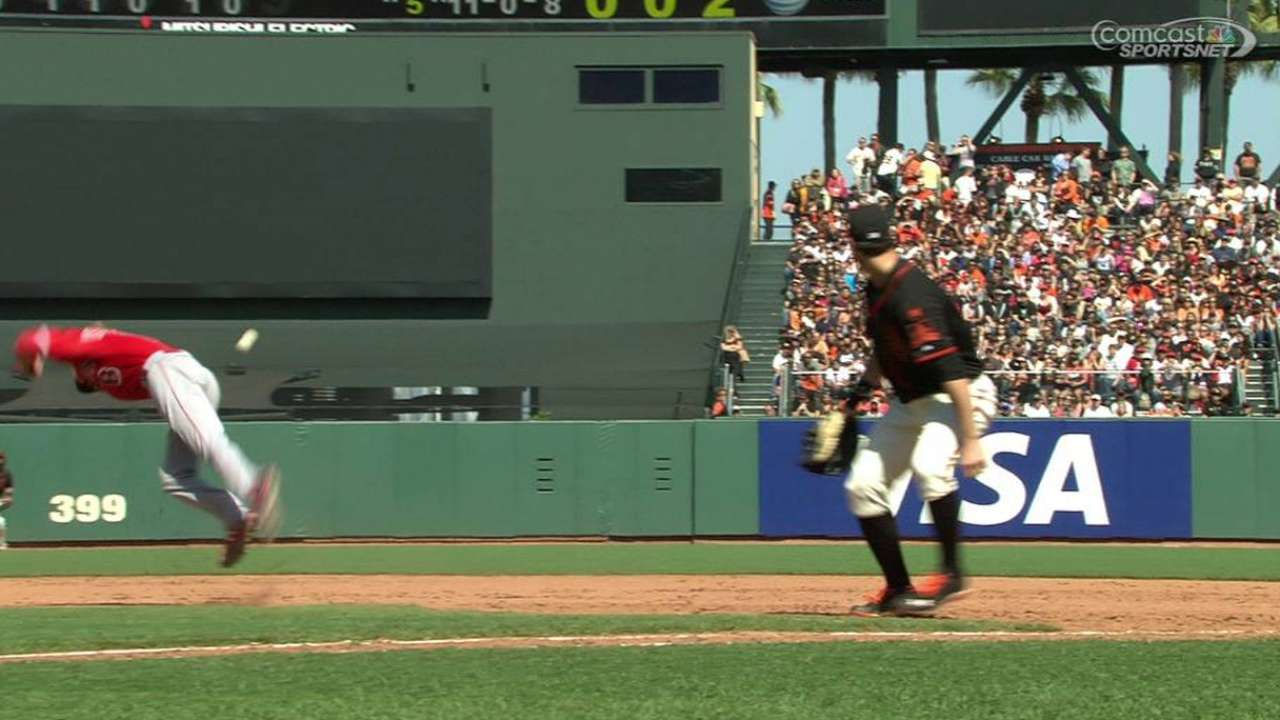 Second baseman Joe Panik was positioned in a shift to make the play, as he had earlier on a similar shot off Joyce's bat. But it was a strange and stunning way for a compelling Interleague game to end in the wake of home runs by celebrated sluggers Buster Posey, Mike Trout and Albert Pujols along with Brandon Crawford, the Giants shortstop who just might be the sport's most underrated player.
"First time for me," said Giants manager Bruce Bochy, who has seen more ballgames that just about anyone in the park but never watched one end with a bullet glancing off a runner. "Joe was there, and I'm sure he would have handled it."
There is no panic in the three-time World Series champions, who know it's how you finish that matters.
"We're playing better baseball now," said Crawford, the former UCLA athlete who had a single to go with his fifth homer and was impeccable, in character, with the glove. "Sure, it's good to beat teams from down south -- but it's good to beat anybody."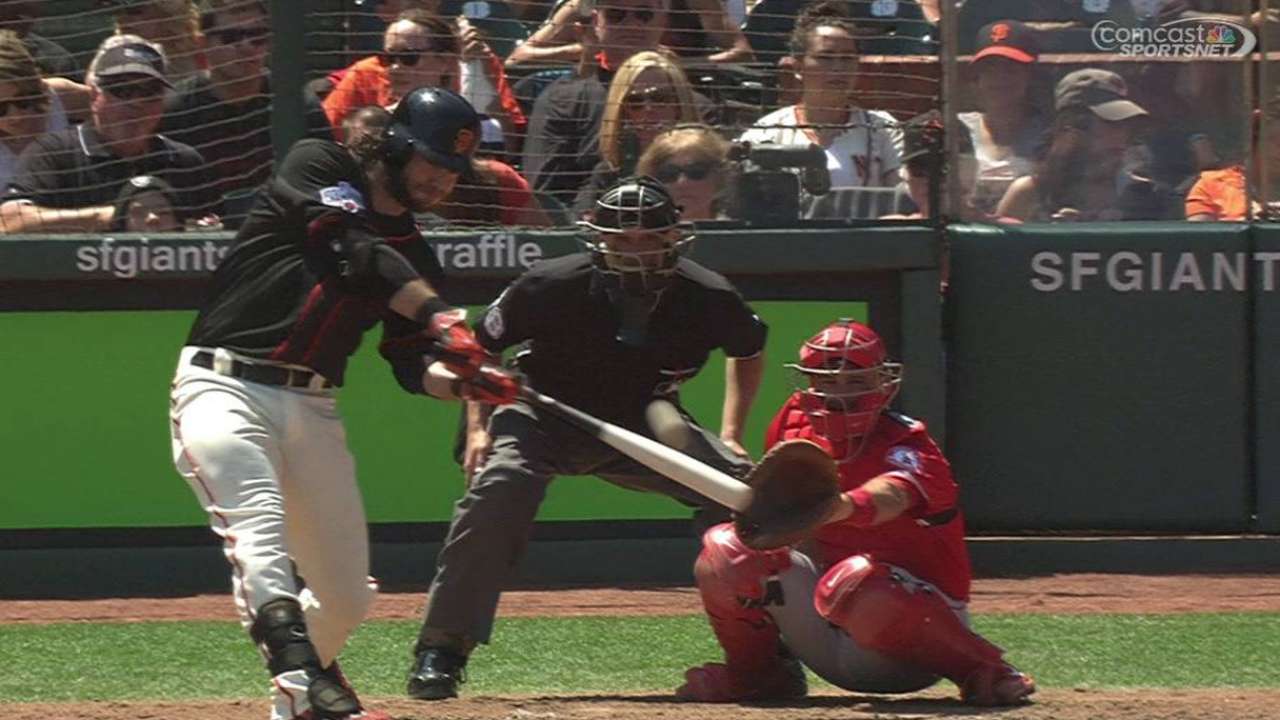 San Francisco leads the Majors in "Beat L.A.!" chants, in volume and frequency. The Giants have responded. They are 5-0 at home in the past two weeks against clubs carrying the L.A. brand, having swept the Dodgers and taken the first two from the Anaheim-based Angels.
Bochy lifted Hudson -- bidding for his first win of the season despite pitching well in three of his four previous outings -- after sensing trouble with pitches straying high against Cowgill. If he'd been clairvoyant, the manager would have let the veteran try to complete the job.
Singles by Trout, Kole Calhoun and David Freese forced Bochy to deploy three relievers to nail it down. Casilla finished with a hit hard-luck Joyce appreciated only in the sense that it lifted his average to .147.
As Hudson opened the ninth, Pedro Martinez sent out a tweet acknowledging the "old schooler from my time" making a bid for his 27th career complete game.
"We're used to playing tight ballgames," Hudson said. "I felt like we had a comfortable lead, but the guys in the other dugout put themselves in position to make a game of it. You always hate to walk the leadoff guy and give the other team a little crack in the door.
"I like to go as far as I can, whether it's seven innings or nine innings. I'm not a guy known for completing games or pitching 250 innings a year. It's nice to pitch deep in a game -- you can give the bullpen a break -- but I wasn't expecting too much from an old guy."
The Angels didn't have a runner in scoring position until the ninth. Hudson yielded two homers and two walks, grounding the Angels with his movement and guile.
Both games in this series have ended with walk-off hits. One was rare indeed, bringing pain to the side that produced it.
Lyle Spencer is a national reporter and columnist for MLB.com. Follow him on Twitter @LyleMSpencer. This story was not subject to the approval of Major League Baseball or its clubs.